What Mitch McConnell Has Said About a New Stimulus Deal
The stimulus stances of Senate Majority Leader Mitch McConnell (R-KY) since the CARES Act was signed more than six months ago have coincided with a prolonged stalemate over a further relief package being signed off.
While McConnell has spoken of wanting further measures to be carried out, as have most of his GOP colleagues, his position on when action should be taken and what this should encompass has placed him at odds with Democrats.
Below, Newsweek looks at some of his key remarks on stimulus in recent months.
The Pause
Not long after the CARES Act was passed, lawmakers began to discuss the prospect of further relief being needed.
McConnell gave these calls short shrift—suggesting that a pause need be taken to determine the outcomes of prior action before enacting more.
This call came much to the ire of Democrats, who insisted the crisis was ongoing and not pausing--so lawmakers should not either in their response to it.
"In the process of spending about $2.8 trillion, we now have a debt the size of our economy. So I said, and the president has said as well, that we need to take a pause here," he said in April.
"Take a look at what we've done, see what's working, see what isn't. And also begin to encourage the governors around the country, who have the decision-making ability, to open up the economy."
House Speaker Nancy Pelosi (D-CA), who pushed for a $3.4 trillion package known as the HEROES Act, suggested he tell the virus to take a pause.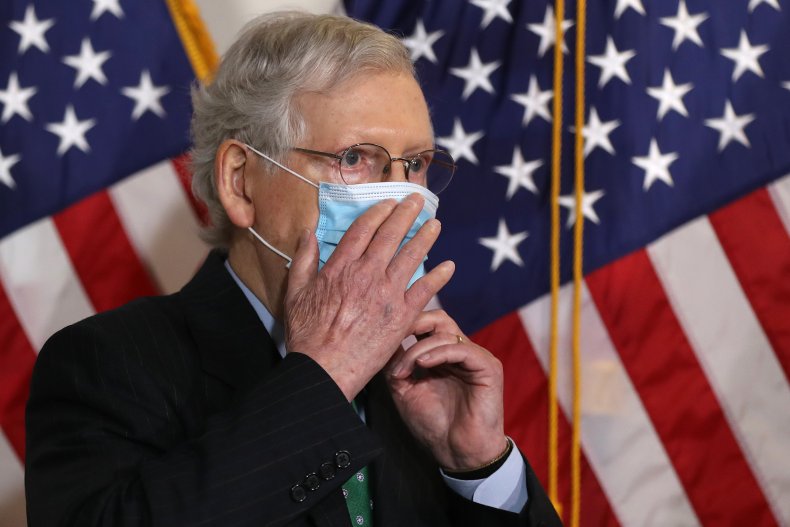 Faltering Proposals
In July, McConnell with the blessing of the White House touted measures with a $1 trillion price tag.
Internal splits in the GOP made such a proposal a non-starter with fiscally conservative lawmakers moving against this. This prompted criticism from Democrats, who suggested before criticizing their plans and moving to negotiate McConnell should garner support for his own.
Down the line, with talks for a common ground package failing, he then went on to suggest smaller spending in the form of a "skinny" bill.
However, this met opposition from Senate Democrats and failed to pass through Congress' upper chamber.
At the time, McConnell pinned the blame of stalling stimulus on those Democrats opposed to it.
"Every Senate Democrat just voted against hundreds of billions of dollars of COVID-19 relief. They blocked money for schools, testing, vaccines, unemployment insurance, and the Paycheck Protection Program," he said.
"Their goal is clear: No help for American families before the election."
McConnell has also criticized "red lines" from the Democrats, though also stuck by his own in regards to liability protections.
Blame Game
While McConnell has drawn the ire of Democrats for his positions on stimulus, he has also looked to shift blame for the stalling trajectory of a new package upon them.
He earlier suggested he felt that tensions caused by the election were blocking the chances of bipartisan compromise.
"I'd like to see us rise above that like we did back in March and April," he said in September, though said he thought it was unlikely to happen.
In separate comments "partisan juices flowing" prior to the election were to blame.
"We haven't reached an agreement, and I don't know if that's going to be possible with all of the partisan juices flowing like they are some two months from the election," he said.
President Donald Trump also suggested Democrats did not want a package to pass before the election as it could potentially boost his chances.
Split With Trump
Despite prior points of agreement, in his latest comments on stimulus McConnell has appeared to set himself on a collision course with Trump.
The president has insisted he wants to "go big" on stimulus while he has expressed openness to spending more money—having suggested China would somehow cover the costs.
Despite this, McConnell has said he wants to put forward a "highly targeted" proposal of measures worth around $500 billion, despite a prior so-called skinny bill having failed.
He has spoken against the amount of spending the White House has offered in talks with Democrats, of $1.8 trillion, while insisting his GOP colleagues in the Senate feel the $500 billion in measures is the right level of approach.
"My members think what we laid out, a half a trillion dollars, highly targeted, is the best way to go. So that's what I'm going to put on the floor," he said in recent remarks at an event in Kentucky.
It has been suggested Trump will "weigh in" and discuss the issue with McConnell if he were to push back a potential agreement between the White House and Democrats.
Newsweek has contacted McConnell for comment.