McConnell Calls for Stimulus Compromise, Doubles Down on Liability Red Line
Senate Majority Leader Mitch McConnell (R-KY) has said compromises will need to be made on the next stimulus package, but doubled down on his own red line over liability protection.
Republican leaders in the Senate have been putting forward their pitch for relief plans, with points of contention swiftly arriving between the GOP and Democrats.
While McConnell has work to do to win over support in the upper chamber, negotiations have been underway with Democratic leaders in a bid to ensure proposals could pass the House also.
The Republican plan has a budget of around $1 trillion, far less than the $3 trillion HEROES Act proposed by Democrats and passed by the House.
"It's going to be challenging. Most of my members think that a trillion dollars, which is still an enormous amount of money, is the appropriate amount for this particular part, place, of the coronavirus epidemic," McConnell, speaking to WCHS-TV, said.
"The Democrats want to spend three times that much. So, ultimately we'll have to reach an agreement, and that will require compromise.
"Ultimately, the country does need I think another boost, another rescue bill. We do have differences over how big it should be."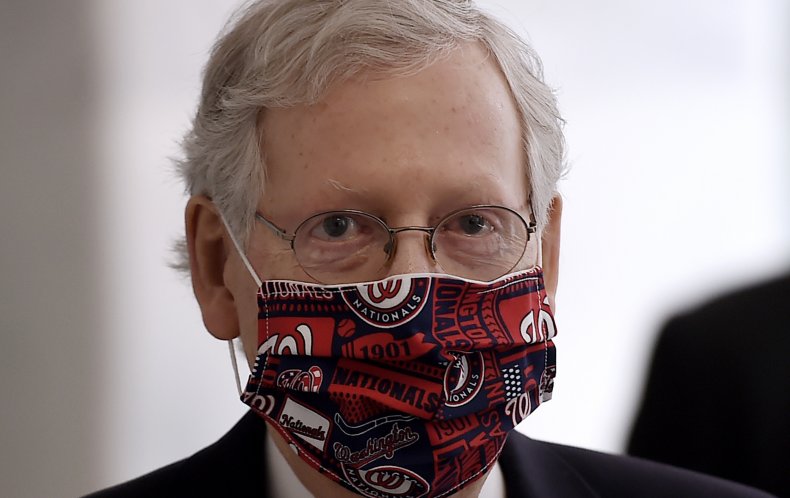 Despite calling for compromise, McConnell reiterated his push for the liability protection outlined in Senate GOP proposals, having previously said this would not be negotiated upon.
He said it is "absolutely essential" for liability protection for groups such as doctors, hospitals, nurses, public schools and others.
This would be so they "don't experience an epidemic of lawsuits on the heels of the pandemic that's clearly not over."
"If we have any chance of getting back to normal, we need to have a carve out, if you will, for people who acted in good faith to deal with this pandemic," he said.
"It wouldn't prevent you from being sued if you were engaged in gross negligence or intentional misbehavior. But if you were simply trying to wrestle with something we've never seen before, and acting in good faith, you ought not to be successfully sued on the heels of all the other challenges that we have."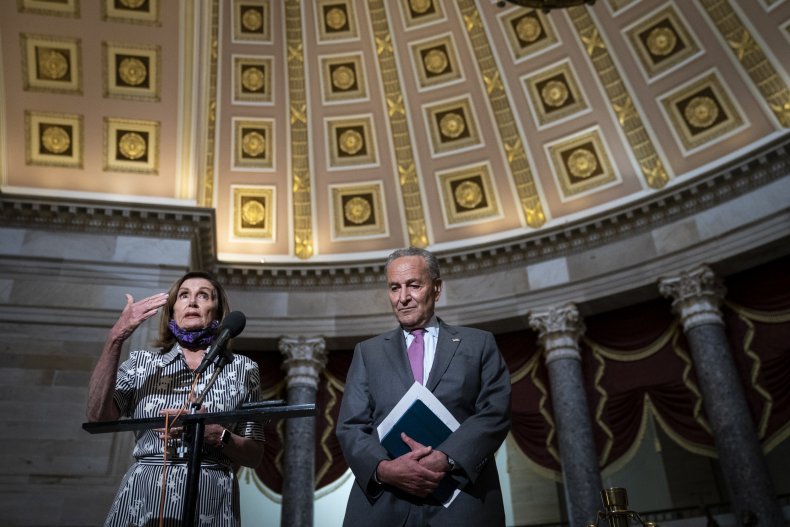 McConnell said earlier this month that "no bill will pass the Senate without, liability protection for everyone related to the coronavirus."
Measures on liability have been put forward in the Safeguarding America's Frontline Employees To Offer Work Opportunities Required to Kickstart the Economy (SAFE TO WORK) Act, introduced by Sen. John Cornyn (R-TX).
Cornyn, in a statement detailing the act, said: "This legislation would protect those acting in good faith from being sued into oblivion while ensuring bad actors who willingly put their patients, employees, or customers in danger will still be held accountable."
Democratic leaders have previously pushed back on McConnell's stance on liability protection, branding his provisions extreme and suggesting his position hinders talks.
Senate Minority Leader Chuck Schumer (D-NY), after he and House Speaker Nancy Pelosi (D-CA) met with Treasury Secretary Steve Mnuchin for talks earlier this week, said: "Leader McConnell said that his entire liability provision would have to be, without negotiation, part of any bill that's going to pass. That is no way to negotiate, particularly when his provision is so extreme. It favors corporations, we know that.
"But, for instance, it says: all medical malpractice, COVID-related or not—all state medical malpractice is gone until 2024. It's a radical change of all liability law.
"And we asked Mr. Mnuchin and Mr. [White House Chief of Staff Mark] Meadows to go back and see if Mr. McConnell really meant that. Because that would mean he's probably not interested in any bill at all."
Pelosi said also said McConnell "doesn't sound like anybody who wants to have an agreement or anybody who can pass a bill on the floor of the Senate."
On the liability provision, she said: "This liability provision he put in there is McConnell liability on steroids. He has taken it to a whole other place."
Newsweek has contacted McConnell, Cornyn, Schumer and Pelosi for comment.
The division between the parties comes as Republicans also face a push back on proposals within their own ranks.
More fiscally conservative GOP lawmakers have voiced concerns over the level of spending put forward.
Pelosi previously criticized this split within the party suggesting that Senate GOP leadership could not garner enough support from fellow Republicans in order for negotiations to begin properly.