Pelosi Says GOP Not Ready to Negotiate Stimulus Amid Senate Rebellion
House Speaker Nancy Pelosi (D-CA) has suggested Senate Republicans are not ready to negotiate with the Democrats over stimulus proposals as they cannot garner enough support for their plans.
Pelosi reiterated that the Democrats' HEROES Act had been passed by the House, suggesting the Senate GOP should get their own plans through the upper chamber in order for discussions to start in earnest.
"We have passed our bill, the appropriate thing for the Senate to do is to pass a bill and then we can negotiate with them, but they can't even get a bill passed on their side, even if it just took 51 votes, they're in disarray," she told MSNBC.
Commenting on talks having begun, with her and Senate Minority Leader Chuck Schumer (D-NY) meeting with Treasury Secretary Steve Mnuchin, she said: "It isn't a negotiation really, it's just a review of our bill versus what the Republicans are proposing, so it's not even to the level of negotiating yet."
"They can't pass a bill," she said, commenting on the push back from GOP lawmakers in the Senate.
"Forgetting the 60 votes I think it's very hard for them to get 51 votes for the proposal that they've put forward."
As well as criticizing the state of the opposition's proposals and unity in regard to them, she also took issue with the contentious points of boosted unemployment payments.
The CARES Act accounted for a $600 weekly enhancement, while the Republicans' new suggestions take this down to $200 before then switching to a plan to account for 70 percent of recipients' previous wage. Democrats have previously pushed back against this.
"We're here for America's working families, and they're having condescension and disrespect for America's working families. Saying, '$600, some of them may stay home instead of going to work for $600,'" she said.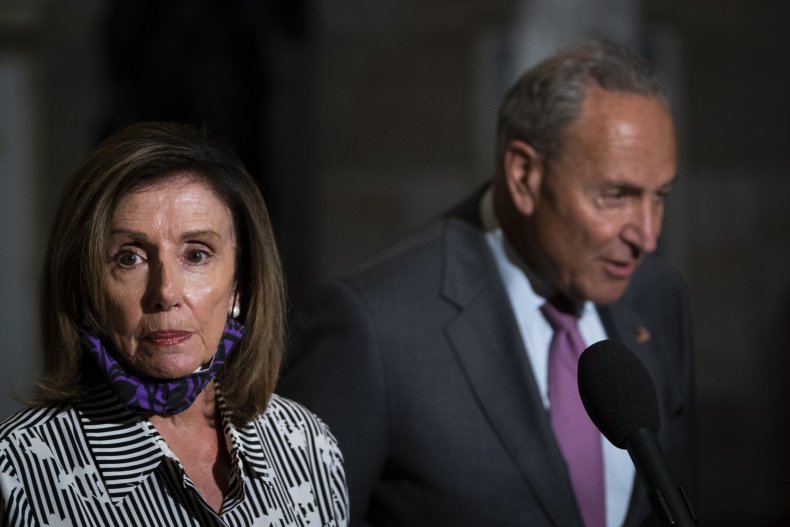 Pelosi added that though those stating this might be able to refer to it anecdotally, she does not believe data rings true on this, adding: "The data tells us America's working families need the $600."
She had previously criticized the stance of Senate Majority Leader Mitch McConnell (R-KY) when it came to negotiating, stating that it "seems to me that Senator McConnell really doesn't want to get an agreement made," referring to comments he had made on liability protections.
"It wasn't a good way for us to start the discussion this afternoon," she added, while addressing the media after meeting with Mnuchin and White House Chief of Staff Mark Meadows.
McConnell on Tuesday said the "interaction with the Democrats has seriously begun." He had previously downplayed the chance of passing anything this month.
The speaker's comments come as Republican senators voiced reservations over their party's pitches.
Senators labeled the plans "a mess" while issues with the spending were also leveled by more fiscally conservative lawmakers, with this described as a potential "deal breaker."
Sen. Lindsey Graham (R-SC) had previously suggested half of Republican lawmakers would vote against it.
There have been admissions among Senate GOP leadership that they will not get everybody on board, while they also aim to propose something which will garner support from Democrats in order to pass the House.
Newsweek has contacted Pelosi and McConnell for further comment.