GOP plans to reduce the unemployment boost in the next stimulus package have prompted a swift backlash from Democrats and may prove a hurdle in negotiations.
Under the CARES Act, unemployment benefits were boosted by $600 per week to assist the millions of people losing their jobs during the coronavirus pandemic.
Republican proposals, put forward by Senate Finance Committee Chairman Chuck Grassley (R-IA), suggest cutting this down to $200 through September before switching to plans to replace 70 percent of a recipients previous wage from October.
The 70 percent plan was previously discussed by Treasury Secretary Steve Mnuchin, who said "we're not going to pay people more money to stay at home than work," after suggestions the $600 flat rate did so in some instances.
House Speaker Nancy Pelosi (D-CA) has called upon Republican leadership from Congress and White House representatives to swiftly negotiate in order to reach a conclusion and "get the job done."
Pelosi previously said she was pushing for the $600 boost to continue, with the Democrats' HEROES Act passed by the House having accounted for this.
Pelosi, in earlier comments, asked: "Why do they have to make a fuss over $600 which means a lot to many working families in our country?"
Senate Minority Leader Chuck Schumer (D-NY) said at a press conference with Pelosi that the proposal was "fraught with all kinds of problems," in regards to unemployment.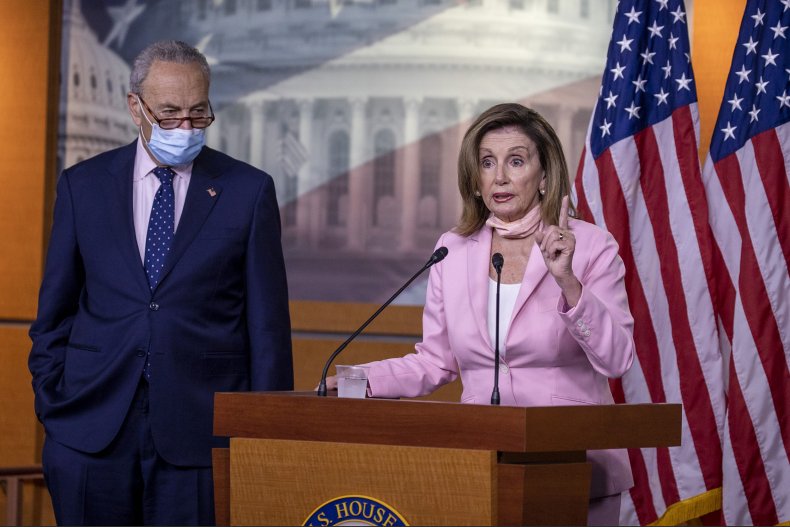 Fellow Democratic lawmakers have criticized the GOP proposal of reducing the previous boost.
"The $600 dollar enhanced unemployment benefit has been a lifeline. It has allowed families to keep a roof over their heads, feed their children, and pay their bills," Rep. Ben Ray Luján (D-NM) tweeted. "Slashing this benefit by two-thirds unfairly punishes Americans who lost their jobs through no fault of their own."
Sen. Tammy Duckworth (D-IL) pushed for the HEROES Act to be brought to a Senate vote, as she raised issues with the substance of the Senate GOP's proposals, taking particular aim at the unemployment measures.
"Let's be clear about what's happening here: After neglecting to act until millions of Americans lost their emergency unemployment benefits, it's unconscionable that Republicans would not only propose cutting hundreds of dollars a week that working class families are relying on, but also that they seem to think asking Americans who are still out of work because of how poorly they and Trump have managed this pandemic to take a 30% pay cut is an acceptable long-term solution. It isn't," she said in a statement.
Rep. Mary Gay Scanlon (D-PA) commented on the reduction and said she gave the GOP proposal a "hell, no!"
Grassley, announcing the provisions, had said they were the starting point for discussions.
"This legislation serves as a starting point for bipartisan negotiations," he said. "I urge my colleagues on both sides of the aisle to not let partisan differences derail progress."
A spokesperson for Grassley told Newsweek that the $600 per week boost meant "most recipients" had been paid "more on unemployment than they were when working."
"This plan provides an additional $200 for two months on top of what states provide, meaning a median-wage worker would get around 70% of lost wages during that time, then states would transition to a more targeted approach that replaces about 70% of lost wages," they said, when asked for comment on the criticism from Democrats.
They also pointed to the decision to include another round of stimulus check payments.
"Americans will also receive another round of economic impact payments on top of federal and state unemployment insurance," they said. "Importantly, Americans will receive these payments regardless of whether they are rehired or not, thereby not punishing those who are able to return to work."
Newsweek has contacted the lawmakers mentioned in this report for comment.
Recipients of the unemployment enhancement have described it as a lifeline and spoken of their anxiety over the prospect of it being cut, as previously reported by Newsweek.
Last week, 1,416,000 people filed for unemployment, while previous polling suggests nearly half of all households' income across the nation has been impacted.
COVID-19 cases continue to rise across the U.S., with previous lockdown measures and pauses to reopening in some areas due to spikes prompting further economic hardship with businesses struggling to operate.
More than 4.2 million cases have been confirmed across the nation, according to Johns Hopkins University figures. The graphic below, from Statista, shows the states with the highest numbers.