Nearly Half of U.S. Households' Income Declined Due to COVID-19
As millions of Americans remain unemployed amid the novel coronavirus pandemic, nearly half of U.S. households have seen their income decline, according to new survey data.
Bankrate, a New York financial services company, conducted the survey with YouGov from June 18 to 23. The results showed that 49 percent of adults in the U.S. have experienced a negative impact on their income during the pandemic. Of that 49 percent, just 17 percent said their income has now returned to normal. Another 42 percent voiced optimism that their finances would rebound within six months. But 4 percent said that their income will never recover.
"What is most striking is the widespread impact on household income from the pandemic," Greg McBride, Bankrate's chief financial analyst, told Newsweek in an email.
The survey data showed that low and higher income households appeared to be negatively impacted at approximately the same rates, as the results revealed only a relatively minimal difference between income brackets. For instance, 48 percent of households with less than $30,000 in annual income said they saw a decrease due to the pandemic. Among those earning $80,000 or more, 53 percent noted a reduction.
"The financial impact goes far beyond those that have lost jobs and includes millions of households that have seen their hours reduced, taken a pay cut, or been unable to operate their businesses as usual. So the discussion needs to be about more than just unemployment benefits," McBride said.
The graphic below, provided by Statista, outlines the survey results.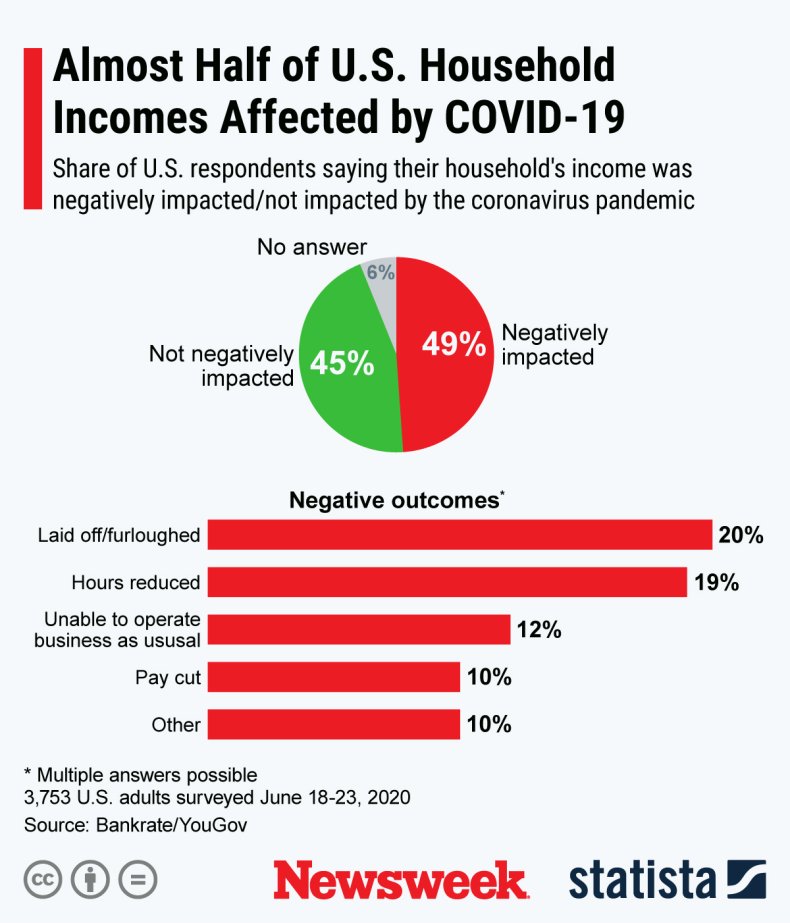 In March, Congress shored up unemployment benefits by adding an extra $600 per week for those out of work during the pandemic through the $2.2 trillion decrease from the Coronavirus Aid, Relief and Economic Security (CARES) Act. However, that extra money is set to expire at the end of July, barring some extension from lawmakers.
Republicans and Democrats are currently discussing further stimulus, which the Trump administration has said should total about $1 trillion and be passed before Congress goes on recess in August. It's unclear what the new stimulus would include, as Democrats put forward a $3 trillion stimulus package in mid-May. Although the legislation passed in the Democratic-controlled House of Representatives, it was dead on arrival in the GOP-controlled Senate.
Although Trump has urged for the economy to reopen rapidly despite pushback from many public health experts, new surges in infections have forced several states to pause their reopening plans or even re-implement some lockdown measures. As a result, employment gains made during reopening as people returned to their jobs are expected to once again decline.
"Reduced incomes, elevated unemployment, and concerns that another lockdown could further impact household income, are all drags on demand and mean a longer, slower recovery," McBride told Newsweek.
The latest monthly jobs report from the Bureau of Labor Statistics, which was published on July, showed that the official national unemployment rate stood at 11.1 percent in June. That was a decline of 2.2 percent from a month earlier. But as some cities and states have ordered some businesses to once again suspend operations, economists are concerned that jobless claims may rise again.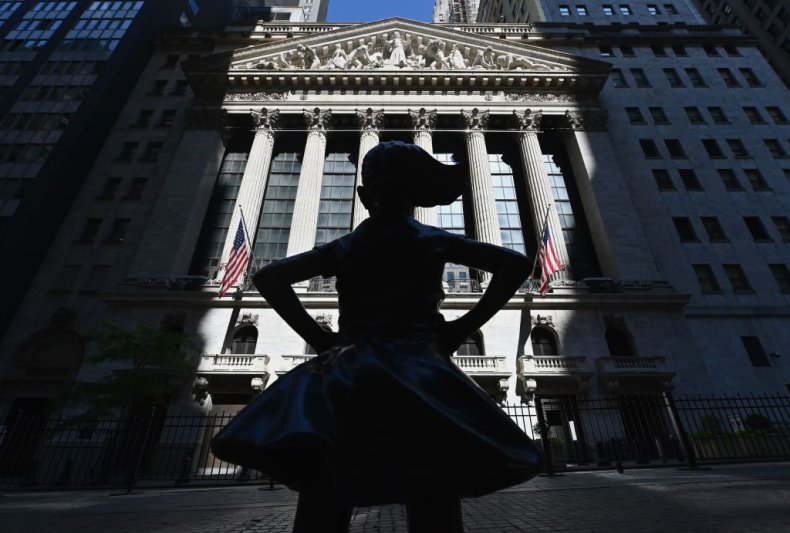 Update 7/9/20: This article was updated to include an infographic.