The GOP's Second Stimulus Check Proposal Explained
Senate Republicans revealed their plans for a second round of stimulus checks on Monday night, along with a host of other measures forming a new $1 trillion coronavirus bailout plan.
Outlining the terms of the so-called HEALS Act, Senate Majority Leader Mitch McConnell said a second round of stimulus checks was on the cards, adding that "even more support for families who care for vulnerable adult dependents" would be included in the bill.
"This unprecedented expansion of federal assistance will help millions of workers, families, patients, businesses and governments survive this historic public health and economic crisis," Senate Finance Committee Chairman Grassley added.
According to the text of the proposals, published by Sen. Grassley's office last night, the second round of stimulus checks will work much like the first round of payments, with only a couple of tweaks having been made to the CARES Act's initial stimulus check plans.
Some Americans are still waiting for their first direct payment to arrive, despite the CARES Act being passed four months ago. According to one report, a number of people could be waiting until 2021 for their first stimulus check to arrive.
Here is what you need to know about the GOP's plans for a second round of stimulus checks, and who will be eligible for the payments.
Who is eligible for a stimulus check?
Much like the CARES Act stimulus passed by Congress in March, the GOP's proposed HEALS Act would offer a second stimulus check to most Americans, depending on their income.
Single filers with an income over $99,000, joint filers with no children and an income exceeding $198,000, and heads of households with one child and an income topping $146,500 are all ineligible for a stimulus check under the proposals.
Prisoners set to spend time behind bars for the whole of this year, Americans who died before January 1, 2020, and non-U.S. citizens are also cut out of the program.
If you're an American adult earning anything under the income caps, and you're not dead or in prison, you are eligible for another stimulus check.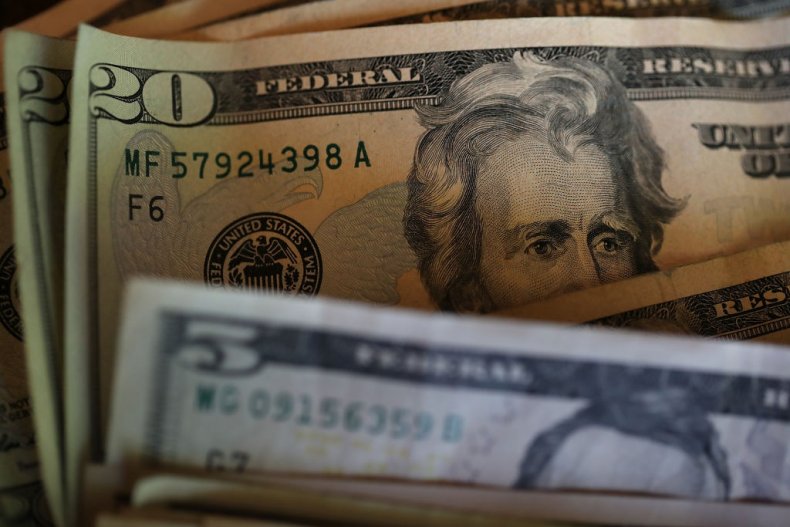 How much could you be paid?
The size of stimulus checks varies depending on income and whether or not a person is looking after children or adult dependents.
According to the proposals unveiled by the Senate Finance Committee, American adults will receive $1,200 if they are a single filer with a gross income below $75,000, a head of household earning less than $112,500, or a couple reporting less than $150,000 in earnings.
Americans with incomes above those levels will see the size of their stimulus checks gradually whittled down by 5 percent until the total cut off points outlined above.
Those looking after children and adult dependents will receive an extra $500 for each person in their care.
When will people receive their second stimulus check?
It is not clear when Americans will get their second stimulus checks, as the plans revealed by Senate Republicans yesterday still have to win congressional approval.
Treasury Secretary Steven Mnuchin has indicated that he wants to send out a further round of payments in August, if plans have been approved by then.
"We'll get the majority of them out in August and those will help people," Mnuchin said last weekend.