What Losing the $600 Unemployment Boost Means to Those Who Got It
With enhanced unemployment benefits set to end, recipients have spoken of their fear and anxiety over the precarious financial situation losing such a lifeline will place them in.
The CARES Act authorized a $600 weekly boost to such payments amid the COVID-19 pandemic, though this ceases at the end of the month.
However, the benefit is only paid on weeks ending on Saturday or Sunday, meaning this week is scheduled to be the last including that additional money.
The Senate GOP is debating what moves to take next, with its leadership having held meetings with the White House in recent days, though further relief is not expected to be signed off this month.
In the face of such uncertainty, several people receiving the support throughout the pandemic have told Newsweek of the difficulty losing the extra funds would mean to them.
"It's my only lifeline," Jake Douglas, who worked in airline catering, told Newsweek. "My partner and I were both laid off."
Douglas, 28, lives in Denver and said the state's usual level of benefits, which he and his partner had to wait weeks to receive, will not cover his bills.
"So, I don't know what I'm going to do. I had a torn shoulder before getting laid off and was working on restriction, but I haven't been able to afford surgery to fix it or felt safe going to a hospital or physical therapy," he said. "Now, I'll be forced to look for whatever work I can, and I'm scared if it's too physical I won't be able to bear the pain, or could even hurt myself worse. Then what am I going to do?"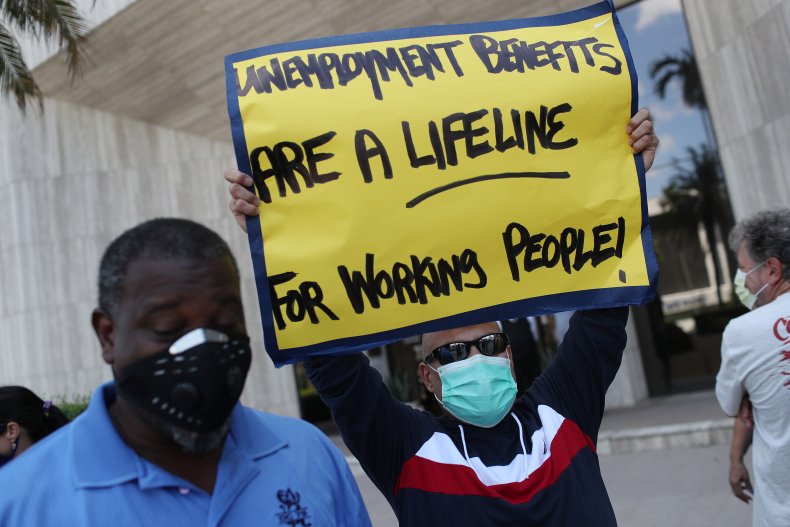 Douglas is joining a national day of action Friday organized by food service workers, under the banner of Restaurant Workers United, calling for the $600 enhancement to be extended.
"The general feeling is that the pandemic is getting worse, not better. This industry is unsafe, and the jobs are not coming back. Many of us don't have insurance or savings because our jobs were already precarious," he said.
Reba Deyerle, who lives in Summerville, South Carolina, worked as a sales rep selling vacation ownership.
Asked how the $600 enhancement has supported her throughout the pandemic, she told Newsweek: "It's helped me pay rent and my car payment each month. Without it, I'll either lose both or the burden falls to my family and partner. Both off which have their own bills they need to keep up with. It's also helped keep groceries in my fridge. I'm honestly looking at losing everything I've worked so hard for in life. It's a scary time."
Deyerle, who is asthmatic, said being out in public in the state "can be nerve wracking," and the $600 has also helped to ensure her safety.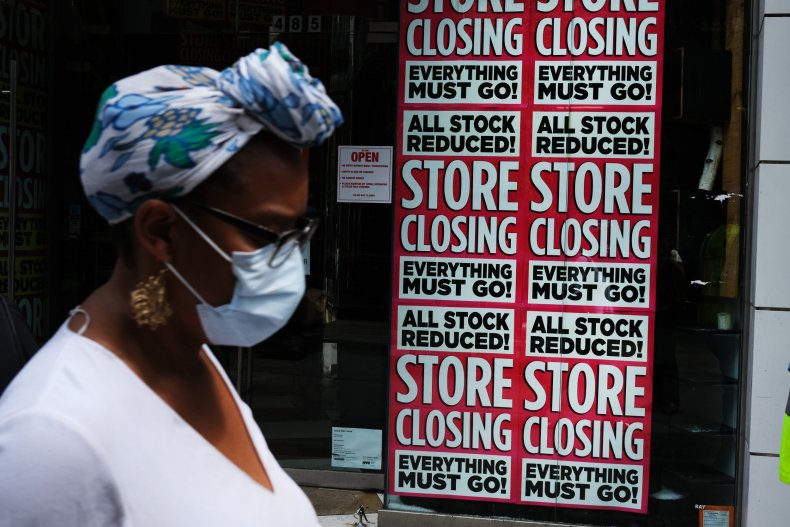 She said she has started working on other projects to try and supplement her income, but said these still will not cover her monthly expenses.
"I just don't know what's going to happen to me once the extra $600 runs out. My house, my car, my life. All are at stake now while our politicians are safe," Deyerle said.
Zach, who did not want to share his last name, lives in Jersey City and works as a stagehand.
Describing the benefit of the $600 boost he said it "is what puts food on my table, keeps the lights on and pays all my other bill like cable, cell and credit card."
"If the extra stops I'll see what bills I can do a forbearance with... pay minimum to keep the lights on or things not getting turn off," Zach, 40, said.
"Might have to run up credit cards until they get canceled and see what food banks or food assistance is available."
Zach added that he is anxious over the extra money getting cut, and the unknown of how much it might be if it is reduced, while stating he is also angry about the prospect.
Angie Donellan, a mother-of-four who lives in Alabama, told Newsweek the extra $600 "is the only thing saving us from losing our home, car, pays our bills, groceries."
"It's been a huge lifeline for us," she said, with her husband having been unable to carry out his usual work in a restaurant.
Donellan said she is "constantly worrying" about whether her husband, Nick, who has severe asthma, will have to choose to return to work and potentially face exposure to the virus due to losing the additional financial help.
Asked about the prospect of losing the extra support, she said: "Honestly, it's stressful, anxious and depressing as hell."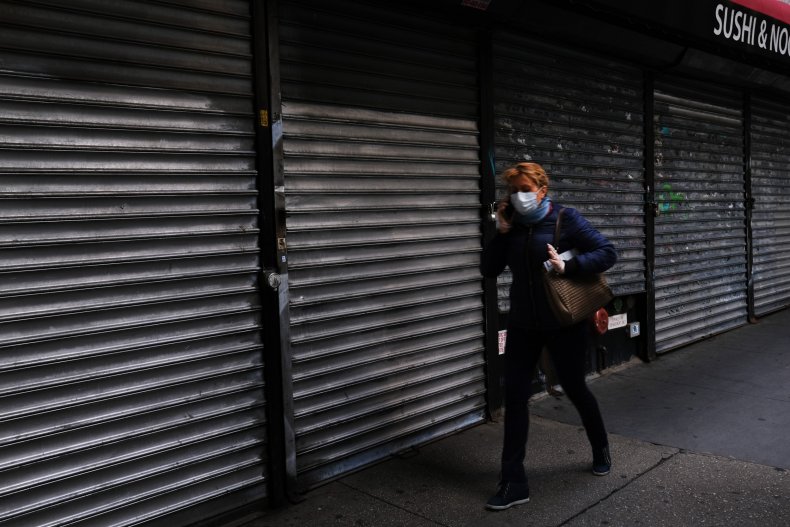 Emilia, 30, who declined to give her last name, a freelancer and an artist who lives in Brooklyn, said she would not have been able to pay her bills without the enhanced payments.
"It just wouldn't have happened," she told Newsweek. "Freelancing hours were cut way down and art sales were way down. I don't really have a savings, I mean I'm an artist in NY.
"The stimulus check, and an emergency art sale got me through initially but being able to qualify for the enhancement has made it possible to plan for the future and save some money in case things do not improve or there's a second wave."
Asked her thoughts on the boost coming to an end, and what might happen if further help is not forthcoming, Emilia said: "I think that it'll be a disaster and I'm afraid about what will happen.
"People need support so they can stay home and keep everybody safe. Without support people will make desperate decisions. It just seems crazy to me."
Alexandra Barr, who lives in New York City, had set up her own business doing photography, PR and social media for businesses last year. Work fell away this year as the pandemic wreaked havoc on the economy.
"Basically as soon as I started getting more clients, they were no longer doing business and all of a sudden I was left with nothing," she told Newsweek.
She had been supplementing her income with savings, then has been putting away some of the $600 in order to be prepared for when she next has to pay taxes in February.
She has applied for jobs "literally every day," but said: "You just don't hear back.
"Nobody can afford to actually hire anyone right now, and if they do they aren't even open full hours so you're not making enough anyways."
In terms of going back to work, she also expressed fear over the safety of this at present.
"I don't have health insurance currently so I'd be so screwed if anything went wrong which is very possible. I wouldn't want anyone in my family to come help me either because the last thing I'd want is for them to get it as well," she said.
Jacob Silverman, who also lives in Brooklyn, had been working for a digital consultancy but was laid off.
He has recently moved home, with his wife and two-year-old daughter, before this and said it was "upsetting and a little scary" losing his job.
"The unemployment has made a real difference," he told Newsweek.
"It's made a huge difference not worrying about buying stuff for our daughter."
Silverman, 35, said his family is fortunate his wife is still working but added: "I worry about people who are in a worse position than us."
In regards to the $600 boost, he said: "It feels like the right thing to do."
Senate Republicans have been meeting with the White House in recent days to discuss what action to take next in regards to a further relief package, though one is not expected to pass until next month.
The level of unemployment support is also unclear, with suggestions the $600 per week will not continue but could instead be swapped with people receiving around 70 percent of their former wage.
Newsweek has contacted the White House and Senate Majority Leader Mitch McConnell for comment.
COVID-19 cases continue to rise in the U.S., with more than 4 million confirmed, and spikes are forcing some areas to pause reopening or to reimplement previously imposed restrictions.
Recent polling suggested nearly half of all households' income across the nation has been impacted. Last week, 1,416,000 people filed for unemployment.
Despite these economic issues, President Donald Trump, speaking on Hannity last night, said: "We're going to have a great year next year. We're going to have a great third quarter."