U.S. Surpasses 4 Million Coronavirus Cases As States Battle New Surge
Coronavirus cases surpassed more than 4 million confirmed cases in the U.S. Thursday prompting some cities to consider implementing new stay at home orders where the virus is surging.
Numerous hotspots have emerged in Arizona, Florida, Texas, and California as cases increase. Nationwide, more than 143,000 deaths have been reported thus far.
Hospitals in many major cities in Texas have been at or near capacity, while a record number of hospitalizations were reported on July 18 and July 19 in Los Angeles.
On Sunday, Los Angeles Mayor Eric Garcetti told CNN that he may impose a new stay-at-home order, adding that the economy may have reopened too soon and sparked a resurgence of the virus.
"It's not just what's opened and closed, it's also about what we do individually. It's about the people who are getting together outside of their households, with people they might know," he said. "It might be their extended family, it might be friends. They might think because they got a test two weeks ago, that it's okay. But it's not."
According to a tracker from Johns Hopkins University, Los Angeles County had the most confirmed cases of COVID-19 in the U.S. with 165,134 infected patients reported as of July 23. The state has also become the new epicenter of the virus as California surpassed New York's infection numbers on July 22.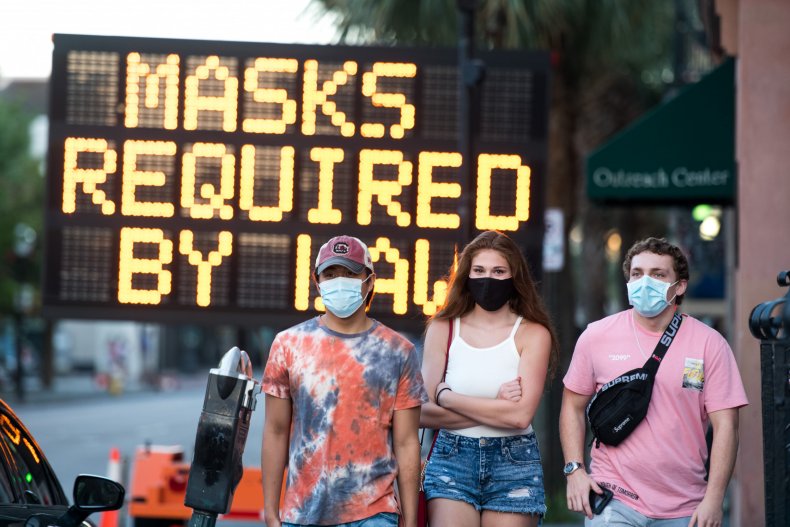 Officials in Texas, Florida, and Arizona have blamed the surge in new coronavirus cases on states reopening too quickly, according to a Washington Post report.
However, others such as Miami-Dade Mayor Carlos Gimenez, and Texas Governor Greg Abbott have placed the blame on a lack of social distancing.
Texas, and Florida, which were among the first states to begin slowly reopening in their economies in April, have been among the hardest hit by the most recent surge of the virus.
"If I could go back and redo anything, I would slow down the re-opening of bars," Abbott told KVIA in El Paso.
On July 6, Gimenez issued an executive order closing restaurant dining rooms, gyms, and bars, after the state began to see a spike in cases with patients between 18 and 34.
Since the start of the pandemic, Florida's health department reported that more than 5,000 people have died, and more than 360,000 positive cases have been reported. Despite the surge, Florida Governor Ron DeSantis has said several times the state will not be closing down again.
Like Florida, Texas has experienced a surge in cases, with more than 10,000 cases reported daily between July 14 and July 18, and more than 325,000 cases since March.
Last week, Houston Mayor Sylvester Turner said in a Houston Chronicle report that he and Harris County Judge Lina Hidalgo favored taking a step back and implementing a two week shut down, as cases of the new coronavirus continue to surge.
Houston is one of several Texas cities to call in Texas National Guard resources to set up field hospitals and assist with the overflow of novel coronavirus cases in area hospitals.
Lawmakers representing south Texas communities near the Texas-Mexico border have also requested that field hospitals be set up to deal with the surge in cases.
Meanwhile, New York, which as the epicenter of the novel coronavirus outbreak in March and April, is entering the fourth phase of reopening.
Last week, New York Governor Andrew Cuomo announced restrictions that required people traveling to New York for hotspots where the novel coronavirus has spiked, to provide their contact information when they arrive in the state or face a fine of up to $2,000.
On Monday, Cuomo warned New Yorkers to be on their guard and continue practicing the guidelines to keep themselves and their neighbors safe.
"We are still in a precarious position, not because of anything we have done, but the negligence of the federal government and the states that listen to the federal government," Cuomo said in a Gothamist report. "I am very worried about the spread that we see across the country and the inevitability that the spread will be here."