California's Coronavirus Cases Surpass New York, As State Confirms Over 300K Infections Since Reopening
California has now confirmed more cases of the novel coronavirus than all other U.S. states, surpassing New York's total after nearly two months of surging diagnosis rates.
According to a tracking database updated by Johns Hopkins University researchers on Wednesday morning, July 22, more than 409,000 people have tested positive for COVID-19 in California since the pandemic began. The tracker comparatively showed roughly 408,000 people have contracted the virus in New York over the same time period. California's COVID-19 fatality toll remained substantially lower than New York's on Wednesday, with 7,890 deaths confirmed in the former state compared to 32,520 in the latter.
Data released by the California Department of Public Health on Wednesday afternoon showed the state's confirmed case count exceeded New York's by almost 4,700. The CDPH confirmed more than 12,800 additional infections between Tuesday and Wednesday, a new record daily increase in diagnoses that brought California's total to at least 413,476 cases. The New York State Department of Health updated its figures to reflect 408,886 confirmed cases on Wednesday.
California is one of a handful of U.S. states, like Texas, Florida and Arizona, where health officials are reporting an ongoing surge in cases, hospitalizations and deaths from COVID-19 infections. Those states began to see an uptick in virus diagnoses several weeks after initiating economic recovery protocols.
In California, the vast majority of cases were diagnosed after businesses across the state began to reopen in mid-May, under its phased, regional reopening plan. According to the CDPH, California's confirmed case total has quadrupled since then.
Dr. Mark Ghaly, the secretary of California Health and Human Services, warned residents that the state is only at the "beginning" of its outbreak during a press conference on Tuesday. The health expert urged individuals to abide by California's statewide face mask mandate and respect social distance measures as virus cases continued to rise. He suggested the state's outbreak resurgence was at least partially due to relaxed restrictions applied to businesses and public areas, saying some viewed reopening as permission to "return to normal life."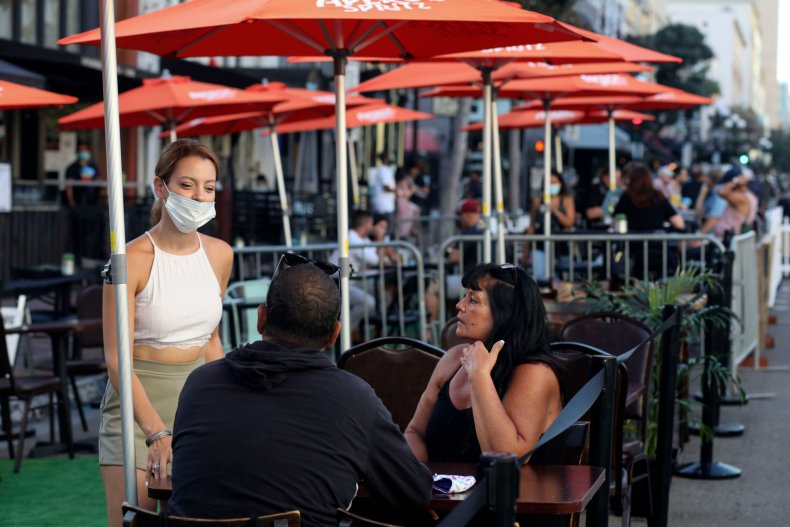 In addition to statewide face mask requirements, effected in June, California Governor Gavin Newsom rolled back reopening procedures in 19 of the state's counties earlier this month. The affected counties—Contra Costa, Fresno, Glenn, Imperial, Kern, Kings, Los Angeles, Merced, Orange, Riverside, San Bernardino, San Joaquin, Santa Barbara, Santa Clara, Solano, Stanislaus, Tulare and Ventura—housed more than 70 percent of the state's residents and accounted for the majority of its virus cases.
Counties were directed to suspend in-person operations across a number of industry sectors and close down bars entirely for three weeks, beginning on July 1. One week later, California reported a new single-day record increase in COVID-19 cases, with almost 11,700 additional diagnoses. Newsom added more restrictions last week, directing bars statewide to close in addition to indoor services at restaurants, movie theaters and other close contact or group gathering spaces.
Newsweek reached out to Governor Newsom's office for comments but did not receive a reply in time for publication. The CDPH directed Newsweek to Dr. Ghaly's Tuesday press conference remarks in its reply.
This story was updated to include the California Department of Public Health and New York State Department of Health's latest COVID-19 case data.