19 C.A. Counties Suspending Some Business As State Reports 10K Coronavirus Cases
Bars, restaurant dining services, and indoor operations across a handful of business sectors will close in 19 California counties for the next three weeks, as the state grapples with an ongoing spike in cases of the novel coronavirus.
California Governor Gavin Newsom announced the modified health orders during his office's latest news conference on Wednesday afternoon. He said the restrictions will suspend indoor operations at zoos, museums, movie theaters, card rooms and wineries, in addition to restaurants. Bars will close entirely.
The counties affected by Newsom's new directive are: Contra Costa, Fresno, Glenn, Imperial, Kern, Kings, Los Angeles, Merced, Orange, Riverside, San Bernardino, San Joaquin, Santa Barbara, Santa Clara, Solano, Stanislaus, Tulare and Ventura. Residents of those counties account for more than 70 percent of California's total population—upwards of 27 million people—according to Newsom. Seven the counties listed were already directed to close bars under an order issued by the governor on Sunday.
"The bottom line is, the spread of this virus continues at a rate that is particularly concerning," Newsom said during Wednesday's news conference.
He explained that counties ordered to roll back previous reopening permissions are those where health officials have reported higher concentrations of new virus cases over the last three days, in addition to those where test-positivity ratios have increased. Test-positivity rates measure the incidence of virus infections against the total number of diagnostic tests administered to a given population.
"Today's action is necessary to help slow the spread of this virus," said California Department of Public Health (CDPH) Director and State Public Health Officer Dr. Sonia Angell in a statement released Wednesday afternoon. "We put ourselves and our community at greatest risk for COVID-19 when we mix with people who don't live with us. And if you go out, wear a face covering, keep your distance, wash your hands frequently and limit unnecessary indoor activities that increase the risk of exposure."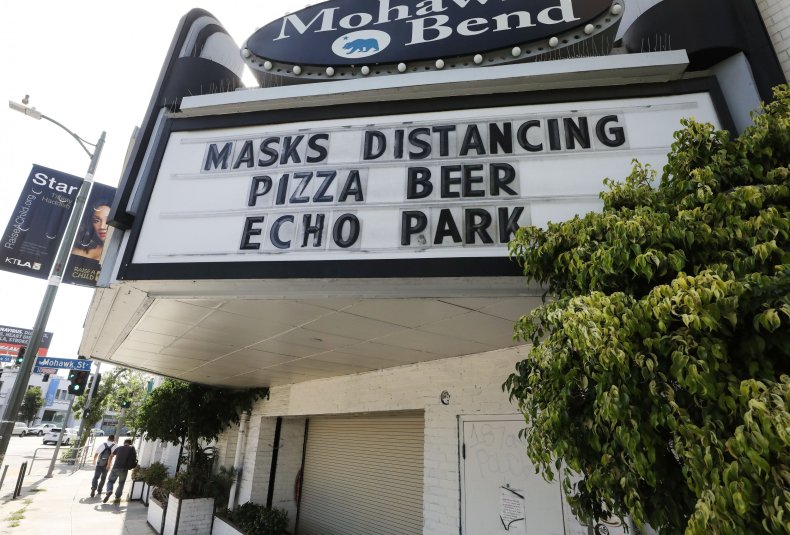 As of Wednesday, California's overall test-positivity rate was roughly 6 percent, up from 5.1 percent reported seven days ago. About 40,000 new diagnoses were confirmed since then across the state, with Los Angeles County continuing to report the highest influx of cases.
The state also saw its highest single-day increase in new cases on Wednesday, with close to 10,000 positive tests. More than 230,000 people have contracted the novel virus across California since initial cases were identified in March, according to Johns Hopkins University's tracker. Of those diagnosed, about 6,000 people have died from the novel virus across California since the pandemic began, according to the tracker.
Newsweek reached out to Newsom's office and the CDPH for additional comments but did not receive a reply in time for publication.