California Reports More Than 7,000 New Coronavirus Cases in a Single Day
California saw another record increase in new cases of the novel coronavirus on Wednesday, with 7,149 diagnoses reported. The state's previous single-day high, of 5,019 new cases, was reported on Tuesday.
California Governor Gavin Newsom released the latest figures during a news conference on Wednesday afternoon, saying the incidence of new cases reported daily has increased by 69 percent statewide over the last 48 hours. Although Monday's increase of 4,230 new cases did not set a single-day record, it neared the state's previous record of 4,515 cases, set on Sunday. Given surging case counts reported by California health officials throughout June, Newsom urged state residents to abide by the face mask requirement enacted in an executive order last week.
The California Department of Public Health (CDPH) updated its virus dashboard with the day's statistics shortly after Newsom released Wednesday's numbers. The dashboard notes that California has now confirmed upwards of 190,200 cases since the pandemic began. Close to 30,000 of those cases have been identified over the last seven days, when CDPH reported 161,099 total cases. The difference in new cases reported on Tuesday and Wednesday, more than 2,000, was the largest jump reported by CDPH over a two-day period so far.
Newsom also released California's latest hospitalization figures during Wednesday's news conference amid an ongoing rise in patient admissions reported since the beginning of the month. Hospitalizations related to the virus have increased by 29 percent in California over the past 14 days, according to the governor. He also said the incidents of virus patients admitted to intensive care units has increased by 18 percent over that same time frame.
Officials in several states have debated whether upward trends in their respective outbreak curves should be attributed to expanded access to diagnostic tests or reopening procedures. Most California regions entered Phase 2 of the state's reopening plan at the beginning of the month, allowing a broad range of businesses to resume services with added mitigation measures in place.
Newsom addressed the association between increasing case counts and tests on Wednesday, saying California administered about 96,000 tests the previous day.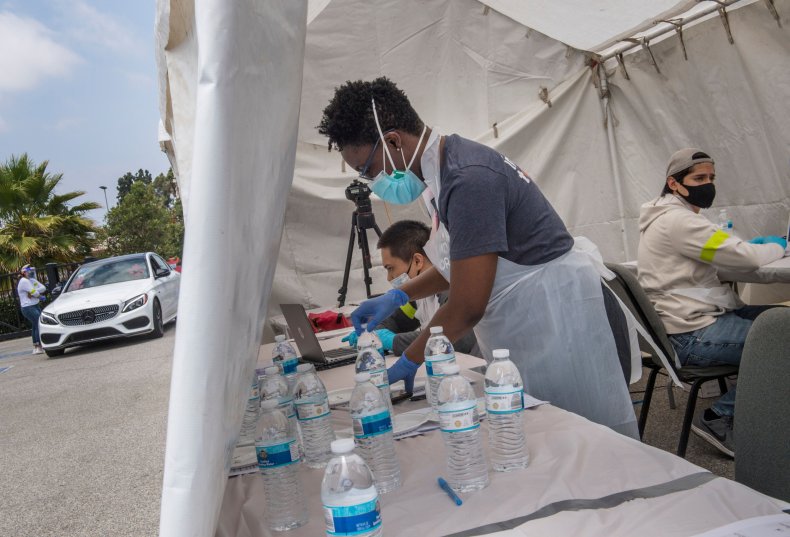 "What is fundamental...and I cannot emphasize it enough, is those numbers can be misleading," Newsom said of the high volume of tests distributed daily. He pointed to California's test-positivity ratio as a more accurate measurement of the virus' spread.
The state's ratio, which measures positive results against total tests conducted, was 5.1 percent as of Wednesday. While Newsom acknowledged the latest number was significantly lower than it had been in April, when California started to widely distribute tests, Wednesday's figure followed a steady increase in test-positivity rates seen since early June. The ratio had increased by about 0.5 percent since June 10, but Newsom explained that "each decimal point is profoundly impactful."
The CDPH referred Newsweek to Newsom's press conference comments in response to an inquiry about the relationship between increasing outbreak statistics, expanded testing procedures and reopening guidelines.