CA Sees Record Increase in New COVID-19 Cases, More Than 20,000 in 5 Days
California health officials confirmed the state's highest single-day jump in cases of the novel coronavirus on Sunday, trailing previous record increases reported earlier in June.
According to data published by the California Department of Public Health (CDPH), at least 4,515 new virus diagnoses were identified statewide since Saturday's figures were released. The increase surpassed California's previous single-day highs of 4,317 and 4,084 new cases, reported by CDPH on Wednesday and Thursday of last week. More than 20,200 new diagnoses were confirmed over the last five days.
As of Sunday, roughly 175,000 people have tested positive for the respiratory illness in California since March, according to Johns Hopkins University's tracker. Of them, close to 5,500 people have died.
California's recent surge in virus diagnoses pushed its case count to the nation's second-highest total by Sunday afternoon, surpassing New Jersey's 169,100 total cases. New York, once the epicenter of the U.S. outbreak, has confirmed the highest number of cases in the country, with more than twice as many positive tests reported compared to California's statistics.
Coronavirus-related hospitalizations have risen by about 10 percent in California since June 11. On Sunday, CDPH confirmed 3,574 patients admitted to medical centers across the state with virus infection, noting that about 30 percent of them were admitted to intensive care units (ICU). The health department's data lists an additional 1,105 hospitalized individuals as "suspected" coronavirus patients, close to 20 percent of whom are ICU patients.
In comments to Newsweek earlier this month—shortly after California confirmed its highest seven-day average increase in confirmed cases during the first week of June—CDPH Director and State Public Health Officer Sonia Angell attributed rising case counts to expanded access to diagnostic testing as well as recent reopening procedures. At the time, Angell said the state's hospital network expected a possible surge in patients as a result, and noted that officials were prepared to handle it.
"The point of the stay-at-home order was to prepare our hospital system for a potential increase in cases, and we are ready," she added.
Newsweek reached out to the California Department of Public Health for comments regarding Sunday's latest virus figures, but did not hear back in time for publication.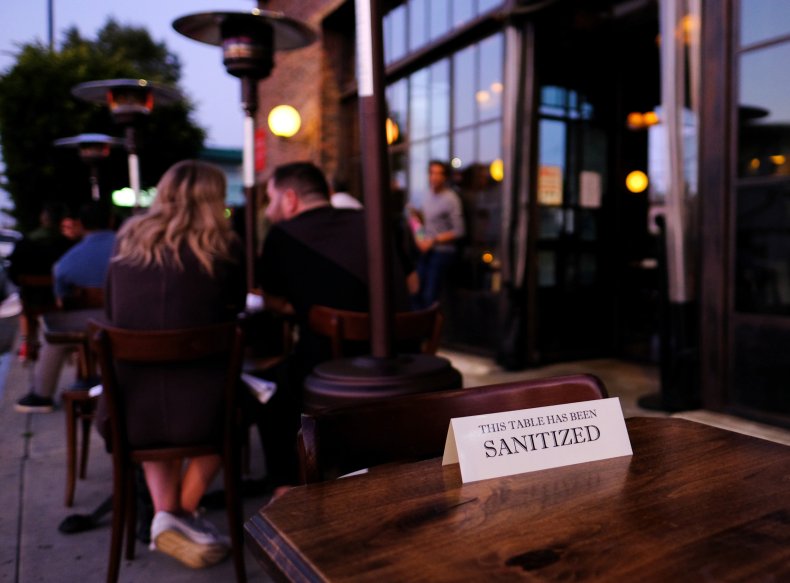 Almost all California counties were approved to reopen industries and relax public gathering restrictions under Stage 2 of Governor Gavin Newsom's economic recovery plan by Sunday, and most were first approved before the end of May. Stage 2 allows "lower-risk workplaces" to reopen with ongoing virus mitigation measures in place. Newsom's guidelines categorize retailers, manufacturing companies, some personal care service facilities, outdoor museums and offices not able to conduct telework as lower-risk entities. Restaurants and bars started to accept dine-in customers over the last month.
Several reopening developments were effected in different parts of California late last week. According to Southern California news station ABC 7, Sonoma County, located north of San Francisco, allowed gyms, hotels, campgrounds and zoos to reopen on Friday. Several museums also reopened on Friday in Los Angeles, where close to half of the state's virus cases were confirmed, The Los Angeles Times reported. Dozens of additional museums are expected to reopen in Los Angeles and Orange counties throughout July and August.
On June 10, Disney proposed a gradual reopening of its Southern California amusement park starting in mid-July. Due to increasing virus numbers, particularly in that area of the state, its proposal has garnered criticism from state residents as well as company employees, according to The Los Angeles Times.