As officials across the country continue to advance reopening plans, a number of states, including California, Florida and Texas, are confirming new coronavirus cases and hospitalizations in rapidly increasing numbers. While some health experts warn that relaxed limitations on businesses could cause outbreak patterns to trend upward further, others suggest the heightened case counts are the result of broadened testing efforts.
Along with 12 other states, California and Florida reported their highest seven-day average increase in new cases, during the first week of June. On Wednesday, Texas reported its highest single-day increase in diagnoses since the start of the pandemic, with 2,504 new cases, more than twice as many reported the previous day.
According to Texas health officials, the state's case positivity ratio was close to 7 percent on Wednesday. Hospitalizations in Texas also reached a record high that day.
According to data from Florida's Department of Health, new cases increased steadily during the first three weeks of May, with officials reporting a steep uptick after May 24. The DOH confirmed 1,371 new positive cases on Wednesday, its 10th consecutive daily report that said roughly 1,000 additional cases or more were diagnosed statewide. New diagnoses dipped below that figure only on Sunday, when officials confirmed 966 additional cases, according to the DOH's Monday report.
"I think it's related to the fact that we've reopened and people are more mobile," said Dr. Marissa Levine, a professor and department head at the University of South Florida's College of Public Health, during an interview with WTVT (Fox 13) Tampa Bay on Tuesday.
"This is our wake-up call," Levine continued, referring to Florida's recent spike in case counts. "We have to act now, and the numbers are telling us that we need to do more."
Businesses in Florida began to reopen about a month ago. Governor Ron DeSantis permitted 60 counties across the state to enter phase two of the reopening plan last Friday, when bars, movie theaters and amusement parks started to accept customers again. While some health experts, like Levine, connect the state's rising case counts to reopening procedures, a DOH spokesperson told Newsweek earlier this week that expanded diagnostic testing efforts were responsible for the higher numbers.
"As more testing is done, there will be an increase of positive cases of COVID-19. However, it's important to note that while testing has increased, the overall positivity rate remains low," the spokesperson said, noting that Florida's single-day case positivity ratio was about 3.9 percent on Tuesday. On Wednesday, the ratio had risen to 5.5 percent, with an overall case positivity rate of about 5 percent throughout the pandemic.
California reported its highest daily increase in cases on May 30, when the state's Department of Public Health identified 3,075 additional diagnoses. California's outbreak trajectory spiked late last month. The health department's data indicate that at least 2,000 people have tested positive for the virus every day since May 25. The department's latest report, released Wednesday, identified 2,702 additional cases, up from 2,170 the previous day.
Hospitalizations related to COVID-19 increased slightly over the past two weeks in California, with 3,240 current admissions reported on Wednesday. The latest figure approached California's highest hospital admission number, 3,497 patients, which was confirmed April 29. However, statewide patient admission numbers have generally remained above 3,000 since an initial surge reported during the first three weeks of April.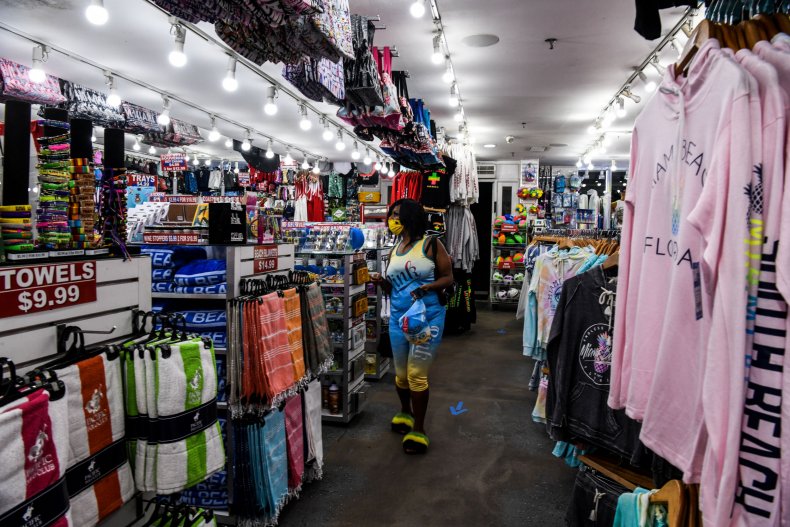 In a statement sent to Newsweek on Tuesday, as California recorded its highest weekly diagnosis average since the start of the pandemic, health department Director and State Public Health Officer Sonia Angell said rising case numbers resulted from a combination of increased testing and relaxed restrictions. She noted that California's hospital network anticipated a possible influx and is "prepared" to manage it.
"California's COVID-19 test positivity rates and hospitalizations continue to be in the stable range," she said. "We have seen cases increase in some areas, which is expected as testing capacity increases and people leave home more, but we are prepared for that. The point of the stay-at-home order was to prepare our hospital system for a potential increase in cases, and we are ready."
She added, "As long as COVID-19 is here and there is no effective, widely available vaccine, there is no such thing as zero risk."
Newsweek reached out to the University of South Florida's College of Public Health, the Florida Department of Health, the California Department of Public Health, the Texas Department of Health Services and the Texas Medical Association for additional comments but did not hear back before publication.