New Coronavirus Infections Hit 7-Day Average Highs in U.S. States Across the Country
With economic reopening plans across the country well underway, more than a dozen states confirmed their highest 7-day average increases in novel coronavirus cases during the first week of June.
According to a report from The Washington Post published on Monday, those states are: Alaska, Arizona, Arkansas, California, Florida, Kentucky, New Mexico, North Carolina, Mississippi, Oregon, South Carolina, Tennessee, Texas and Utah, in addition to Puerto Rico.
Many of those states, including Utah, Arizona, Arkansas, North Carolina, Oregon and New Mexico, reported their highest single-day increases in new cases since the start of June, a few weeks after businesses began to reopen. California confirmed its highest daily total on May 30, while Florida reported single-day rises equal to, or approaching, its April 17 record. In Utah, the Department of Health has confirmed daily case counts in increasing quantities almost every day since the last week of May, according to Johns Hopkins University's virus database.
Though California's Department of Public Health (CDPH) reported a brief downturn in new cases confirmed statewide between May 5 and May 18, daily diagnoses increased after that, peaking at 3,705 cases confirmed—its highest daily increase to date—on May 30. The state reported its second-highest daily increase last Friday, when health officials confirmed 3,115 new cases.
According to CDPH data, California has identified at least 2,000 new infections daily since May 19, outside of one day when the state reported close to 1,900 additional cases. California Governor Gavin Newsom's guidelines permitted some state regions to begin reopening on May 8, with additional restrictions lifted throughout the month. Despite a high density of cases in Los Angeles, the county started to reopen restaurant dining services, salons and retail establishments before June 1.
New cases in Arizona nearly doubled over the last week. In Florida, cases rose by about 15 percent. While the Florida Department of Health said expanded testing prompted increasing statewide case reports in comments to Newsweek on Monday, a former director of the Arizona Department of Health Services (DHS) told the Phoenix New Times that Arizona's recent uptick in diagnoses is "definitely related" to reopening. Restaurants, gyms, salons and other venues began to reopen in Arizona in early May, and the state's stay-at-home order expired on May 15.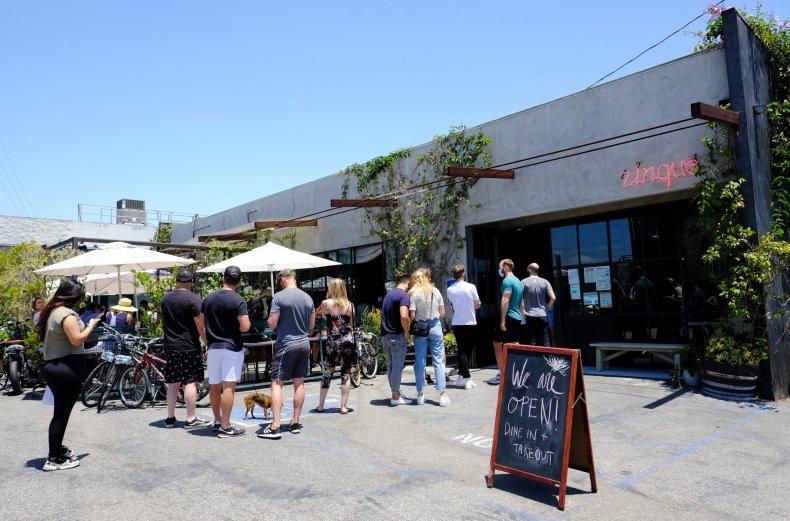 More than 1.96 million people across the U.S. have tested positive for the novel coronavirus since March, according to Johns Hopkins University's tracker. As of Tuesday morning, New York, New Jersey, California, Illinois, Massachusetts, Pennsylvania, Texas, Florida, Michigan and Maryland were the 10 states hardest hit.
Newsweek reached out to the California Department of Public Health, Arizona Department of Health Services and Utah Department of Health for comments but did not receive replies in time for publication.