7 California Counties Re-Close Bars 2 Weeks After Reopening as Coronavirus Spikes
California Governor Gavin Newsom directed bars in seven counties to close again on Sunday, as health officials continue to report a spike in new cases and hospitalizations related to the novel coronavirus.
Newsom announced the restrictions in a message shared to Twitter on Sunday afternoon. In addition to those seven counties where bars are required to cease operations, the governor listed another eight counties where bars are encouraged to do the same.
"Due to the rising spread of #COVID19, CA is ordering bars to close in Fresno, Imperial, Kern, Kings, Los Angeles, San Joaquin, and Tulare, while recommending they close in Contra Costa, Riverside, Sacramento, San Bernardino, Santa Barbara, Santa Clara, Stanislaus, & Ventura," Newsom wrote.
According to data published by the California Department of Public Health (CDPH), counties with the 10 highest incidences of novel virus cases are: Los Angeles, Riverside, Orange, San Diego, San Bernardino, Alameda, Imperial, Kern, Fresno and Santa Clara. The number of cases reported by Tulare, Kings, Stanislaus, Ventura, San Joaquin, and Sacramento counties fall within the state's top 20. Diagnoses confirmed in Los Angeles County, California's hardest-hit region, account for roughly 45 percent of the state's total.
Newsom issued Sunday's order amid a considerable uptick in California's virus outbreak, reflected by CDPH reports released since the beginning of June. Businesses across California, including retail establishments, personal care service facilities and museums, have reopened in phases over the past month. Bars in most state regions were permitted to begin reopening on June 12.
More than 211,200 people have tested positive for the novel coronavirus in California, according to the CDPH's most recent report, updated on Sunday afternoon. As the health department notes, close to 62,400 of those cases were identified over the past 14 days, denoting an increase of more than 40 percent compared to cases reported two weeks ago. California reported 4,810 new infections on Sunday, down from more than 5,900 confirmed the previous day. The state saw its highest single-day jump in cases on Wednesday, with more than 7,100 new infections.
Hospitalizations and intensive care unit (ICU) admissions peaked in California on Sunday, with more than 4,500 general hospital beds and roughly 1,380 ICU beds occupied by novel virus patients statewide. Both numbers have climbed steadily throughout the latter half of the month, as the CDPH confirmed hospitalizations and ICU admissions in increasing quantities every day since June 14.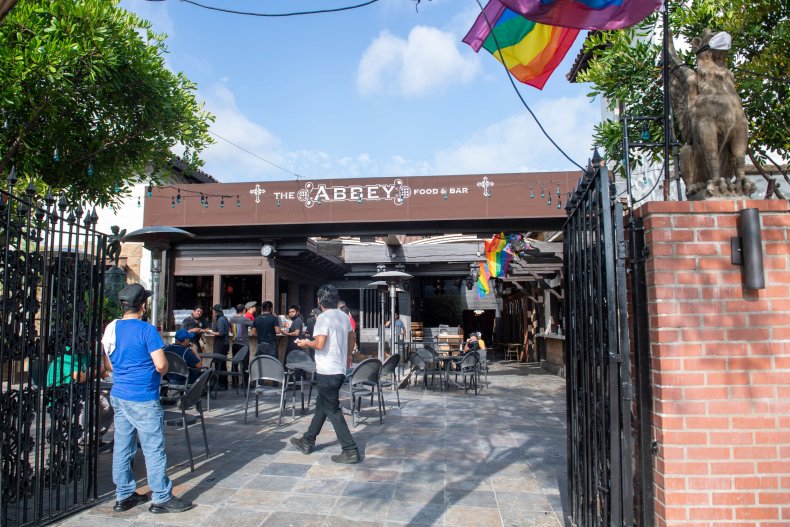 While the latest figures represent patients with lab-confirmed virus diagnoses, the health department estimates an additional 1,385 people are hospitalized in California as a result of the respiratory illness, as well as an additional 217 people admitted to ICUs. The department refers to those cases as suspected.
Newsweek reached out to Newsom's office and the CDPH for additional comments regarding California's latest virus data and the decision to re-close bars but did not receive replies in time for publication.