Donald Trump and Mitch McConnell Divided on Stimulus, Teeing Up Potential Clash
President Donald Trump and Senate Majority Leader Mitch McConnell (R-KY) look set to clash over stimulus as the White House seeks to secure a deal on a further relief package.
Trump has expressed his desire to sign off an agreement, while Treasury Secretary Steve Mnuchin continues talks with House Speaker Nancy Pelosi (D-CA).
A major point of contention has been the cost of a deal, with Democrats having pushed for more than Republicans have been willing to sanction.
While Trump has been open to further spend, McConnell has stood firmly against this—insisting a "highly targeted" approach should be taken. Given this, he may face pressure from Trump to shift this stance—with the president expected to "weigh in" with the Senate majority leader.
Drew Hammill, Pelosi's deputy chief of staff, said Pelosi raised McConnell's potential opposition to an agreement with Mnuchin—who he said offered reassurance the president would get involved if this were the case.
"The Speaker reminded the Secretary that the President has recently and repeatedly urged an agreement, and indicated his willingness to 'go big or go home,'" he said, in tweets following Mnuchin and Pelosi's latest talks.
"The Speaker also raised Leader McConnell's comments today about not being willing to put a comprehensive package on the Senate floor. The Secretary indicated that the President would weigh in with Leader McConnell should an agreement be reached."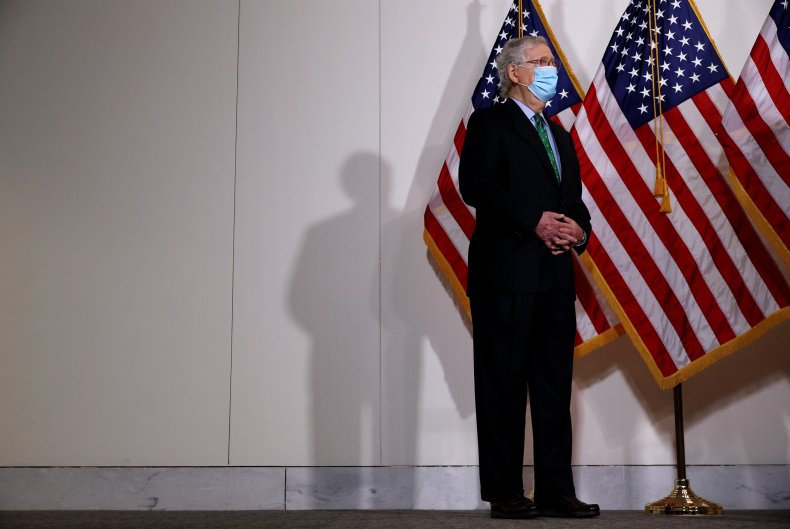 McConnell's control in the Senate has seen the Kentucky Republican able to block prior proposals, and his ability to hamper anything passed by the House gives him significant power over whatever action is taken next.
While both Pelosi and Trump have suggested finer details have been the real sticking points as opposed to the overall cost of a package, spend has been a clear hurdle in the Senate.
An original proposal from Democrats, the HEROES Act, had a $3.4 trillion price tag though they also passed an updated version of this with a lower $2.2 trillion cost through the House in a sign of compromise.
The highest offer from the White House so far has been a $1.8 trillion proposal. Republicans in the Senate previously expressed their desire for a $1 trillion cap on spending.
The president, however, has voiced his support for higher spending and the potential to "go big" on stimulus, having also suggested that China will somehow cover the costs.
Despite this, McConnell appeared unmoved on calls to push through more expensive measures in comments Thursday—insisting he was keen for a "highly targeted" approach.
Asked about his plans, he voiced his ongoing support for a bill of some kind but with far less spending—suggestions he and supporters have described as being targeted while opponents have branded it emaciated.
During an appearance in Henderson, Kentucky, McConnell said: "My members think what we laid out, a half a trillion dollars, highly targeted, is the best way to go. So that's what I'm going to put on the floor."
While spend has proved a stumbling block, Pelosi, a key figure in talks for the Democrats, has insisted the overall cost is not the main issue—but the deal's contents is instead her concern.
"It's not about the dollar amount, it's about the funding that it will go to," she said, in an interview on MSNBC.
"If it's underwriting tax cuts for the wealthiest while depriving it to the working low income people, you see the unfairness of it all."
Despite clashes over specifics, she also reiterated her desire for a deal to be struck: "But let's just enlarge the issue for a moment. We all want to have an agreement. My message is out there: help is on the way. We want it safer, we want it bigger, we want it better—and it will be retroactive. We have to come to agreement.
"In order to solve the problem we have to crush the virus and they still cannot face that reality, they laugh it off."
Newsweek has contacted the White House, McConnell and Pelosi for comment.
Donald Trump and Mitch McConnell Divided on Stimulus, Teeing Up Potential Clash | Politics