Amid a stalemate over passing a further relief package amid the coronavirus crisis President Donald Trump has reiterated his desire for measures to be enacted, tweeting: "STIMULUS! Go big or go home!!!"
The president has long spoken of his desire for further measures to be passed but disagreements, largely over how much should be spent on such action, have seen a delay in securing a bipartisan agreement.
The House has twice passed deals, the HEROES Act and then an updated version of this, since the CARES Act was signed more than six months ago—though these have been pushed against by GOP leadership in the Senate.
An overarching issue has been the overall cost of a package, with Democrats having originally pushed for measures totaling around $3.4 trillion and the Republicans having wanted a cap of $1 trillion.
Each side has since shifted in the direction of the other, though there has still not been an agreement.
House Speaker Nancy Pelosi (D-CA), a key figurehead for Democrats in negotiations with the White House, has said proposals from Trump have been "significantly short of what this pandemic and deep recession demand."
"A fly on the wall or wherever else it might land in the Oval Office tells me that the President only wants his name on a check to go out before Election Day and for the market to go up," she said in a statement released Tuesday.
"The American people want us to have an agreement to protect lives, livelihoods and the life of our American Democracy. Democrats are determined to do so!
"The President's attitude is shameful, when the need for immediate and meaningful action could not be more urgent. Over 215,000 Americans have died, nearly 7.8 million have been infected and millions more are still without jobs or income security and therefore struggling to make rent and put food on the table. Tragically, the Trump proposal falls significantly short of what this pandemic and deep recession demand."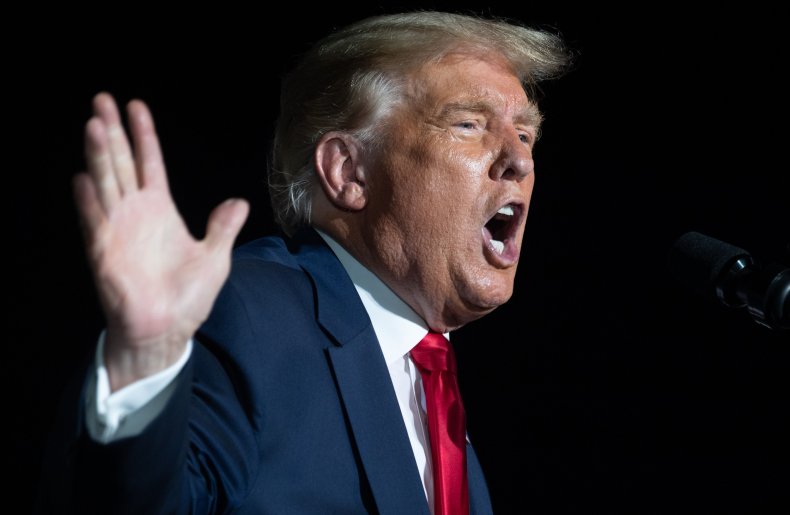 She said that there were "many outstanding concerns" with what was put forward with the administration, though expressed optimism a deal would be struck.
"I remain hopeful that the White House will finally join us to recognize the needs of the American people, and take action to address the health and economic crisis in their lives," Pelosi added.
On Monday, Trump expressed his desire that the Senate would expedite the Supreme Court confirmation hearings of nominee Amy Coney Barrett in order for lawmakers to shift their focus to stimulus.
Democratic lawmakers have also expressed this desire for a focus on stimulus, suggesting the Senate should not be otherwise occupied with the Barrett hearings.
Trump has also advocated a piecemeal approach to stimulus be taken, though this has previously been rejected by Democrats who want a comprehensive package to pass. The White House has criticized this position, branding it an "all-or-nothing" approach.
The Senate GOP is looking at voting on targeted relief measures, with Senate Majority Leader Mitch McConnell (R-KY) on Tuesday outlining plans to hold such a vote.
Newsweek has contacted the White House, Pelosi and McConnell for comment on the president's tweet and the general situation with stimulus.
The ongoing stalemate over stimulus comes with more than 7.8 million coronavirus cases having been confirmed across the United States amid the pandemic.
The below graphic, from Statista, shows the numbers of confirmed cases in states the U.S. as of October 12.