Donald Trump Says China Will Pay for Stimulus Bill: 'They're the Ones That Caused This Problem'
President Donald Trump has suggested China will somehow cover the costs of the next coronavirus relief package in the United States.
Amid a stalemate in talks, he has said he would go higher in terms of spending on a stimulus bill—and that China would foot the bill.
"I would [go higher] because this was not caused by our workers and our people, this was caused by China and China will pay us back in one form or another," he said, in an interview with Fox Business.
"We're gonna take it from China. I tell you now, it's coming out of China. They're the ones that caused this problem."
Asked how this would work, in terms of getting money from the nation, he said: "There's a lot of ways and I'll figure everyone of them out. I already have them figured out."
The president also said he had not spoken to China's President Xi Jinping in "a while" adding: "I don't want to speak to him."
Trump has long criticized China over the handling of the pandemic in the initial stages, suggesting the nation could have worked better to contain the coronavirus and stop its worldwide spread. The president previously suggested the U.S. could seek some form of damages from the nation.
His comments come amid an ongoing stalemate over a further stimulus package, as talks continue in a bid to reach a bipartisan agreement.
A point of contention thus far has been costs, with Democrats asking for more money than Republicans have been willing to sanction.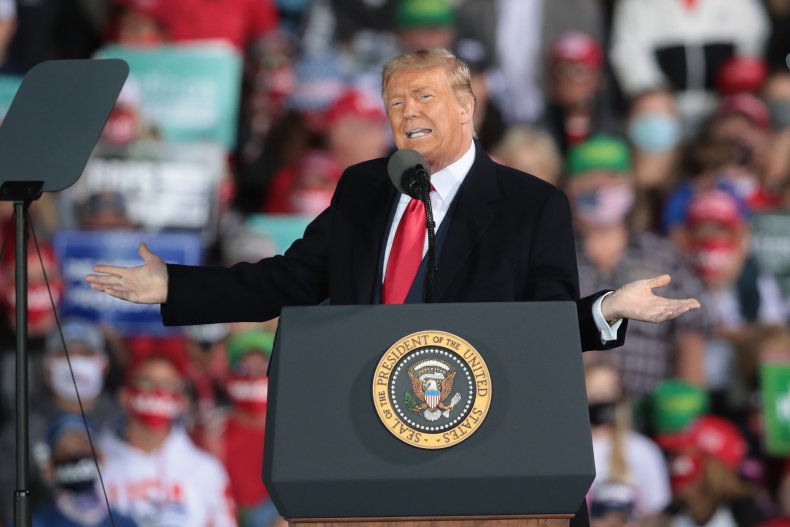 However, Trump suggested it was not the overall cost which made him opposed to the updated $2.2 trillion HEROES Act, but instead specific demands in it he attributed to House Speaker Nancy Pelosi (D-CA).
"We like stimulus, we want stimulus, and we think we should have stimulus, because it was China's fault," Trump said on more spending.
But on the Democrats' and Pelosi's proposals, he said: "She's asking for all sorts of goodies, she wants to bail out badly run Democrat states and cities, she wants money for things that you would never, you just couldn't, your pride couldn't let it happen."
Treasury Secretary Steve Mnuchin and Pelosi are due to discuss stimulus further Thursday.
Both have expressed a desire for a deal and hope that one can be reached. However, Mnuchin has suggested it could be difficult to sign something off pre-election.
While Democrats have asked for more money to be spent, Pelosi has said the topline figure of a package is not the main issue for them—instead stating it was about the funding that it will go to.
"We want it safer, we want it bigger, we want it better—and it will be retroactive," she said of a potential deal.
Trump has previously criticized her for not agreeing on a deal, suggesting she "couldn't care less" about the American people.
Newsweek has contacted the White House, Pelosi and also reached out to the Chinese embassy in Washington, D.C., for comment.
Trump's comments come with the number of confirmed COVID-19 cases in the U.S. having surpassed 7.9 million, according to Johns Hopkins University figures.
The below graphic, from Statista, shows the states with the most confirmed cases as of October 12.