In Stimulus Deal Push, Donald Trump Says Nancy Pelosi 'Couldn't Care Less' About Americans
President Donald Trump has accused House Speaker Nancy Pelosi (D-CA) of not caring about the American people amid a stalemate over an agreement on further stimulus.
Pelosi has been involved in negotiations with Treasury Secretary Steve Mnuchin, and previously White House Chief of Staff Mark Meadows, in attempts to reach a bipartisan agreement on another relief package.
She has rejected proposals from the White House, stating that in her opinion they are insufficient to meet the needs of the COVID-19 crisis.
Trump himself and White House negotiators have previously suggested a piecemeal approach, though Democrats have rejected this and pushed to reach a comprehensive deal.
"Nancy Pelosi couldn't care less about the American People or the great American Worker," Trump said in a tweet, criticizing the Speaker on her stance on stimulus.
"She should approve needed STIMULUS now. Most other Dems agree. Republicans are ready to go, I am ready to sign!!!"
Trump earlier this week expressed his desire for more stimulus, tweeting: "STIMULUS! Go big or go home!!!"
In a previous statement, Pelosi said proposals from the administration fell "significantly short of what this pandemic and deep recession need."
"A fly on the wall or wherever else it might land in the Oval Office tells me that the President only wants his name on a check to go out before Election Day and for the market to go up," she said.
"The American people want us to have an agreement to protect lives, livelihoods and the life of our American Democracy. Democrats are determined to do so!
"The President's attitude is shameful, when the need for immediate and meaningful action could not be more urgent."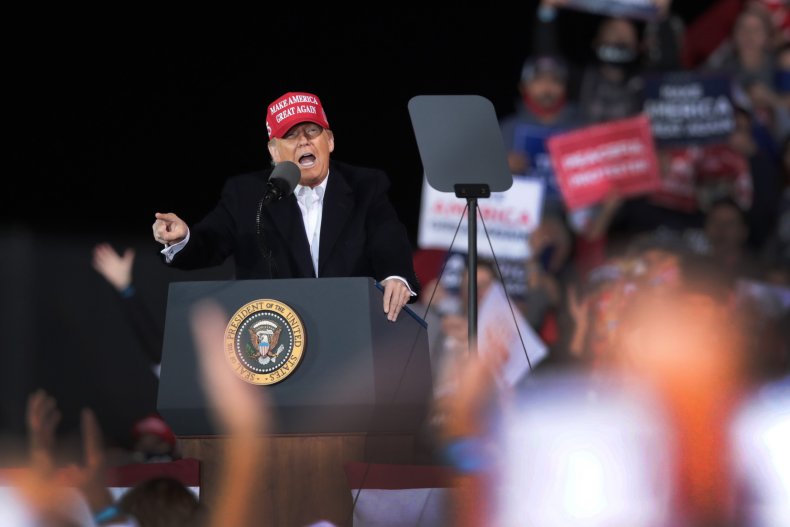 Democrats have twice passed packages in the House of Representatives, the HEROES Act and then an updated version of this, since the CARES Act was signed more than six months ago.
However, Senate Republicans pushed back against these proposals, with an overarching issue being that of cost.
Both sides have shifted towards the other in spend, with Democrats offering to come down from $3.4 trillion from the original HEROES Act, with an updated version worth around $2.2 trillion, and the White House making a $1.8 trillion offer—originally having wanted a $1 trillion cap which Republican leaders in the Senate also wanted.
Other points of disagreement have come over enhanced unemployment benefits and liability protections.
Stimulus checks are one aspect there has largely been bipartisan agreement on, with the president having said he would sign a standalone bill for more Economic Impact Payments.
Newsweek has contacted the White House and Pelosi for comment.
The impasse comes with the U.S. having had more than 7.9 million confirmed COVID-19 cases.
The graphic below, from Statista, shows the numbers by state as of October 12.