As Steve Mnuchin Tempers Pre-Election Stimulus Hopes, Nancy Pelosi Insists: 'We All Want to Have an Agreement'
Treasury Secretary Steve Mnuchin has suggested a stimulus package may not be forthcoming before Election Day despite he and House Speaker Nancy Pelosi (D-CA) both expressing hopes of securing a bipartisan agreement in ongoing talks.
The pair have been continuing negotiations in a bid to breach the impasse and are due to meet again Thursday for further discussions.
Commenting on their ongoing dialogue, Mnuchin said the two sides were still "far apart" in terms of an agreement—suggesting something being signed off pre-election could be difficult.
"I'd say at this point, getting something done before the election and executing on that would be difficult just given where we are and the level of detail," Mnuchin said at the Milken Institute Global Conference in Washington, according to Reuters.
"But we're going to try to continue to work through these issues."
Pelosi's Deputy Chief of Staff, Drew Hammill, confirmed further discussions—having described a call between the Speaker and Mnuchin on Wednesday as productive.
He said a major area of disagreement came in regards to the Speaker's stance on the need for a national strategic testing plan.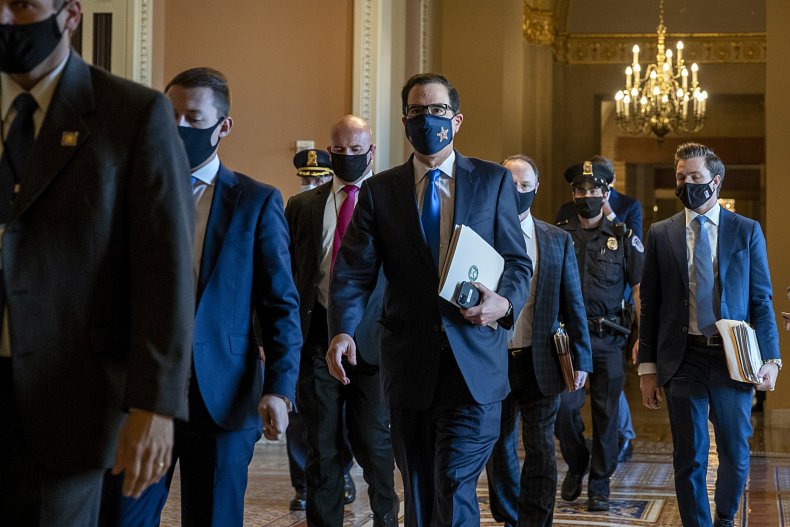 A major point of contention has been spend, with Democrats asking for more funding than the Republicans have been willing to sanction.
Democrats originally called for around $3.4 trillion with the HEROES Act, then around $2.2 trillion with an updated version, while the White House's suggested a package worth around $1.8 trillion as its highest offer so far.
However, Pelosi, in comments on MSNBC on Wednesday, said the topline funding amount was not the key issue.
"It's not about the dollar amount, it's about the funding it will go to," she said.
"If it's underwriting tax cuts for the wealthiest while depriving it to the working low income people, you see the unfairness of it all."
She continued: "But let's just enlarge the issue for a moment. We all want to have an agreement. My message is out there: help is on the way. We want it safer, we want it bigger, we want it better—and it will be retroactive. We have to come to agreement.
"In order to solve the problem we have to crush the virus and they still cannot face that reality, they laugh it off."
Mnuchin's suggestion there is little chance of a deal pre-election coincides with the stance of several lawmakers who have expressed doubt this could be done.
The public has also lost hope of an agreement being reached before November 3, polling has indicated.
President Donald Trump has pushed for a deal to be done, criticizing Pelosi for not having agreed to plans proposed by the White House.
Newsweek has contacted the White House and Pelosi for comment.
The stalemate comes with the number of confirmed COVID-19 cases in the U.S. through the pandemic having reached more than 7.9 million.
The below graphic, from Statista, shows the number of cases in different states as of October 12.