As Pre-Election Stimulus Hopes Fade, Trump Says Democrats Think Deal Boosts Him
President Donald Trump suggested Democrats blocked the latest stimulus bill proposal in the Senate because they think such a package could boost his election chances.
The slimmed-down bill pushed for by Senate Majority Leader Mitch McConnell (R-KY) failed to pass the upper chamber Thursday, reducing the prospect of a deal being passed prior to the election on November 3. No Senate Democrat backed the bill.
Prior to this, talks between Democratic leaders House Speaker Nancy Pelosi (D-CA) and Senate Minority Leader Chuck Schumer (D-NY) with White House representatives had failed to reach a bipartisan agreement.
After the vote, Trump reiterated that he backs further stimulus, though claimed the Democrats do not due to the timing of a potential deal.
"Right now, the Democrats don't want to pass it. They don't want to help, really, the workers of our country. They didn't deserve this. This was given to us by China," he said in remarks before boarding Air Force One on Thursday.
"But Nancy Pelosi and Schumer don't want to pass a stimulus bill because they think that helps me in the election. I don't think it helps me at all. We are prepared to pass stimulus for people that need it."
Democrats say they did not back the bill, which supporters say was targeted at the most urgent priority areas but opponents described as an "emaciated" package, because they did not feel it provided sufficient measures.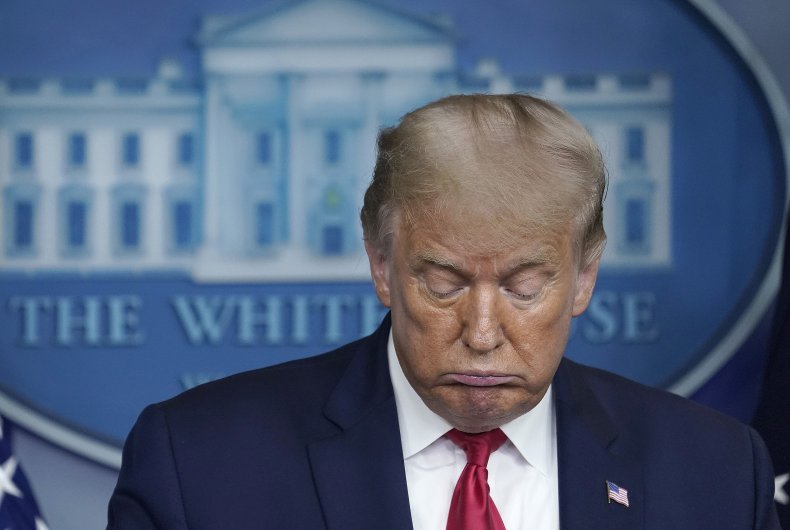 The Democrat-proposed HEROES Act, passed by the House in May, was worth around $3.4 trillion in relief, though Republicans rejected it as an overreaching partisan wishlist of spending. The latest Senate GOP bill was worth in the region of $500 billion.
Schumer, in a statement following the vote, urged Republican colleagues to "come to the table" to compromise.
"The cynical Republican bill was emaciated, inadequate, and designed to fail. Americans need help now, and Congress needs to respond in a way that meets the nation's very real and urgent needs," Schumer said.
"Democrats urge our Republican colleagues to come to the table, meet us halfway, and negotiate in good faith on a bipartisan comprehensive bill that will benefit the entire country."
The Democrats had previously been in negotiations with White House Chief of Staff Mark Meadows and Treasury Secretary Steve Mnuchin, though these failed with continued disagreement on spending.
Pelosi and Schumer offered to come down to $2.2 trillion, though this still proved too high for the opposing negotiators, who questioned what this would cover.
There was also a suggestion that a bill passing in the Senate might have aided the securing of a deal by starting lawmakers on a process of knocking it between the two chambers, forcing a compromise.
Rep. Bill Foster (D-IL) told Newsweek that being able to "ping pong" something back between the House and the Senate could potentially win a "better deal" in the end.
Both sides insist they want a deal, though the next steps in securing one remain unclear. The prospects of doing so prior to November 3 are in doubt.
Sen. Marco Rubio (R-Fla.) said in a Twitter video: "Congress is not going to pass another COVID relief bill before the election."
Newsweek has contacted the White House, McConnell, Pelosi, and Schumer for comment.