Stimulus Checks Blocked by Stalemate 15 Weeks After House Passed Them
The prospect of a bipartisan agreement on a further relief package appears distant despite 15 weeks passing since the Democrats' HEROES Act was voted through the House of Representatives.
Talks between White House representatives and Democrat figureheads have stalled amid a dispute largely over costs, with the Republicans having advocated a threshold of around $1 trillion while the Democratic proposal was worth around $3.4 trillion.
The HEROES Act narrowly passed the House 105 days ago on May 15, with the 1,800 document backed by 208 votes to 199.
Following this approval in the House, GOP leadership in the Senate insisted it would not pass the upper chamber due to the price tag.
It was branded a "socialist wishlist" and dubbed "dead on arrival" in the upper chamber, with Senate Majority Leader Mitch McConnell (R-KY) at the time calling for a pause to decide what action to take next, before acknowledging a need for further stimulus action.
The HEROES Act accounted for another round of stimulus checks, worth up to $1,200 to those eligible and issued along similar lines as the first round from the CARES Act.
The White House and Republican leadership from the Senate have indicated support for more Economic Impact Payments to be made, but other factors such as the level of unemployment enhancement and disputes over liability protections have created an impasse in securing agreement.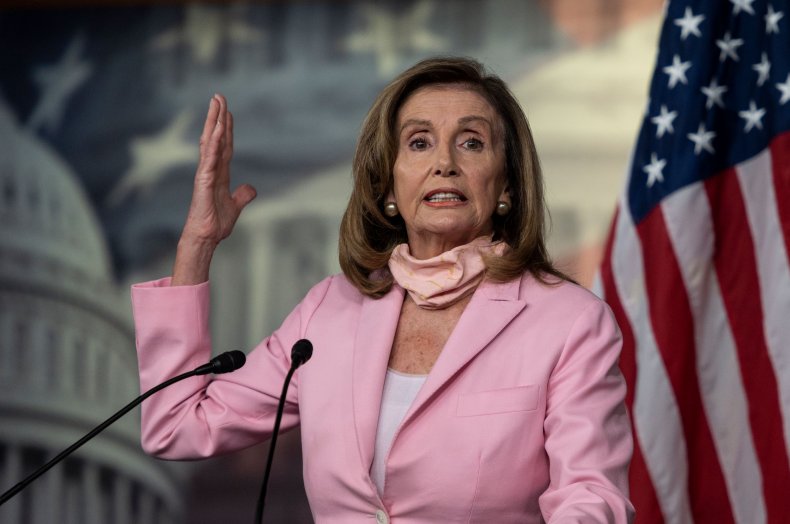 In a recent call between White House Chief of Staff Mark Meadows and House Spaker Nancy Pelosi (D-CA), the Democrat stuck by a position that should there be compromise to meet midway on a package worth around $2.2 trillion then a deal could be reached.
Earlier this week, Meadows said he was "not optimistic" of an agreement being struck in talks soon.
Each side has looked to place blame upon the other for the delay, with Republicans having referenced that they suggested passing points in a piecemeal fashion—starting with points of agreement before tackling more contentious issues.
The Democrats have insisted that a package be passed as a whole, while they have also criticized the Republicans for not having actually passed a package of their own in the Senate. Pelosi previously suggested they would not be able to do that anyway, due to infighting amid their own ranks over what action to take.
Senate Minority Leader Chuck Schumer (D-NY) took aim at Trump and McConnell as he referenced the extent of the COVID-19 crisis.
Alongside a video with various quotes from the pair, including McConnell's prior call for pause, he wrote: "Over 180,000 Americans have died from COVID-19.
There have been almost 6 million cases in the U.S.
"When will President Donald Trump and Senator Mitch McConnell decide it's time to get something done?"
McConnell said he hopes there will be a move for an "additional boost" amid the pandemic, indicating the "partisanship and the passion has risen," contributing to delay.
"The coronavirus doesn't have a stake in this election. Struggling families across America need our help, and Republicans stand ready to deliver," he tweeted Thursday.
Trump previously issued executive orders aimed at certain points, though these were criticized by the Democrats as being insufficient and "not even workable."
Newsweek has contacted the White House, McConnell, Pelosi and Schumer for comment.
Amid the delay over further action, many Americans are losing hope of a further package being agreed, with one in five in recent polling indicating they expect a bipartisan deal will never be made.
This comes with confirmed COVID-19 cases having surpassed 5.8 million in the United States.
The graphic below, from Statista, highlights confirmed cases in different states as of August 24.