Kevin McCarthy Says $3 Trillion HEROES Act Is About 'Pot' And 'Prioritizing Illegal Immigrants'
The House Minority Leader Kevin McCarthy said the HEROES Act was about "pot" and "prioritizing illegal immigrants" in an attack on the $3 trillion stimulus plan.
Speaking to Fox News on Monday, the California Republican said the bill offering another round of checks for individuals was being used by House Democrats as an "opportunity to enforce their socialism."
But the Republican lawmaker did back a payroll tax cut, telling Fox News that the move would "keep more money in individual's pockets" and help businesses.
"It's really sickening that Democrats are using this opportunity to enforce their socialism," Rep. McCarthy said. "What is this bill that they just passed on Friday? Well, it's about pot. It's about prisoners. It's about politicizing election law, prioritizing illegal immigrants and pensions.
"These are all things that are socialist wishlist that they've been trying to pass long before COVID ever came to this land."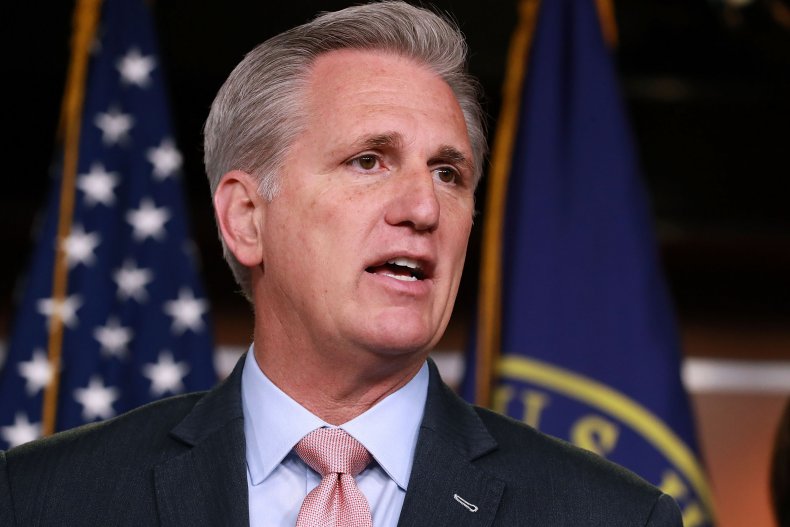 When the idea of a payroll tax cut was raised, the House minority leader added: "That would help. It would keep more money in individuals' pockets. It would help business."
McCarthy later accused Speaker Nancy Pelosi of holding up the $2 trillion CARES Act stimulus bill, before continuing to hit out at the $3 trillion HEROES Act passed by the House last week.
"That is a waste of money: $3 trillion that never went through one committee. This was only written in Pelosi's office," McCarthy said. "They knew it wasn't going anywhere. You talked to Democrats, they didn't like it, they didn't want it. And it's the only reason she brought us back."
The GOP lawmaker added: "You have businesses across America that want to open again, and she keeps it closed to give her more power."
Newsweek has contacted Pelosi's office for comment, and will update this article with any response.
Rep. McCarthy issued his attack on the HEROES Act days after it passed the House of Representatives by nine votes on Friday.
In the vote on the 1,800-page stimulus bill, 14 Democrats and one Republican crossed party lines, with the final vote tallying at 208-199.
Under the HEROES Act, Americans would receive a second individual check of around $1,200 and up to $6,000 for families. A further $1 trillion would be parceled out to state and local authorities, and the $600 federal unemployment payment scheme would also be expanded.
The bill would also permit "expedited green cards" for migrant health workers; open up banking services to local cannabis businesses; and provide $5 million for congressional tech equipment.
It is unlikely that the stimulus package will pass the Republican-controlled Senate in its present form, with Majority Leader Mitch McConnell (R-Ky.) calling the package a "parade of absurdities" last week.