Is Another Round of Stimulus Checks Still Possible? White House 'Not Optimistic' About Stalled COVID Relief Talks
Negotiations over another round of economic stimulus—including a proposed second round of direct payments to Americans—remain stalled as the White House and Republicans blame Democrats and Democratic leaders blame President Donald Trump.
Speaking to Politico in a live-streamed interview on Wednesday, White House Chief of Staff Mark Meadows said that he's "not optimistic" that talks over stimulus legislation will move forward soon. Meadows said that his staff reached out to Speaker of the House Nancy Pelosi, a California Democrat, on Tuesday.
"I don't anticipate that we'll actually get a phone call [in response]," he said. "I probably have had more, not only good conversations but very productive conversations with Democrats on Capitol Hill, both on the Senate and the House [of Representatives] side, probably more on the House side…and a lot of them want a deal."
Meadows said some Democratic lawmakers he has talked to are being "very reasonable" with their requests, saying he believed they could "cut a deal" if they got back in the negotiating room. "The president wants to do that, but I'm not optimistic," he said. Meadows predicted that Pelosi would "hold out" on negotiations until the end of September when Congress would need to vote on a continuing resolution to keep the government funded.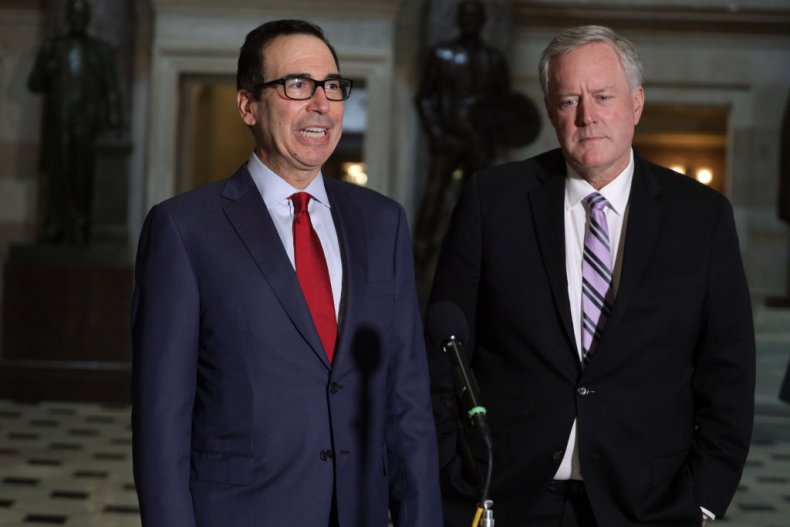 Drew Hammill, Pelosi's deputy chief of staff, told Newsweek that a member of Meadows staff only reached out yesterday via text message to confirm they had the correct number for the White House chief of staff. Hammill said that they did not mention resuming negotiations.
"Democrats have compromised in these negotiations. We offered to come down $1 trillion if the White House would come up $1 trillion," he said. "We welcome the White House back to the negotiating table but they must meet us halfway."
Democrats and Republicans have both put forward their own proposals for further coronavirus economic relief as the pandemic persists across the country. Both proposals, although they vary significantly in overall substance, include a provision to send another round of direct payments—or stimulus checks—of $1,200 to most Americans.
The payments would be given out in a similar manner to those provided under the bipartisan Coronavirus Aid, Relief and Economic Security (CARES) Act, which was approved in March. Every American adult earning $75,000 or less annually would receive a $1,200 payment. Those earning more than $75,000 and up to $99,000 would receive progressively smaller sums, while those earning more than $99,000 would not receive a payment.
While most Democrats and Republicans, as well as the White House, support the direct stimulus payments, there are numerous other sticking points leading to the hang up in negotiations. Meanwhile, millions of Americans remain unemployed while tens of millions struggle to afford food for themselves and their families, as they fear the threat of eviction.
Under the CARES Act, jobless Americans received an extra $600 per week unemployment payment through the end of July. But as those payments ended last month, millions of Americans are struggling to get by with less than half of what they were receiving before.
A major sticking point in the stalled talks is the price tag of another stimulus bill. The Democrat-controlled House of Representatives in May passed the HEROES Act, which would come with a cost estimated to be north of $3 trillion. Republicans largely dismissed the legislation as a Democratic "wish list," choosing to hold off on negotiating until July.
Then last month, Senate Majority Leader Mitch McConnell, a Kentucky Republican, unveiled a smaller $1 trillion proposal dubbed the HEALS Act. While that proposal included the $1,200 payments, it would significantly reduce the extra unemployment payments to jobless Americans. Under the Democratic proposal, the full $600 per week would once again be sent out to the unemployed.
Major disagreements persist on how much money should be provided to local and state governments facing significant budget shortfalls as a result of the pandemic. The Republican proposal also aims to bolster liability protections for businesses, an idea largely dismissed by Democrats. The two sides also disagree over funding for the U.S. Postal Service ahead of the November election, which is expected to see the largest number of mail-in ballots in American history due to the ongoing pandemic.
Speaking to MSNBC on Monday, Pelosi criticized Trump, suggesting that he did not care about the American people who are struggling financially.
"So trillions of dollars are out there through the money markets, the credit markets and the rest to bolster the stock market, and we're saying we need a commensurate amount of money to bolster the middle class in our country," the top Democrat said. "But when it comes to helping people, the president wants one thing. He wants to help Donald Trump."