China and South Africa Deepen Military Ties Amid Anger Over Trump's White Farmers Comments
China and South Africa have moved to expand their military ties as recent comments from President Donald Trump were met with outrage in Pretoria.
As Trump tweeted Thursday that he had asked Secretary of State Mike Pompeo "to closely study the South Africa land and farm seizures and expropriations and the large scale killing of farmers," Major General Shao Yuanming, the deputy chief of staff of the Chinese Central Military Commission Joint Staff Department, co-chaired a meeting Thursday with South African military chief General Solly Shoke in Beijing.
In the latest sign of Chinese outreach to a continent often overshadowed in U.S. policy, the two military leaders signaled greater cooperation in regional and global security issues.
"The two sides exchanged views on issues of common concern including the security situation in Asia-Pacific and Africa, national defense and army building in China and South Africa, as well as bilateral military exchanges and cooperation," according to the official Chinese Military Online.
"The two sides unanimously stated that they will continue to give full play to the guidance and coordination role of the mechanism of the China-South Africa Defense Committee under the strategic guidance of the two heads of state," it added. "China and South Africa will jointly promote the level of cooperation in defense affairs, and make positive contributions to the enrichment of the connotation of China-South Africa comprehensive strategic partnership in the new era as well as the maintenance of international and regional security and stability."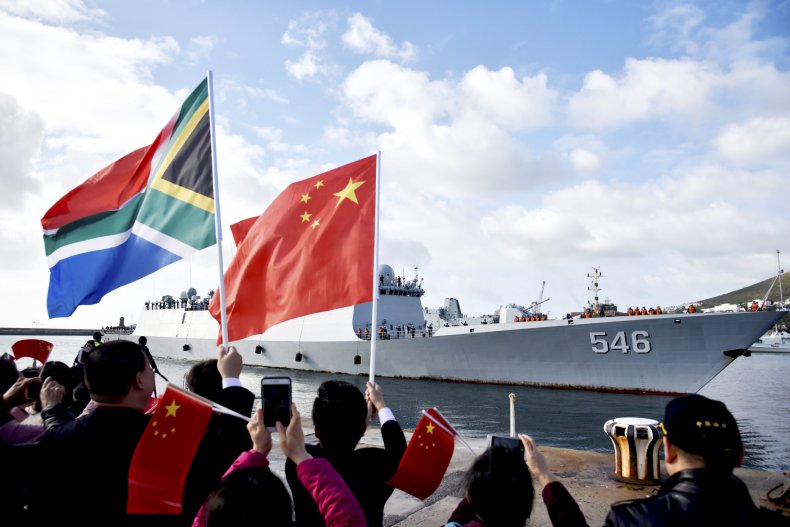 The talks were part of the eighth meeting of the China-South Africa Defense Committee and came as South African officials expressed anger over Trump's insinuation that the government's latest land reform policy constituted a policy of ethnic cleansing against the country's white farmers.
Earlier this month, South African President Cyril Ramaphosa announced he would move forward with plans for constitutional reform to allow for the expropriation of land without compensation.
Opponents of the policy have described it as an attempt to marginalize the white community, who still possess most of the country's arable agricultural grounds, and point to an alleged spike in murders of white farmers.
The South African government defended its policy in the wake of Trump's comments, tweeting that the country "totally rejects this narrow perception which only seeks to divide our nation and reminds us of our colonial past" and that it will "will speed up the pace of land reform in a careful and inclusive manner that does not divide our nation."
The left-wing Economic Freedom Fighters party also lashed out at Trump, who it called "a pathological liar" and told to "stay out of South Africa's domestic affairs" because "South Africa is a post-colonial country ceased with deep racial inequalities that were long designed by apartheid and colonization. Our land expropriation programme seeks to realize the ideal of equality and human dignity" in a statement published Thursday.
The party also joined the government in challenging the findings of white advocacy group AfriForum, which recently published a list of white-owned farms that the government purportedly planned to seize.
South Africa previously criticized Trump in January after reports emerged that he referred to states in Africa and Latin America as "shitholes" during a meeting. The incident prompted the South African Foreign Ministry to summon the U.S. chargé d'affaires in order to explain the "recent disturbing comments attributed to President Donald Trump." Trump denied making the remarks, but received widespread backlash from leaders across the African continent, where many U.S. diplomatic positions remain vacant over a year and a half into Trump's presidency.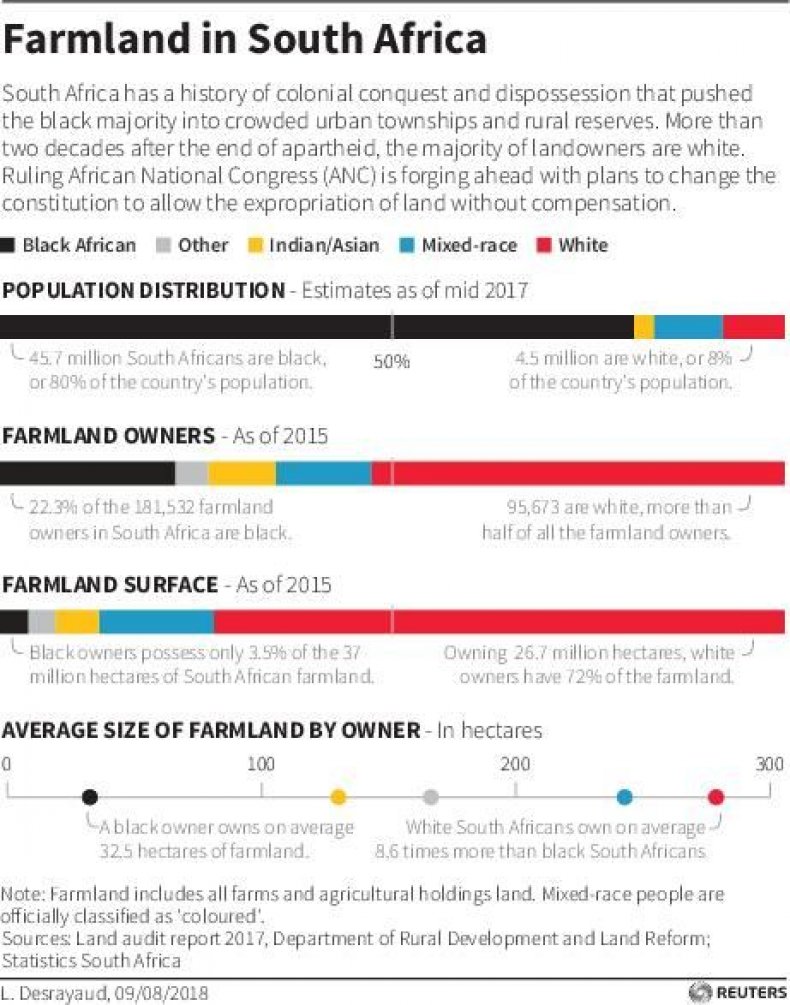 When Africa does come up in U.S. policy briefings, it usually relates to efforts to combat China's growing global influence. China has long prioritized its diplomatic ties to Africa and has invested billions of dollars in energy, infrastructure and security projects across the continent as part of Chinese President Xi Jinping's "One Belt, One Road" initiative. The ambitious plan seeks to expand China's trade routes and economic interests across Asia and into Africa, Europe and even the Americas, but the U.S. has dismissed the move as "economic muscle movement" that would compromise the sovereignty of the many states that have already signed on.
China has fought back against U.S. and Western efforts to portray its political, economic and military rise as malign. Chinese ambassador to South Africa Lin Songtian on Wednesday told a media briefing in Richmond' Johannesburg, that "the mineral resources in this continent have been controlled and monopolized by the West since the colonialist times up to today" and that China was a "newcomer" who will never repeat or follow the old past of the colonialist ways. We are here to work together for a win-win cooperation and we will never come here just to exploit and run away," according to South African newspaper The Times.
"President Trump likes making America great but he cannot' at the sacrifice of all the world' because not only China will suffer for this but no one will survive'" he added.
This article has been updated to clarify the extent of the legislation being considered by South Africa.