Amid Global Coronavirus Pandemic, GOP Senator Shares Photo of Corona Beer, Tells People 'Don't Panic'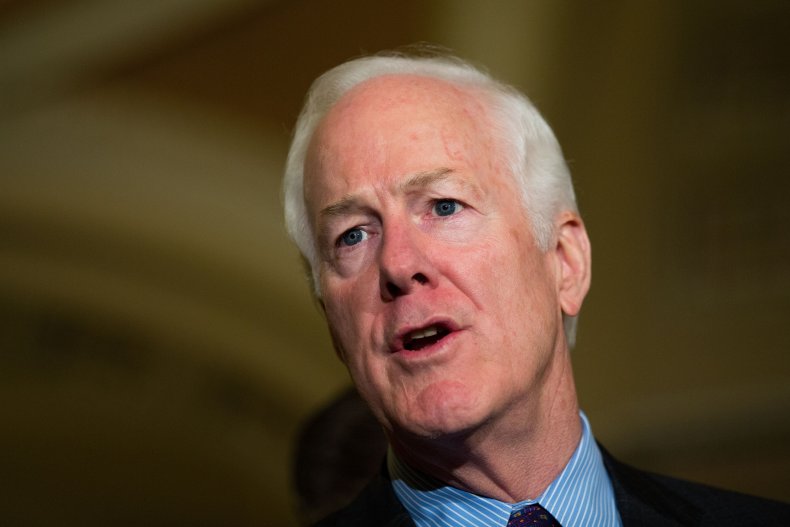 While the world continues to endure the devastating novel coronavirus pandemic, Republican Senator John Cornyn shared an optimistic tweet Saturday featuring a Corona beer to tell his followers "don't panic."
The Texas senator's tweet included a snapshot of a half-empty Corona beer bottle standing next to a small glass filled, presumably, with the Mexican beer with a slice of lime atop the glass. The caption read: "Be smart; don't panic. We will get us through this #coronavirus."
The seemingly innocuous tweet had received backlash from those on the other side of the political aisle. Celebrity chef and frequent critic of President Donald Trump, José Andrés, tweeted: "Senator John Cornyn you are disgrace to the great state of Texas....people are dying, people are scare[d], they don't need bad jokes, but smart policy, an empathy, and reassuring them that they will be tested, that wil[l] not be evicted from their homes."
MJ Hegar, Cornyn's Democratic opponent for his Senate seat, also took the opportunity to criticize the longtime senator, tweeting: "We're not panicking. We're expecting leadership. Taking a long weekend to kick back with a beer while the Senate neglects to pass crucial #COVIDー19 legislation is not it."
Democratic Senator Brian Schatz of Hawaii got into a back-and-forth with Cornyn over his tweet Saturday. He tweeted: "John when you are finished with that beer let's reconvene."
Cornyn tweeted back: "Let me know when you get back from Hawaii. #aloha"
That prompted Schatz to tweet: "Snark aside, let's reconvene. Even if we reconvene Sunday briefly to file cloture on the House bill as a shell, we can expedite things. Or we could start doing unanimous consent requests and run hotlines. As you know better than me, this all takes time. We don't have time."
Cornyn ended the exchange by tweeting: "Don't panic. We will get it done."
Cornyn and Schatz were referencing to the passage of a bill by the House of Representatives that will provide some relief to those affected by the novel coronavirus pandemic. The Senate is expected to take up the bill when they reconvene Monday.
Newsweek reached out to Senator Cornyn's office, but did not receive a response in time for publication.
As of this publication, there are over 3,200 confirmed cases of the novel coronavirus in the U.S. and 62 deaths as a result of the virus, according to the Johns Hopkins University dashboard tracking the spread of COVID-19. The number of confirmed cases worldwide is over 162,600 and the number of deaths is above 6,000.