Amid Global Omicron Spread, NYC's Top Doctor Warns City Will See Variant in Coming Days
New York City's health commissioner warned Monday that he anticipates the Omicron variant of the coronavirus could reach the city in the coming days as countries try to slow its spread.
Commissioner Dave Chokshi voiced his concern on Twitter, noting that the variant had not been detected in the city as of Monday morning.
"Update on the omicron variant: There are currently NO confirmed cases of the omicron variant in NYC. Delta remains the dominant strain – about 98% of sequenced specimens. We do anticipate detecting omicron in the coming days, based on what we know about its global spread," he wrote.
Chokshi continued to encourage New Yorkers to get a COVID-19 vaccine and practice other precautions ahead of the variant's arrival.
"We still have a lot to learn about the omicron variant, but its emergence lends urgency to the importance of the precautions we've all become familiar with – particularly vaccination, masking and testing," he wrote.
He added, "It's natural to feel some anxiety about this new variant – and I'm certainly feeling humility, given all that we've been through."
New York state is already preparing for the variant. Governor Kathy Hochul announced a state of emergency, starting December 3, that will allow officials to quickly acquire critical supplies and limit nonessential, nonurgent procedures in hospitals. In the early months of the pandemic last year, New York City was among the country's hardest-hit areas.
"While the new Omicron variant has yet to be detected in New York state, it's coming," Hochul said.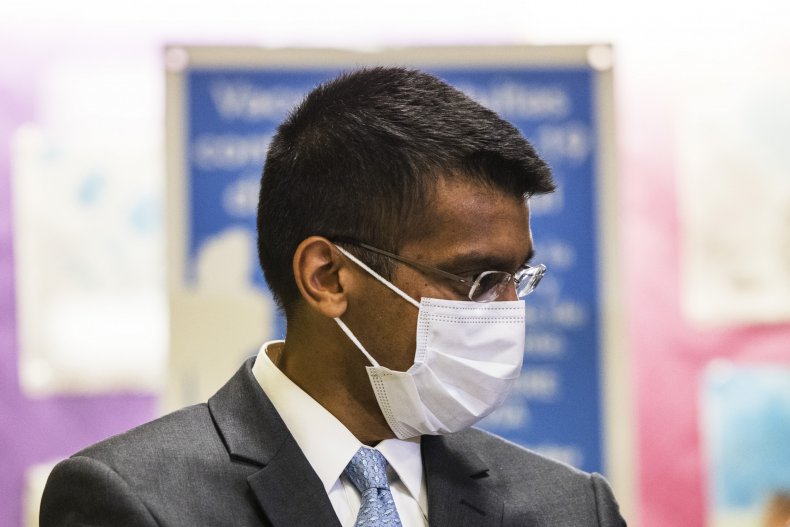 Chokshi's warning comes as scientists are studying the variant and international leaders attempt to grapple with its implications.
Not much is certain about Omicron, as scientists do not know yet how fast it spreads, how effective the existing vaccines are against it and if it causes more severe illness, compared with other variants. Last Friday, it was classified as a variant of concern by the World Health Organization—just weeks after the first case was confirmed, on November 9.
Scientists say the variant's large number of mutations could allow it to spread more easily and resist immunity more than other variants do, but this is not definitely known.
World leaders have taken action to slow its spread. Many countries, including the United States, have implemented travel restrictions on South Africans, where the variant was first detected, and those from neighboring countries.
As of Monday morning, no cases of the variant have been confirmed in the United States. But over the weekend, infectious diseases expert Anthony Fauci said it "wouldn't surprise" him if the variant had already made its way into the U.S. while remaining undetected.
Meanwhile, the variant has been found in Australia, Belgium, Botswana, Canada, Denmark, France, Germany, Hong Kong, Israel, Italy, the Netherlands, the United Kingdom and South Africa, according to Reuters.