'It's Coming': N.Y. Gov. Kathy Hochul Issues Omicron Warning, Declares State of Emergency
New York Governor Kathy Hochul has declared a state of emergency over the Omicron variant of COVID-19, stating, "It's coming." The variant is believed to be possibly more contagious and immune-resistant than previous COVID-19 variants.
"We've taken extraordinary action to prevent the spread of COVID-19 and combat this pandemic," Hochul wrote in a statement. "While the new Omicron variant has yet to be detected in New York State, it's coming."
The state of emergency will allow officials to more quickly acquire critical supplies for combatting the pandemic, Hochul's declaration said. It will also allow the state Department of Health to limit non-essential, non-urgent procedures for hospitals and healthcare systems with limited capacity. This way, they can focus on caring for those most needing treatment for COVID-19.
The emergency protocols will take place December 3, and will be reassessed based on the latest COVID-19 data on January 15.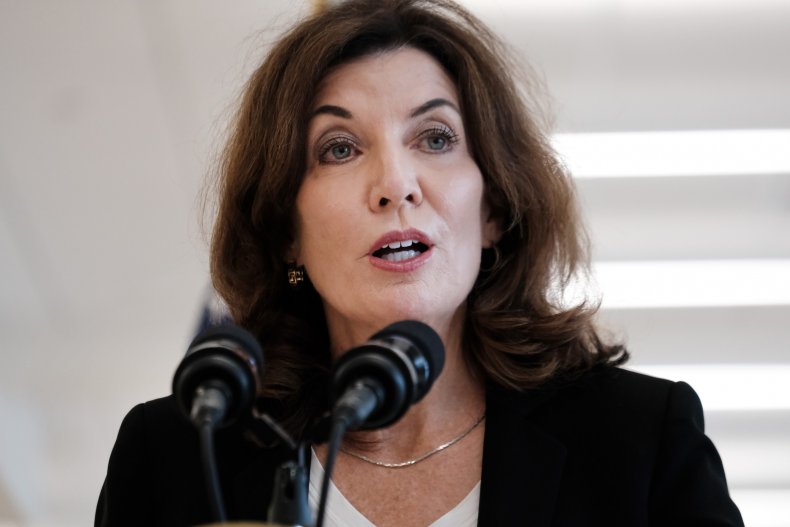 Hochul's declaration came hours after the World Health Organization (WHO) called Omicron a variant of concern. New York became the center of the COVID-19 pandemic when it first began, partly because its largest city, New York City, is an international travel hub. The Omicron variant threatens to repeat that trend.
The new variant is thought to have 32 mutations in its spike protein, more than double the number of "bad spike mutations" in the Delta variant. The spike proteins on the surface of a virus enable it to attach to and infect human cells, thus allowing the virus to replicate throughout the body.
As a result, the Omicron variant may be 500 percent more infectious than the Delta variant, according to Dr. Eric Feigl-Ding, an epidemiologist and senior fellow at the Federation of American Scientists (FAS).
The variant's mutations have made researchers fear that it may bypass the immunity provided by vaccines and prior infections. Scientists are currently racing to determine just how effective the currently available vaccinations are against Omicron.
It will take two weeks for the vaccine development company BioNTech to conduct tests to determine whether Omicron will require a new vaccine, the company said in a statement. AstraZeneca and Johnson & Johnson have also begun conducting tests to learn more about their vaccines' strength against the variant.
To curb the spread of the new variant, on Friday, the White House announced its restriction of travel from South Africa and seven other countries where the variant has been most detected. The restrictions begin November 29 and will remain in place indefinitely.
Britain, Singapore, Japan and Israel have also imposed restrictions on travel from southern Africa.
Additionally, the WHO has encouraged researchers to look at the way Omicron could affect COVID-19 testing, emerging symptoms and medicinal therapies to treat the pandemic.