Omicron COVID Variant Possibly 500 Percent More Infectious Than Delta
The new Omicron variant of COVID-19 may be around 500 percent more infectious than the Delta variant, a leading epidemiologist has said.
The new variant is thought to have 32 mutations in its spike protein and is feared to be able to bypass vaccines and immunity gained from being infected before. The Omicron variant that first emerged in southern Africa, has been detected in Belgium, South Africa, Hong Kong and Israel. The variant has been described as "the worst one we've seen so far" and scientists are concerned about it spreading.
Dr. Eric Feigl-Ding, an epidemiologist and senior fellow at the Federation of American Scientists (FAS), sent a series of tweets on Friday indicating the potential competitive advantage of the new variant over older ones.
He also noted that the new variant has more than double the number of "bad spike mutations" compared with the highly transmissible Delta variant. On Friday, the World Health Organization renamed the B.1.1.529 strain the Omicron COVID variant using the Greek alphabet naming system and classified it as a "variant of concern."
"My god—the new #B11259 [B.1.1.529] variant being possibly ~500% more competitively infectious is the most staggering stat yet," Feigl-Ding tweeted, with a picture of a graph purporting to show the competitive advantages of the different strains.
"That spike in #B11259 displacing Delta has now caused shockwaves worldwide. It is really bad. Not only that but the previous #C12 variant also seems to be slowly growing and displacing Delta too in South Africa," he added.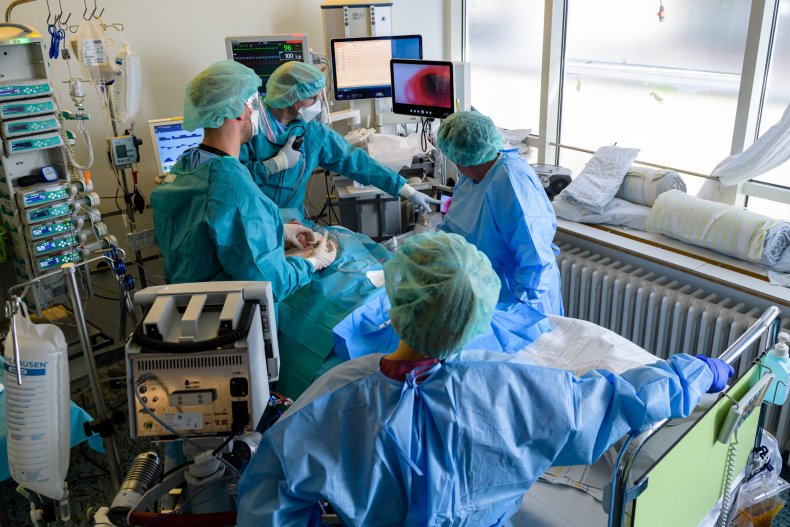 The scientist also commented on the furin cleavage site in the virus protein, a key part the coronavirus that helps determine its transmissibility.
"Notably, it's the first time that a variant has *2* furin cleavage site mutations. Variant contains not one, but two furin cleavage site mutations—P681H & N679K—this is the first time @PeacockFlu [Imperial virologist Tom Peacock] seen 2 of these mutations in a single variant. Furin site spells trouble," Feigl-Ding said.
Britain, Singapore, Japan and Israel have imposed restrictions on travel from southern Africa as concerns grow over the new COVID-19 variant. The variant has been detected in Gauteng, a province in South Africa, at relatively high frequency, with more than 70 percent of genomes sequenced from specimens collected between November 14-23 belonging to this lineage, according to South Africa's National Institute For Communicable Diseases.
Correction, Nov. 26 3:35 p.m.: A previous version of this story referred to Gauteng as a city in South Africa. It is a province.