Amid Roe v. Wade Leak, Letitia James Shares She Had Abortion Early in Career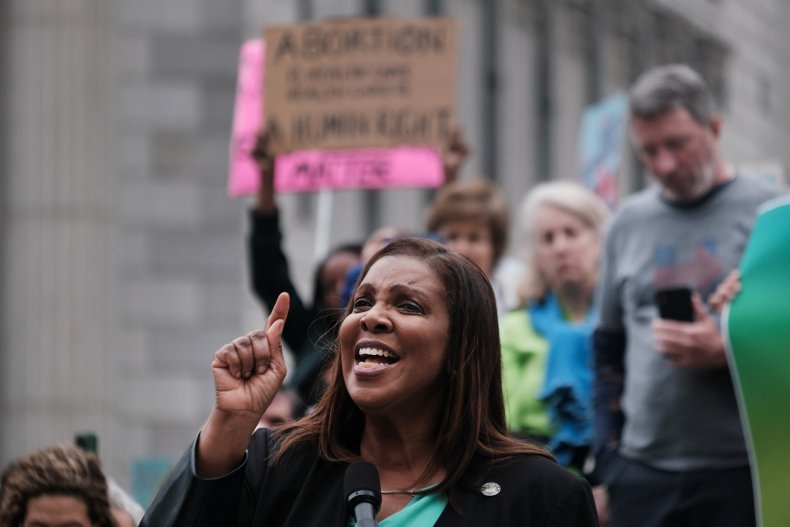 New York Attorney General Letitia James has revealed that she chose to have an abortion during the early days of her political career.
James, a Democrat, joined thousands of protesters gathered in New York City's Foley Square on Tuesday to rally against Supreme Court Justice Samuel Alito's leaked draft majority opinion in support of overturning Roe v. Wade, which was published by Politico on Monday night and later verified as authentic by Chief Justice John Roberts.
While addressing the crowd, James said that news of the opinion to reverse the landmark decision was a "call to action" for supporters of abortion rights. She stressed that the country could "not go back into those days when we used wire hangers" before recalling her own experience of choosing to have an abortion.
"I want all of you to know: As a former City Council member, many moons ago, I came to this issue in a very personal way," James told the crowd. "I was in this place. I was just elected, and I was faced with a decision: Whether to have an abortion or not."
"And I chose to have an abortion," she continued. "I walked proudly into Planned Parenthood. And I make no apologies to anyone, to no one ... It's our right under the law."
James added that it was "important to remember" that women constitute a majority of the U.S. population and that "most people believe in the right to choose," while calling on Congress to pass a national abortion rights law and on voters to support candidates in favor of abortion rights.
The attorney general went on to tell the crowd that New York would "establish a fund for individuals who want to come to New York for a procedure." On the same day, two Democratic state lawmakers proposed legislation that would establish a similar "Reproductive Freedom and Equity Fund."
Democratic New York Governor Kathy Hochul also suggested that her state would be a safe haven for those seeking abortion care should the Supreme Court overturn Roe v. Wade.
"Let me be clear: we're not playing defense, we're playing offense," Hochul said during a press conference. "So my message to women all across this country is that New York, the State of New York, will always be there for anyone who needs reproductive healthcare, including an abortion."
James was first elected to the New York City Council in 2003 and served from 2004 to 2013. She was elected state attorney general in 2018, a role that has recently kept her in the national spotlight due in part to a high-profile investigation into the business dealings of former President Donald Trump.
Newsweek reached out to James' office for comment.