Amir Locke's Perspective Ignored in Call Not to File Charges Against Cop
Amir Locke's perspective was ignored in the decision announced on Wednesday not to file criminal charges against the officer who fatally shot the 22-year-old Black man because the analysis was only evaluated from the officer's viewpoint as a matter of procedure, the district attorney's office said.
In February, Locke was fatally shot by police officers during the execution of a "no-knock" search warrant. On Wednesday, the Hennepin County District Attorney's Office announced that it is not filing criminal charges against the officer who fatally shot Locke, saying that there is "insufficient admissible evidence to file criminal charges in this case."
In a statement, the district attorney's office included a frequently asked questions (FAQ) page that included a question that asked, "Amir Locke might have been sleeping and the officers startled him, so he reacted. How can the officers not be criminally liable for shooting him when they are the ones who startled him?"
In response, the district attorney's office wrote, "Under Minnesota Statute section 609.066, the analysis must be evaluated from the perspective of an objectively reasonable officer in a similar situation, not the victim."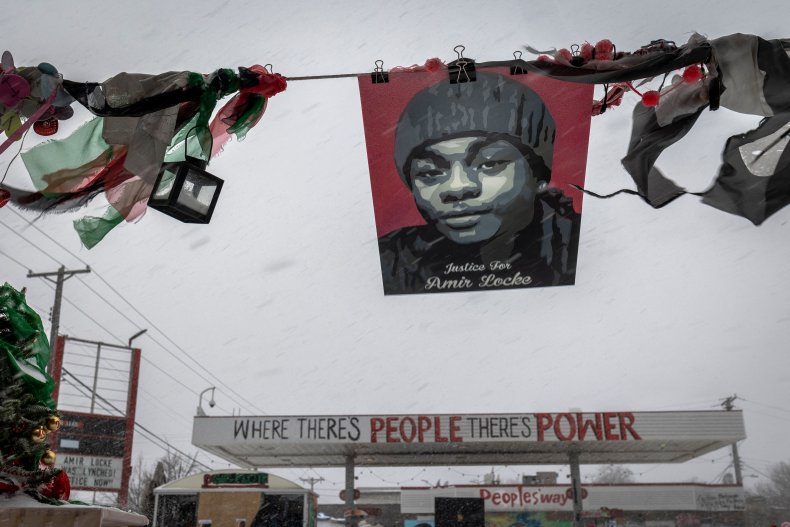 "In other words, the use of force is viewed through the lens of only the officer, without hindsight," the answer said. "We recognize that Mr. Locke may have been sleeping and that he, like others in the apartment, may have perceived the officers' entry to be someone breaking into the apartment."
On February 2, officers with the Minneapolis SWAT team assisted the Saint Paul Police Department in executing the "no-knock" warrant. Nine officers entered an apartment where Locke was sleeping and announced "police, search warrant," the district attorney's office said in the Wednesday statement.
"Video shows Mr. Locke under the blanket holding a firearm that was initially held parallel to the ground before being dropped to about a 45-degree angle, then being raised again in the direction of Officer Hanneman. Officer Hanneman then fired three shots, killing Mr. Locke," the statement said.
Locke's death prompted protests and criticism of police's use of a "no-knock" warrant.
Shortly after Locke was fatally shot, attorney Ben Crump, who is representing Locke's family, criticized the use of a "no-knock" warrant and said, "This is yet another example of why we need to put an end to these kinds of search warrants so that one day, Black Americans will be able to sleep safely in their beds at night."
Crump made similar comments on Wednesday, writing in a tweet that the decision is "Another example of why no-knock warrants MUST be banned!"
In a statement sent to Newsweek, the legal team representing Locke's family, which includes Crump, Jeff Storms and Antonio Romanucci said, "The family of Amir Locke is deeply disappointed by the decision not to criminally charge Minneapolis Police Officer Mark Hanneman.
"The tragic death of this young man, who was not named in the search warrant and had no criminal record, should never have happened. The family and its legal team are firmly committed to their continued fight for justice in the civil court system, in fiercely advocating for the passage of local and national legislation, and taking every other step necessary to ensure accountability for all those responsible for needlessly cutting Amir's life far too short.
"Today only deepens the resolve of Amir's family and its legal team. We hope this deepens the resolve of the community at large as well. This is only the latest reminder that we must work even harder to protect and obtain equal justice and accountability for our communities of color. No family should ever suffer like Amir's again."