Charges Won't Be Filed in Amir Locke Shooting Involving 'No-Knock' Warrant
No criminal charges will be filed in connection with the death of Amir Locke, Hennepin County Attorney Michael Freeman and Minnesota Attorney General Keith Ellison announced Wednesday.
Locke, a 22-year-old Black man, was fatally shot by police officers who were executing a "no-knock" warrant in Minneapolis in February. The announcement Wednesday said that "there is insufficient admissible evidence to file criminal charges in this case."
"Specifically, the State would be unable to disprove beyond a reasonable doubt any of the elements of Minnesota's use-of-deadly-force statute that authorizes the use of force by Officer [Mark] Hanneman," the announcement said, referring to the officer who fatally shot Locke. "Nor would the State be able to prove beyond a reasonable doubt a criminal charge against any other officer involved in the decision-making that led to the death of Amir Locke."
The circumstances of Locke's death sparked outrage, questions and protests throughout the U.S., especially after it emerged that he was not the target of the no-knock warrant. Locke's mother, Karen Wells, said in February that her son was sleeping over at his cousin's home on the night of his death.
Body camera footage released after the shooting showed officers entering the apartment without knocking and then shouting that they were conducting a search warrant. Locke was wrapped in a blanket on a sofa and emerged holding a pistol. Three shots were heard before the end of the video, Newsweek previously reported.
Only about nine seconds passed between the opening of the door and the shooting.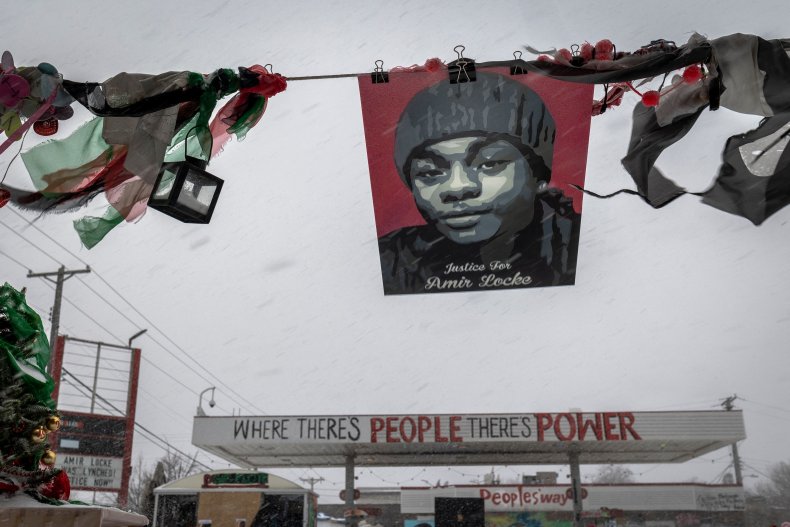 The Wednesday announcement that no criminal charges would be filed in his case called Locke's death a "tragedy" and said that he "should be alive today."
"Amir Locke is a victim. This tragedy may not have occurred absent the no-knock warrant used in this case," the announcement said. "County Attorney Freeman and Attorney General Ellison met with the Locke family this morning and once again send their deepest condolences to them during this incredibly difficult time."
It noted that officers are permitted under Minnesota law to use deadly force in certain circumstances while in the line of duty, such as when an "objectively reasonable officer" believes that it is necessary in order to protect him or herself or another officer from death or great bodily harm.
When Locke held out a firearm "pointed in the direction of at least one officer," this constituted a "specifically articulable threat," the notice said.
"Officer Hanneman perceived that Mr. Locke's movements and production of a firearm presented a threat of death or great bodily harm that was reasonably likely to occur and to which the officers had to respond without delay," it said.
It added that the decision on whether or not to file charges was not based on the appropriateness of using a no-knock warrant in the situation, but on whether there was enough evidence to back a criminal charge.
"Under current law—and as awful as the circumstances of this tragedy are—there is not sufficient admissible evidence to support a criminal charge," the notice concluded.
Attorneys Ben Crump, Jeff Storms and Antonio Romanucci said in a joint statement shared with Newsweek that Locke's family is "deeply disappointed by the decision not to criminally charge Minneapolis Police Officer Mark Hanneman."
"The family and its legal team are firmly committed to their continued fight for justice in the civil court system, in fiercely advocating for the passage of local and national legislation, and taking every other step necessary to ensure accountability for all those responsible for needlessly cutting Amir's life far too short," the statement read. "Today only deepens the resolve of Amir's family and its legal team."
Update 4/6/22, 1:25 p.m. ET: This story was updated with comment from attorneys Ben Crump, Jeff Storms and Antonio Romanucci.