Amir Locke's Mom Says Son 'Was at a Sleepover' When Killed by Minneapolis Police
Amir Locke was sleeping over at his cousin's home when he was shot dead by Minneapolis police officers, his mother has said.
Locke, a 22-year-old Black man, was fatally shot by officers executing a "no-knock" warrant inside a Minneapolis apartment early Wednesday.
"He was at a sleepover at his cousin's place," his mother, Karen Wells, told WFAA.
Body camera footage released by police on Thursday shows an officer using a key to unlock the door of a downtown apartment and enter without knocking.
"Police, search warrant!" officers are heard shooting before one kicks a sectional sofa. Locke, who was wrapped in a blanket on the sofa, begins to move and is seen holding a pistol. Three shots are then heard before the video ends.
Locke was not the target of the search warrant.
Locke's parents described him as a law-abiding citizen with no criminal record, and said he had reached for a legal firearm to protect himself after being woken from a deep sleep.
At the news conference, they called for the firing and prosecution of Mark Hanneman, the officer who they said "executed" their son.
"My son didn't deserve what happened to him," Wells said.
He "did everything he was supposed to do, was raised with moral and values, loved by so many," she said.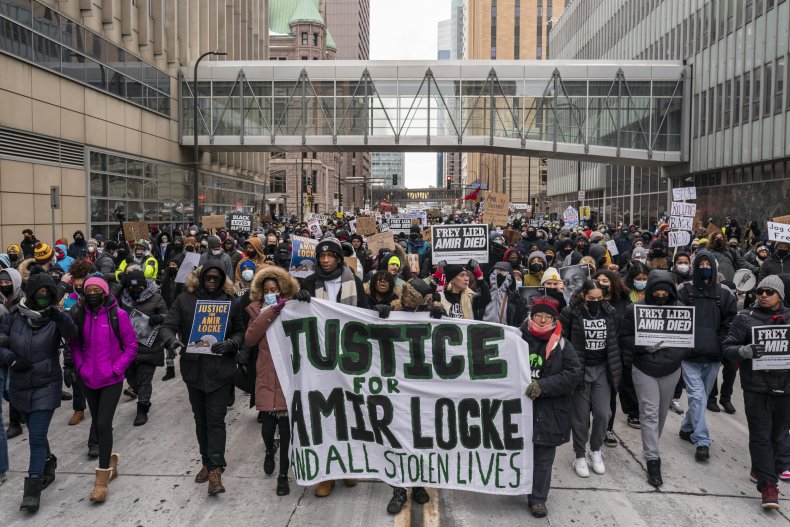 "He had a beautiful spirit and a beautiful smile. Never would I have imagined that I will be standing up here talking about the execution of my son by the Minneapolis Police Department."
His father, Andre Locke, added: "Amir was a bright light and he deserves to be able to shine."
Wells also said her son was planning to move to Dallas and that she had helped him with paperwork for a music business. "Amir was all about changing the world," she said in a video posted on attorney Ben Crump's Twitter account, adding that his goals included helping young people. "Amir was loved by all, hated by none."
Locke's killing prompted outrage in Minneapolis and renewed calls for police accountability in a city where the death of George Floyd in 2020 sparked widespread protests and a push to remake the police department.
Hennepin County Attorney Mike Freeman has asked Minnesota Attorney General Keith Ellison to help review the case for possible charges.
Ellison's office led prosecutions of former Minneapolis officer Derek Chauvin in Floyd's killing and former Brooklyn Center officer Kim Potter in the shooting of Daunte Wright.
On Friday, Minneapolis Mayor Jacob Frey imposed a moratorium on no-knock warrants.
While the moratorium is in place, Frey said he and police leadership will review and revise department policy with the help of experts who helped shape Breonna's Law—the ban on no-knock warrants that was imposed in Louisville, Kentucky, after the death of Breonna Taylor in a botched raid at her home in 2020.
"Like the case of Breonna Taylor, the tragic killing of Amir Locke shows a pattern of no-knock warrants having deadly consequences for Black Americans," Crump said.
"This is yet another example of why we need to put an end to these kinds of search warrants so that one day, Black Americans will be able to sleep safely in their beds at night."
Locke's parents and Crump have been contacted for additional comment.