Some of the country's most hot-button issues were those that Judge Amy Coney Barrett refused to address on Tuesday during the second day of the Supreme Court nominee's confirmation hearing.
Invoking precedent set by former Justice Ruth Bader Ginsburg, Barrett would not entertain hypothetical questions posed by Democratic senators regarding abortion rights, the Affordable Care Act (ACA), or whether President Donald Trump has the constitutional authority to unilaterally delay the election.
Barrett's refusal to state explicit stances on such controversial issues came as little surprise, given precedent and remarks in her opening statement from the day prior that it would inappropriate for her to offer opinions on matters that could come before her as a future justice.
"Justices can't just wake up one day and say, 'I have an agenda, I like guns, I hate guns, I like abortion, I hate abortion,' and walk in like a royal queen and impose their will on the world," Barrett told members of the Senate Judiciary Committee Tuesday. "They have to wait for cases in controversies, which is the language of the Constitution."
Any specific cases involving such topics, Barrett continued, would need to be considered on an individual basis, and it would be irresponsible for her to have any predetermined dispositions. She repeatedly stated that no one from the White House, including the president, has spoken with her about any pre-commitments on future cases.
"If I give off-the-cuff answers, I would be basically a legal pundit, and I don't think we want judges to be legal pundits," Barrett responded, when asked by Sen. Dianne Feinstein (D-Calif.) if Trump could delay the Nov. 3 election, as the president suggested this summer. "If that question ever came before me, I would need to hear arguments from the litigants, read briefs, consult with my law clerks, talk with my colleagues and go through the opinion writing process."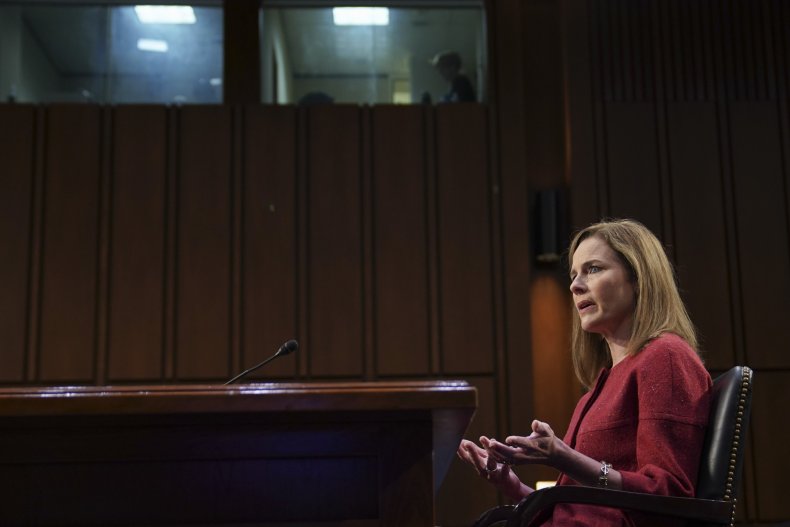 On abortion rights and whether Roe v. Wade should be struck down, Barrett said it would be "wrong" for her to answer because "it signals to litigants I might tilt one way or another on a pending case." She further stated that the landmark law legalizing abortions is "not a super-precedent because calls for its overruling have never ceased, but that doesn't mean that Roe should be overruled."
And on the ACA, which protects roughly 130 million Americans with pre-existing conditions, Barrett vowed to be "100 percent committed to judicial independence from political pressure."
Barrett, as have other judges nominated by Republican presidents, cited the "Ginsburg Rule." It was coined from the liberal justice's 1993 confirmation hearing when she laid out why she would refrain from going into detail about certain cases that could come before the nation's most powerful court.
"Were I to rehearse here what I would say, and how I would reason on such questions, I would act injudiciously," Ginsburg said at the time. "Judges in our system are bound to decide concrete cases, not abstract issues. A judge sworn to decide impartially can offer no forecasts, no hints, no previews."
Barrett tried to offer reassurances that she will go into any case involving the ACA with an open mind.
"I assure you I am not—I am not hostile to the ACA," she said. "I'm not here on a mission to destroy the Affordable Care Act."
Barrett's lack of detailed responses did little to quell Democrats' fears that the conservative nominee would vote to strike down the ACA. This notion is based upon criticism she levied toward Chief Justice John Roberts' opinion in 2017 when she was a law professor because of his ruling upholding the law.
The Supreme Court will hear a case brought forth by Republican state attorneys general—and backed by the Trump administration—one week after the election that seeks to dismantle the Obama-era health care provision.
"So far, she has perfected the art of non-answers. And I think she has revealed that she's evading a lot of the tough questions," Sen. Richard Blumenthal (D-Conn.) said. "The impact on the American people of seeing her, in effect, dodge or decline to answer will have an effect."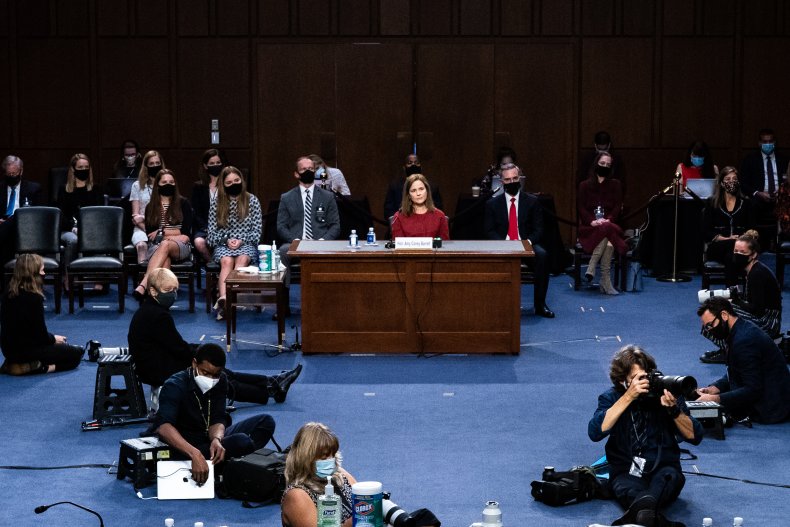 Senate Minority Leader Chuck Schumer focused on Barrett's refusal to address Trump moving the election. The New York Democrat suggested the judge was making a direct appeal to the man who nominated her rather than to the rule of law. Barrett has rebuffed Democrats' appeals that she recuse herself from any future cases involving the election.
"Her refusal to stand up to the president on this obvious legal question is alarming, and indicates that she is more interested in pleasing President Trump than she would be in stopping his illegal behavior," Schumer said in a statement. "Judge Barrett should immediately pledge to recuse herself from any cases involving the 2020 elections."
Senate Judiciary Committee Chairman Lindsey Graham, who is leading the confirmation hearing, indicated that Barrett's thoughts on the matter were moot, because it is already clear the president lacks constitutional authority to alter the election date and that he would never try to do so.
"I don't know of any constitutional provision that would allow the president to delay the election, but if somebody makes that argument, I'm sure she will listen to it," the South Carolina Republican told reporters. "I don't know of anybody suggesting that."
Graham insisted that the election won't be delayed.
"I'm very confident we will have a vote on November the 3rd," he said. "It'll take some time to get all of the results in, but we're not going to delay the election. We didn't delay it in WWII, we didn't delay it during the Spanish Flu."