Shortly after judge Amy Coney Barrett's nomination event at the White House's Rose Garden, a number of those in attendance tested positive for COVID-19 and new data suggests that the event was a superspreader for the virus.
According to data, that was released on Tableau Public by Peter James Walker, at least 37 cases of the new coronavirus were confirmed within 12 days after Barrett's nomination event on September 26. In an email sent to Newsweek, Walker explained that the data is all crowd-sourced from public information, such as "tweets from verified reporters, news articles in trusted outlets, etc."
Walker also noted that the site has an online tip line for anyone to forward new information, which is then verified with real articles before it is added to the tracker.
President Donald Trump and first lady Melania were two of the biggest names to test positive for COVID-19 after the event, but several other positive tests were reported shortly after.
The data shows that at least 11 people that attended the September 26 event tested positive for COVID-19.
In addition to Trump and the first lady, the data show the others who tested positive after attending the event include Washington-based photojournalist Al Drago, former New Jersey Governor Chris Christie, California Pastor Greg Laurie, University of Notre Dame President John Jenkins, White House press secretary Kayleigh McEnany, former counselor to Trump Kellyanne Conway, Utah Senator Mike Lee, North Carolina Senator Thom Tillis and a White House press corps journalist.
It is unclear how many of these people contracted the virus, but the Centers for Disease Control and Prevention notes that signs and symptoms of the virus can appear within two to 14 days after being exposed.
While each of these people tested positive for COVID-19 on different dates, the data shows that many were also present at a number of other events in the days following the September 26 celebration.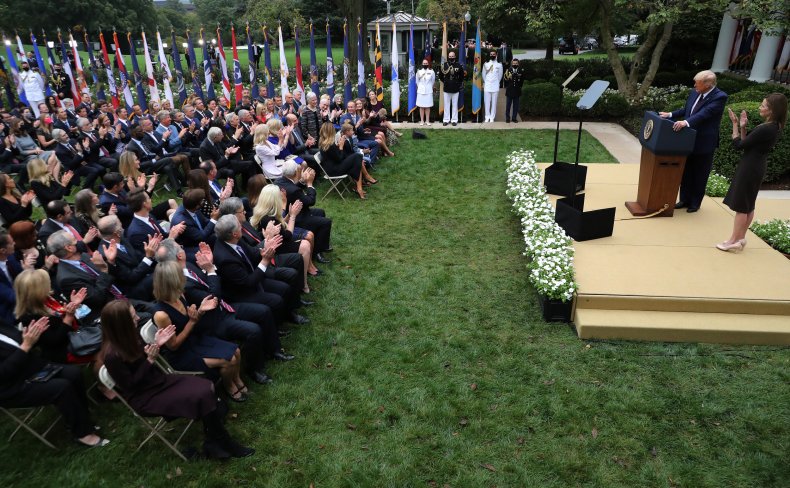 On September 27, a group of Trump's closest advisers and campaign team members were together to prepare for the first presidential debate. The group included Hope Hicks, who was one of the first White House members to test positive for the virus. Trump's senior adviser Stephen Miller was also in attendance, who confirmed his positive COVID-19 test on October 6.
The president was also in attendance at an event for the military's Gold Star families on September 27, the presidential debate on September 29 and two campaign rallies—one in Minnesota on September 30 and another in New Jersey on October 1.
Overall, the data show that of 328 people who were either at the September 26 event or were in contact with someone that was in the following days, 11 percent have tested positive for the virus, 23 percent tested negative and 66 percent are currently unknown.
Since the start of the coronavirus pandemic in March, Trump and his administration have continued to face backlash for their response. Trump's most recent criticism came after he left the Walter Reed National Military Medical Center and returned to the White House and was seen removing his mask and acknowledging supporters.
In his email sent to Newsweek, Walker stated that his goal when creating the tracker was to keep the public informed on the White House outbreak.
"The lack of transparency from the Administration raised real worries about whether they would try to tamp down reports on how serious this past week has been," Walker said.
When asked if Walker believes the September 26 event was a COVID-19 superspreader, he said that "the data are rather clear."
"There were 11 people who later tested positive at the event, and it was unique in that many attending came in from across the country and then returned to their home states. Now, the President's debate prep in advance of the first debate saw 7 out of 10 participants contract the disease, so it was also a worrisome gathering," Walker said, and noted that while he cannot certainly say one given person contracted COVID-19 at the event, "but given the presence of infected people, the lack of masks, and the indoor component, it was a risky proposition."
Newsweek reached out to the White House for comment but did not receive a response in time for publication.