Amy Coney Barrett's Views on LGBTQ Rights, Birth Control, Abortion and Other Issues
The swearing in of Judge Amy Coney Barrett to the Supreme Court has handed an advantage to President Donald Trump a week before the election due to her appeal to social conservatives on issues such as abortion and gay marriage.
Her appointment to fill the spot left vacant following the death of Justice Ruth Bader Ginsburg on September 18 came in the teeth of opposition from Democrats and seals the conservative majority on the top U.S. judicial body at 6-3.
Barrett had served as a judge on the Seventh Circuit Court of Appeals from October 31, 2017 and had worked as a professor of law at the University of Notre Dame from 2002 to 2017. She was also a clerk for the late conservative Justice Antonin Scalia.
After taking the oath, Barrett said her personal views would not shape how she carries out her job. "A judge declares independence not only from the Congress and the president, but also from the private beliefs that might otherwise move her. The judicial oath captures the essence of the judicial duty; the rule of law must always control," she said.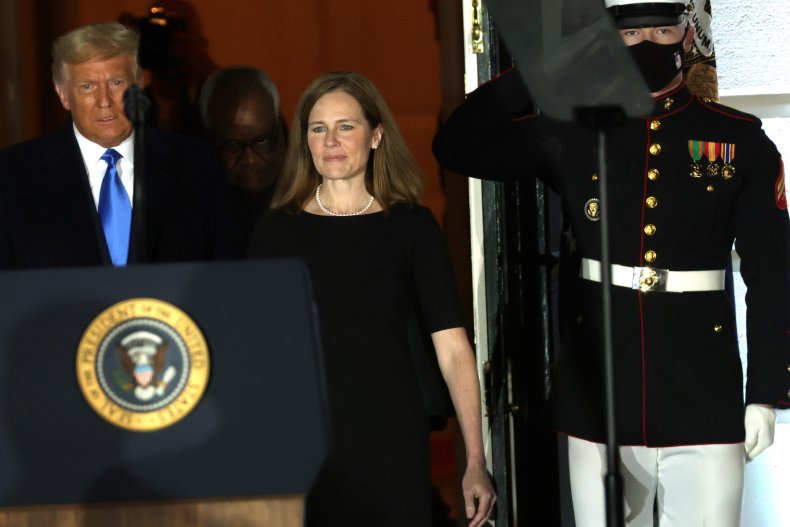 LGBTQ Rights
A devout Catholic who has seven children, Barrett's arrival at the Supreme Court has raised concerns about whether her personal views might spill over into her legal judgements, with critics pointing to opinions she has expressed on LGBTQ issues and abortion. It is not clear from her most recent stint as a judge how she might rule on gay rights.
However, back in 2017, the LGBTQ advocacy group Lambda Legal were concerned enough about her views to write to the chairman of the Senate committee on the judiciary, Charles Grassley, and committee ranking member, Dianne Feinstein. The group called on them to oppose her nomination for the the Circuit Court of Appeals because of the contents of a letter she had co-signed two years before.
That missive to the Synod Fathers from Catholic Women said in part, "we give witness that the Church's teachings…on marriage and family founded on the indissoluble commitment of a man and a woman," which it added, "provide a sure guide to the Christian life."
In 2016, Barrett questioned in a lecture at Jacksonville University whether Title IX protections—backing those who report sex discrimination, sexual harassment, or sexual violence—should extend to transgender Americans.
"Maybe things have changed so that we should change Title IX, maybe those arguing in favor of this kind of transgender bathroom access are right. That's a public policy debate to have. But it does seem to strain the text of the statute to say that Title IX demands it," she said.
In the same lecture, she also asked whether it was the role of the Supreme Court to decide on the landmark marriage equality case of Obergefell v. Hodges.
Referring to dissent from Chief Justice Roberts, she said, "Those who want same-sex marriage, you have every right to lobby in state legislatures to make that happen, but the dissent's view was that it wasn't for the court to decide."
During her 2017 confirmation hearing, Barrett was challenged about how her religious beliefs could shape legal rulings, but she responded that judges should not "follow their personal convictions in the decision of a case, rather than what the law requires."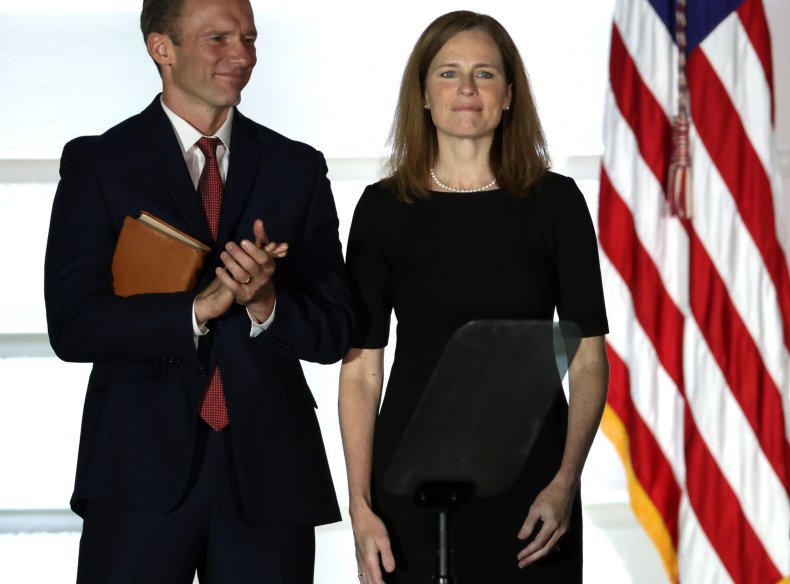 Abortion Rights and Birth Control
Barrett's appointment to the Supreme Court has also raised hopes among anti-abortion activists—and fears among those who lobby for abortion rights—over whether she would work to overturn to the landmark 1973 decision of Roe v. Wade that made abortion legal.
In 2006, when she was a law professor at Notre Dame, she was one of hundreds who signed a newspaper ad opposing "abortion on demand" which referred to the "barbaric legacy" of Roe v. Wade, The New York Times reported.
An article that Barrett co-wrote in 1998 in which she said that terminating a pregnancy was "always immoral" but also concluded that Catholic judges should keep the Church's teachings and the law separate, came up during her 2017 nomination process for the U.S. Court of Appeals.
During that hearing, she insisted that in the article, she and her co-author were simply describing the stance of the Catholic Church and that any personal religious views would not affect how she carried out her job. "If I am confirmed, my views on this or any other question will have no bearing on the discharge of my duties as a judge," she said.
During her Senate confirmation hearing, Barrett also appeared to sidestep the issue of contraception, which also goes against Catholic teaching.
When asked by Sen. Chris Coons whether the Supreme Court ruling Griswold v. Connecticut which protected the right to buy and use contraception was correctly decided, she replied that it was unlikely that decision would ever be overturned, NPR reported.
Affordable Care Act
In the Supreme Court's in-tray next month will be the Trump-backed challenge to the Affordable Care Act. Barrett has been accused of wanting to strike down the legislation, also known as "Obamacare."
This in part stemmed from an article in 2017 in which she said that Chief Justice John Roberts, who backed liberal justices to uphold the act as constitutional in 2012, had "pushed the Affordable Care Act beyond its plausible meaning to save the statute."
However, she has said that her views as an academic were different to what she would do as a judge.
"I have no hostility to the ACA. If a case came up before me, presenting a different question to the ACA, I would approach it with no bias or hostility," she said.
Update 10/28/20: This story was updated to describe Lambda Legal as an LGBT advocacy group.