Amy Cooper, Woman Who Called 911 On Man Watching Birds in Central Park, Sues Over Firing
Amy Cooper, a white woman who came under scrutiny after she falsely told police that a Black bird watcher threatened her in Central Park last year, is suing her former employer after she said they fired her over the incident.
In a lawsuit filed against investment firm Franklin Templeton on Tuesday in a Manhattan federal court, Cooper alleged that company branded her as "racist" without performing an investigation into the incident.
The lawsuit states that media publicity caused the Central Park dispute to become "international news as a racial flashpoint" in which she claimed she was wrongly portrayed as a privileged white woman. Cooper alleges that Franklin Templeton agreed with that narrative without recognizing that she called the police because she was "palpably distraught and fearful of her safety," Bloomberg reported.
Cooper said being fired from Franklin Templeton "caused her such severe emotional distress that she was suicidal," and is now seeking unspecified damages from the company, according to Reuters.
In a statement given to Newsweek Wednesday, Franklin Templeton said the company stands by its decision to fire Cooper.
"We believe the circumstances of the situation speak for themselves and that the Company responded appropriately. We will defend against these baseless claims," a representative said.
Cooper became a focal point in May 2020, after a viral video showed her calling the police on Christian Cooper, who is not related to her, and telling officers that an "African American man" was threatening her.
Cooper made the phone call after Christian Cooper asked her to put her dog on a leash. Christian Cooper began recording the interaction after he attempted to giver Cooper's dog a treat, and she responded by stating "don't you touch my dog," and threatened to call the police.
"I'm going to tell them there's an African American man threatening my life," Cooper said in the video that has now been watched more than 45 million times. The incident was widely considered to be racially motivated, and the next day, Franklin Templeton fired Cooper from her job.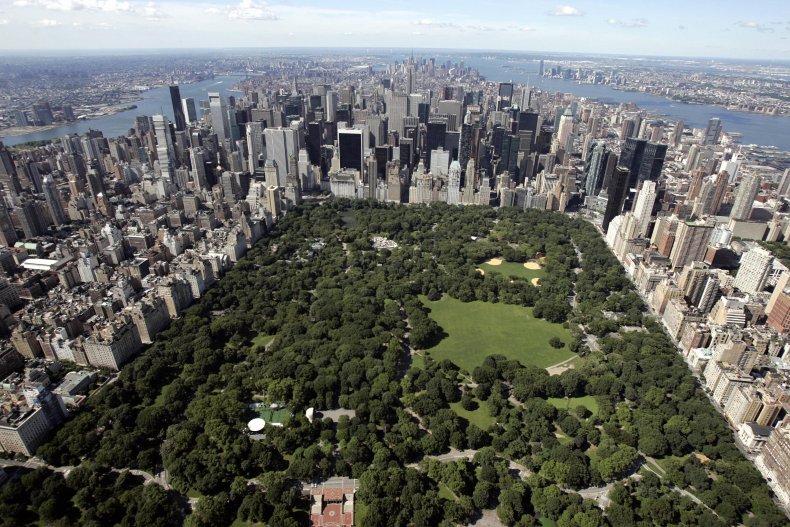 In July, Manhattan prosecutors charged Cooper with filing a false police report, but the misdemeanor charge was dismissed after she completed a therapy program that included instruction on not using racial bias.
After the incident, Christian Cooper spoke out about the backlash against Amy Cooper, stating that he is "not sure" how to feel about her losing her job. Instead, he urged those who watched the video of the interaction to focus on the deep-seated issue of racism in the U.S.
"I can't see how that addresses the underlying issues," he said in an interview with the New York Daily News last year. "I think it's important to move beyond this instance and this one individual."
"Too much focus has been put on her when it really is about the underlying issues that have plagued this city and this country for centuries. Racial issues," he added.