Amy Klobuchar Shuts Down Male Democrats on Abortion, Says 3 Women on Stage 'Fought Pretty Hard For Right to Choose'
As male Democrats fought over their support of abortion rights, Senator Amy Klobuchar pointed out that the three female candidates on stage have all "fought pretty hard" for reproductive freedom.
One of the first topics addressed during the Democratic primary debate on Wednesday evening was health care. Only two candidates, Senator Elizabeth Warren and New York City Mayor Bill de Blasio, said they supported replacing private insurance with a government-run system.
As the candidates debated the merits and pitfalls of Medicare for All, Texas Democrat Beto O'Rourke said that adequate health care means women are able to make their own decisions about their body and access to care that "makes that possible."
Washington Governor Jay Inslee was the next candidate to bring up abortion access, stating that he was the "only" candidate on the debate stage who "advanced the ball" on access to abortion and other reproductive health options.
"It should not be an option in the United States of America for any insurance company to deny women coverage for their exercise of their right of choice," Inslee said. "I am the only candidate here who has passed a law protecting a woman's right of reproductive health and health insurance."
Senator Klobuchar quickly responded to Inslee's comments, pointing out that the three female candidates on stage have put in time and effort to safeguard abortion access and reproductive rights.
"I just want to say there are three women up here who have fought pretty hard for a woman's right to choose. So I'll start with that," she said, prompting applause from the audience.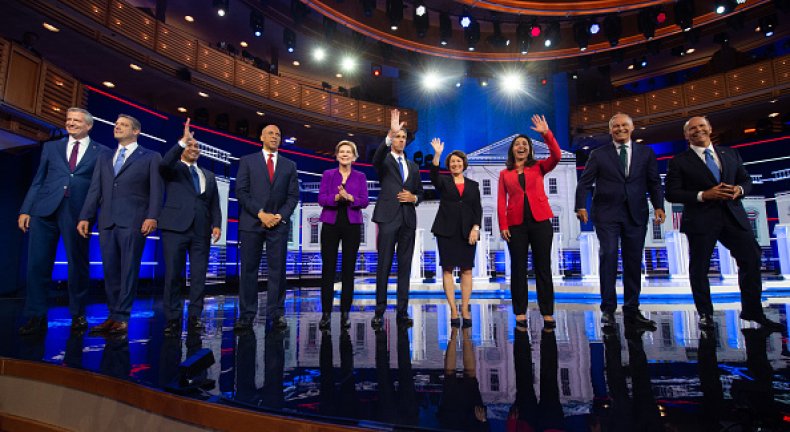 Abortion has become one of the leading issues in the 2020 election cycle after a flurry of new state laws passed this year took aim at Roe v. Wade and legal access to the procedure.
Nearly a dozen states have approved laws restricting access to abortion so far in 2019, including Alabama, Arkansas, Georgia, Indiana, Kentucky, Louisiana, Mississippi, Missouri, North Dakota, Ohio and Utah. Many of these laws are currently being challenged in court.
Alabama's law, signed by Governor Kay Ivey, is likely the strictest in the nation: It makes it a felony for doctors to terminate pregnancies even in the case of rape or incest. In a statement, Ivey acknowledged that the law may be "unenforceable," but said she hoped it would provide an opportunity to revisit Roe v. Wade before the Supreme Court.
Amid the national debate, nearly every single 2020 Democrat has showed their support for abortion rights and condemned the anti-abortion measures as an unconstitutional "war on women."