These Are All The States That Have Passed Anti-Abortion Laws in 2019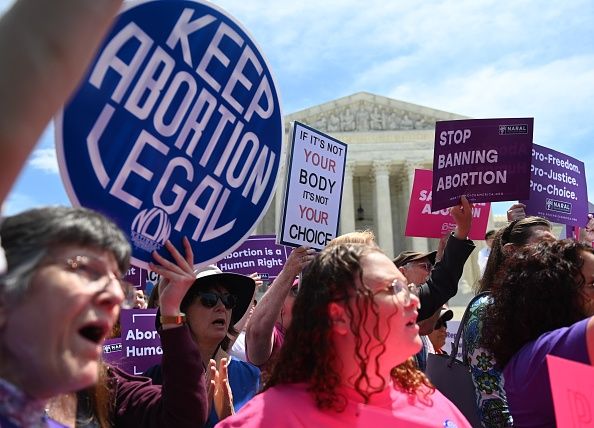 Nearly a dozen conservative states have passed laws in 2019 restricting access to abortion, causing a nationwide debate over reproductive rights and the constitutional status of Roe v. Wade.
The laws, many of which are being challenged in court by the American Civil Liberties Union and Planned Parenthood, range in scope and severity. Alabama's law is likely the strictest in the country, introducing a near-total ban on the procedure. The measure also makes it a felony for doctors to perform the procedure, even in cases of rape and incest.
Other laws passed in Georgia, Kentucky and Ohio make it illegal to perform abortions after the detection of pulsing that becomes the fetus' heartbeat, often simply referred to as the "fetal heartbeat." This can be detected in an ultrasound as early as six weeks into a pregnancy—before many women are even aware they are pregnant.
Less severe laws in Indiana and North Dakota have banned the use of clamps and forceps during second-trimester abortions.
Many state lawmakers openly acknowledged that these extreme laws were passed in an effort to make it before the Supreme Court and challenge Roe v. Wade. However, the Supreme Court signaled earlier this week it was not ready to tackle abortion issues in its ambivalent ruling on a 2018 Indiana law.
Here's a list of all the states that have passed anti-abortion measures this year:
Alabama
In May, Republican Governor Kay Ivey signed the country's most restrictive anti-abortion measures. The law, which comes into effect in six months, makes it a felony (punishable by up to 99 years or life in prison) for doctors to perform the procedure.
The only exceptions are for cases where a woman's health is at "serious risk." The Republican-controlled legislature that passed the bill rejected a proposal to add exceptions for cases of incest and rape.
Arkansas
In March, Governor Asa Hutchinson signed into law a measure banning most abortions 18 weeks into a woman's pregnancy. The measure includes exceptions for rape, incest and medical emergencies.
The law will take effect this summer if there are no significant legal challenges against its introduction.
Georgia
The Living Infants Fairness and Equality (LIFE) Act, which prohibits abortion after a fetal heartbeat is detected, was signed into law by Republican Governor Brian Kemp in May.
Unlike the Alabama law, Georgia has made exceptions for cases of rape and incest but only if a woman files a police report before seeking an abortion. The law also includes an exception for when a woman's life is at serious risk. Due to the state's prominent role in the country's film and TV industries, many companies have threatened to boycott Georgia as a result.
Indiana
Set to take effect July 1, Indiana's latest abortion law would outlaw the use of medical instruments such as clamps, forceps and scissors to remove a fetus. The only exception would be to save a woman's life or prevent the woman from a serious health risk. If a doctor performs such a procedure, they could face felony charges punishable by one to six years in prison.
A day after the governor signed the bill into law, the American Civil Liberties Union of Indiana filed a lawsuit against the state. The group said the law puts "substantial and unwarranted burden on women's ability to obtain second-trimester, pre-viability, abortions."
Kentucky
Kentucky passed two abortion-related measures this year. One law bans abortion after a fetal heartbeat can be detected. The other law bans abortion for reasons of race, gender or disability of the fetus.
Both measures have been temporarily blocked by a federal judge. Earlier in May, a federal judge officially struck down a 2018 Kentucky law that banned the dilation and evacuation abortion procedure generally performed after the 14th week of pregnancy.
Louisiana
Governor John Bel Edwards signed a bill at the end of May banning abortions once a heartbeat is detectable with no exceptions for rape or incest. The measure would require women to receive an ultrasound before any abortion procedure and doctors found to perform illegal abortions could face up to two years jail time.
Edwards, a self-described "pro-life" Democrat, said in a statement before signing the bill into law that he has been true to his "sincere belief that being pro-life means more than just being pro-birth."
Mississippi
The Mississippi law passed in March was intended to ban abortions as soon as health care providers are able to detect the fetus' heartbeat. Physicians who performed abortions that were illegal under the statute could have spent up to six months in prison.
The law was set to go into effect on July 1, but was blocked by a federal judge in May. The judge wrote in his ruling that the law "threatens immediate harm to women's rights" and "prevents a woman's free choice, which is central to personal dignity and autonomy."
Missouri
In May, Governor Mike Parson signed a bill that bans abortions on or beyond the eighth week of pregnancy. The measure does not include exceptions for cases or rape or incest. But it does include exceptions for medical emergencies, such as a woman's life being at risk or there is potential for permanent physical injury.
Under the law, which would go into effect in late August barring any potential legal challenges, physicians who perform abortions after the eight-week cutoff could face five to 15 years in prison.
North Dakota
Republican Governor Doug Burgum signed a bill in April that makes it a crime for physicians performing a second-trimester abortion to use instruments such as clamps, scissors and forceps to remove the fetus—similar to the law in Indiana
Under the law doctors performing the procedure would be charged with a felony, punishable by up to five years in prison and a $10,000 fine. Exceptions are made for medical emergencies and when the woman's health is at risk.
Ohio
Governor Mike DeWine signed a law in April that banned abortions after a fetal heartbeat can be detected, joining several other states that have passed measures prohibiting the procedure as early as six weeks into pregnancy.
The law is being challenged by the American Civil Liberties Union and Planned Parenthood, who want a federal judge to block the measure before it takes effect on July 10.
Utah
Utah lawmakers passed a bill in March that bans abortions performed after 18 weeks of fetal development. The law, signed by Republican Governor Gary Herbert, imposes some criminal penalties for doctors who perform the procedure in violation of the statute.
A federal judge blocked the law from going into effect as it's being challenged in court by the American Civil Liberties Union and Planned Parenthood.