Supreme Court's Indiana Abortion Decision Could've 'Calmed' Fears But Instead Added Fuel to the Fire, Say Experts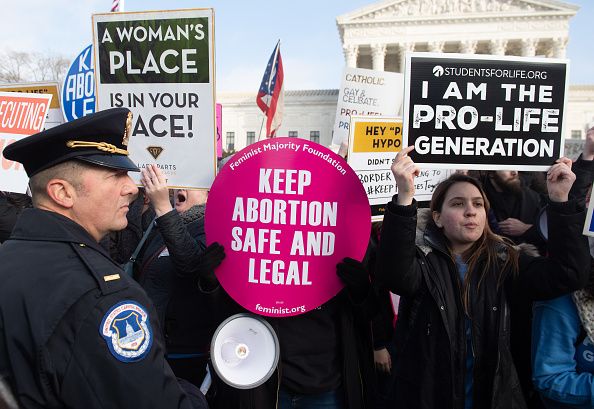 This week the Supreme Court ruled in it's first major abortion case since gaining a conservative majority with the appointment of Justice Brett Kavanaugh, and the result only left advocates on both sides of the debate more uncertain about the court's position on the issue.
In a 7-2 opinion, the court upheld an Indiana law requiring health care facilities to either bury or cremate fetal remains. But the bench refused to consider a second, more controversial provision that would have placed a ban on abortions performed due to fetal disability, race or sex. Instead, it referred to the lower court's decision to block that measure of the law from going into effect.
The ambivalent review comes amid a nationwide debate over reproductive rights as conservative state legislatures continue to pass laws restricting access to abortion or nearly banning the procedure altogether.
Legal experts say that the Indiana abortion case provided an opportunity for the Supreme Court to uphold precedent set in Roe v. Wade and Casey v. Planned Parenthood. Instead, they punted on the issue—which suggests that there may be still be avenues to overturn the landmark 1973 decision or at least add alterations.
"For someone who is in favor of a constitutional right to abortion and concerned about the preservation of Roe, this decision is not comforting," Lois Shepherd, a law professor at the University of Virginia, told Newsweek.
"If this court felt strongly that they were ready to say that the right to abortion continues to be protected under Roe, they could have said it here. And they didn't. It's put off for another day, but it didn't need to be," Shepherd added.
But battle lines were drawn by Justices Clarence Thomas and Ruth Bader Ginsburg, who chided at one another in their written opinions. Thomas issued a 20-page opinion on the history of eugenics, abortion and birth control. He also expressed frustration with Ginsburg's dissent, portions of which he said made "little sense."
Ginsburg, joined in her dissent by Justice Sonia Sotomayor, said that the court should not have allowed the fetal remains provision of the law go into effect. She added that Justice Thomas' opinion displayed "more heat than light" on the subject.
Conservative anti-abortion groups applauded the court's decision on fetal remains, though they lamented that the bench refused to take a stance on the anti-discrimination provision. Vice President Mike Pence, who signed the 2016 abortion law as then-governor of Indiana, called the court's action on Tuesday a "victory for life."
On the other hand, some believe abortion rights activist are likely content with the court's inaction on the provision regarding fetal characteristics and discrimination. It means that despite it's conservative majority, the bench is likely unsure of how to proceed when it comes to abortion rights.
"No news is good news from a pro-choice standpoint," Mary Ziegler, a professor at Florida State University College of Law, told Newsweek. Ziegler has authored two books on abortion: After Roe: The Lost History of the Abortion Debate and Beyond Abortion: Roe v. Wade and the Fight for Privacy.
By sidestepping the issue, the Supreme Court is allowing states to add restrictions to abortion access that are not laid out in Roe v. Wade. The landmark case only recognized two interests in the regulation of abortion: protection of potential human life and protection of a woman's health. But over the past few decades, conservative state legislatures have slowly applied those regulations to be more aligned with state politics.
But since the landmark ruling, many state legislatures have made other interests a priority in regulating abortion access. These restrictions include abortion counseling, waiting period requirements and limitations on insurance coverage.
This past month, Alabama and Georgia passed some of the most restrictive abortion access laws in the country. The Alabama law makes it a felony (punishable by up to 99 years or life in prison) for doctors to perform abortions, even in cases of rape or incest. The Georgia law prohibits abortion after the detection of a fetal heartbeat, which can happen as early as six weeks into pregnancy—before many women are even aware they are pregnant. Unlike Alabama, Georgia made exceptions for rape and incest, but only if a woman files a police report first.
Many states also now require physicians to have admitting privileges at hospitals or have created stricter building requirements. These restirctions have seriously reduced the number of abortion clinics. Over 150 abortion clinics closed in the U.S. between 2012 and 2018. Today, there are six states that have just one operating operation clinic: Kentucky, Mississippi, Missouri, North Dakota, South Dakota and West Virginia. Missouri's sole abortion clinic is expected to shut down next week after state officials allegedly declined to review its annual license.
Ziegler noted that it is likely the court's conservative composition, rather than it's indecisive rulings on abortion issues, is "feuling abortion restrictions." But the bench's muted responses on the issue have emboldened state legislatures to push the limits on abortion regulation, though the lower courts have generally been striking down such laws as unconstitutional.
"Some of the wild optimism you see among some antiabortion legislators is because we know so little about what the [Supreme Court] is likely to do," Ziegler said. "By kicking the can down the road, the court allows that optimism to flourish."
In 2019, Republican-led legislatures in Alabama, Georgia, Kentucky, Ohio and Mississippi have passed laws restricting access to abortion. Nearly all of these measures are being challenged in court by advocacy groups like the American Civil Liberties Union and Planned Parenthood.
Justice Thomas warned in a concurring opinion on Tuesday that the bench will have to start ruling on abortion-related cases in the near future: "Given the potential for abortion to become a tool of eugenic manipulation, the Court will soon need to confront the constitutionality of laws like Indiana's."
But Shepherd noted that the Indiana abortion law review was a missed opportunity for the Supreme Court, one way or the other.
"The court could have calmed some people's fears at this point and it didn't," she said."They can't avoid this forever, but they can avoid it for a while."