Amy Klobuchar Calls Trump's Stimulus Veto an 'Attack' As Dems Rally Support to Amend Bill
As President Donald Trump gained the unlikely support of a growing list of his left-leaning critics, there's one Democrat who is still urging the president to pass the $900 billion coronavirus relief bill Congress voted to approve on Monday.
Senator Amy Klobuchar called Trump's last-minute stimulus veto "an attack on every American."
"This is an attack on every American, people who are struggling to get by right now, out of work, whose unemployment is basically going to end the day after Christmas if this doesn't pass," she told MSNBC's Rachel Maddow on Tuesday.
"This was a hard-fought negotiation. Of course you're right. Democrats are pushing for more funds for the individual payments but in the end, this was the negotiation," she added. "He knows very well we're reaching the end here with the unemployment, with our small businesses, can't take it anymore."
Trump delivered the surprise news on Tuesday night, calling the legislation "a disgrace" and telling Congress to raise the stimulus checks from $600 to $2,000 — a price tag even higher than the ones distributed in March.
His proposal garnered the support of progressives like Representative Alexandria Ocasio-Cortez and Senator Bernie Sanders, as well as House Speaker Nancy Pelosi, who has been engaged in a longtime feud with the president.
"Despite all of this wasteful spending, and much more, the $900 billion package provides hard-working taxpayers with only $600 each in relief payments and not enough money is given to small businesses -- and in particular restaurants, whose owners have suffered so grievously," Trump said in a video posted to Twitter.
Pelosi retweeted the video, writing, "At last, the President has agreed to $2,000 — Democrats are ready to bring this to the Floor this week by unanimous consent. Let's do it!"
Sanders called it "great" and added that an earlier bill he had introduced, alongside Senator Ed Markey and Vice President-elect Kamala Harris, had initially included $2,000 direct payments.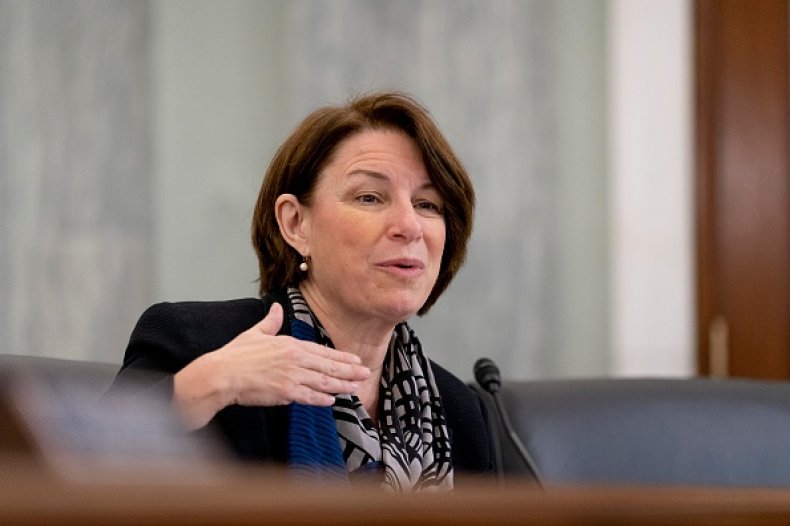 Ocasio-Cortez said that she and Representative Rashida Tlaib had already co-wrote an amendment for the larger checks.
"Glad to see the President is willing to support our legislation," Ocasio-Cortez tweeted. "We can pass $2k checks this week if the Senate GOP agrees to stand down."
Even Senate Minority Leader Chuck Schumer chimed in, retweeting his fellow New Yorker and writing, "I'm in. Whaddya say, Mitch?"
But despite the quick rallying behind Trump's proposal from House Democrats, Klobuchar stressed that his veto would leave a lot of other federal funding in limbo.
"The vaccine distribution, Rachel, is in this. $30 billion. These vaccines are not going to just parachute into a small town in the middle of Minnesota," she said on Tuesday. "We need the help for the states to get the vaccines out and he is literally undermining our entire effort on testing and vaccine distribution."
Although the senator is not against the proposed amendment, she wants to see the bill signed into law, whether or not checks are bumped up.
"We cannot let this bill just lapse," she told NBC's Hallie Jackson on Wednesday.
"I can't emphasize how important is for him to sign this bill into law," Klobuchar said. "At the same time, of course, tomorrow, let's get the direct payments done."
Some of her Democrat colleagues, however, have insisted that a package must provide greater funding to individual Americans.
Prior to the Senate vote on the legislation, Sanders and Republican Senator Josh Hawley called for larger direct payments, arguing that $600 was not enough.
The senators suggested that Trump's pushback on the bipartisan bill was strategically timed, noting that his own White House staff had participated in the negotiations and had agreed to the $600 payments ahead of Congress' vote.
"It is the second biggest stimulus in the history of America and for him to turn this down, obviously we have the votes to override his veto, in the houses, we have those votes, but he should not be doing this right now when his own Treasury Secretary Steven Mnuchin was involved in the negotiations from beginning to end," Klobuchar said. "He is literally trying to burn this country down on his way out."
While Klobuchar criticized the president's proposal, she clarified on Wednesday morning that she supports greater stimulus checks but noted an amendment to the bill would require the GOP's blessing, which Trump would have to secure from his own party. She also said that a veto with no solution will further leave millions of Americans struggling to make ends meet amid the ongoing pandemic.
"I would love to see extra money going to people and so would a lot of people on the Democratic side," she said on CNN's New Day.
"[Trump] is talking about vetoing this entire bill when, in fact, unemployment lapses for so many people the day after Christmas, rent is due and this bill contains significant help for people with their rent," Klobuchar added. "Moms are trying to balance their toddlers on their knees and their laptops on their desk. First graders are having to learn the mute button. America needs help now."
Update 12/23/20 12:26 p.m. ET The headline of this story was updated to better reflect the story.