Amy Klobuchar Calls on AG Bill Barr to Investigate 'Violent,' 'Racially Discriminatory' Policing in Minneapolis
Minnesota Senator Amy Klobuchar was among the signees of a Friday letter calling for U.S. Attorney General William Barr to investigate the Minneapolis Police Department after Minneapolis resident George Floyd died while being detained by police.
Klobuchar, as well as Minnesota Democratic Senator Tina Smith and 26 other Democratic lawmakers, asked the Civil Rights Division of the Department of Justice to look into what the letter refers to as "racially discriminatory and violent policing" in the Minneapolis Police Department (MPD).
"Those responsible must be held accountable to the fullest extent of the law in order to serve justice for George Floyd and his loved ones," the letter said. "And we must work toward justice for the community, which means ensuring that the MPD accounts for and eliminates any unconstitutional police practices. It is imperative that the Department of Justice do its part toward that end."
Newsweek reached out to the DOJ for comment. This story will be updated with any response.
Klobuchar, who has been mentioned as a potential vice presidential candidate, was the chief prosecutor for Hennepin County, Minnesota from 1999 to 2007. Minneapolis, the site of Floyd's death and many of the ensuing riots, is the Hennepin County seat.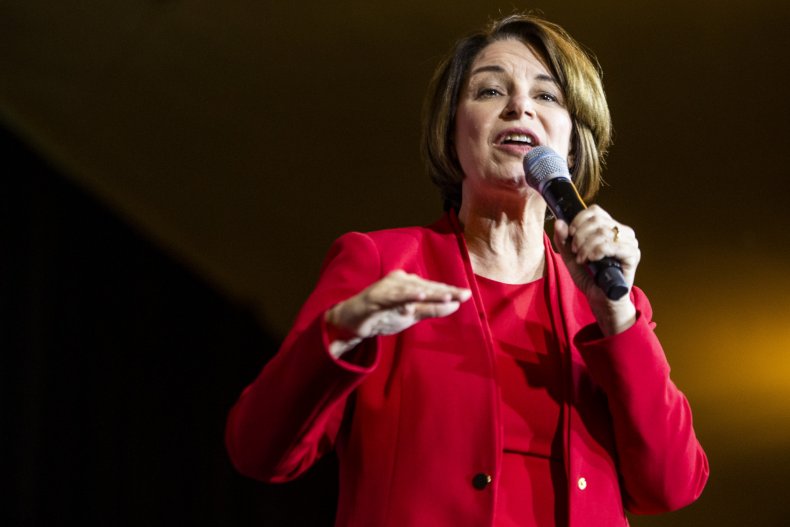 Reports that Klobuchar declined to bring charges against one of the suspects in Floyd's death, former police officer Derek Chauvin, in 2006 were denied by Klobuchar Friday on MSNBC. Chauvin and five other officers were involved in a shooting incident that Klobuchar said had been investigated.
"That investigation continued into a time where I was already sworn into the U.S. Senate," Klobuchar said. "I never declined the case. It was handled and sent to the grand jury."
Footage posted on social media showed Chauvin kneeling on Floyd's neck Monday in an attempt to detain him. Floyd was being arrested under suspicion of forgery. Despite Floyd's audible protestations that he could not breathe, Chauvin kept applying pressure to Floyd's neck for roughly ten minutes. First responders noted Floyd was unresponsive. He was later pronounced dead at a local hospital.
Chauvin and three other MPD officers were fired after Floyd's death. Prosecutors announced Friday that Chauvin had been charged with manslaughter and third-degree murder. Three other officers involved in Floyd's death are under investigation but have not currently been charged.
President Donald Trump tweeted Wednesday that he had requested an investigation into Floyd's death by both the DOJ and the FBI. "I have asked for this investigation to be expedited and greatly appreciate all of the work done by local law enforcement."
The existence of the federal investigation was corroborated by the DOJ Thursday, saying it had "assigned experienced prosecutors and FBI criminal investigators to the matter."
In a Friday statement concerning Floyd's death, Barr said the DOJ and the FBI are
"conducting an independent investigation to determine whether any federal civil rights laws were violated."