Amy Schneider Beats Family Record As Her 'Jeopardy!' Win Streak Continues
Amy Schneider has revealed that her continuing Jeopardy! win streak has made her a champion in family circles as well as within the quiz show's studio.
The engineering manager, who is based in Oakland, California, was seen clocking up her fifth consecutive win during Tuesday's episode of the show, earning her $170,400 in total winnings and securing a place in the Tournament of Champions.
But on Monday night's installment, the Ohio native revealed that her then three-win streak left her one victory behind beating the record of someone she knows personally.
Raising the topic, host Ken Jennings asked: "You're an impressive Jeopardy! champion, but you're not yet the Jeopardy! champion in your own family circle?"
"Yeah, that's correct," Schneider responded. "A few years ago, my brother-in-law at the time was here and won three games. So I said at the time, I'm going to make sure and win four! So it's down to right now. We'll see if I do it."
"Jeopardy! bragging rights are important, but this game is family bragging rights," said Jennings, who holds the record as the all-time Jeopardy! champ with 74 wins.
Of course, Schneider's breadth of knowledge would see her fend off contenders during her fourth and fifth outings on the show.
Last week, Schneider was thrust into the Jeopardy! spotlight when she defeated five-day champ Andrew He to be crowned the new victor.
And in a behind-the-scenes interview to mark her fifth win, the University of Dayton grad pinpointed her debut as a personal standout moment on the show.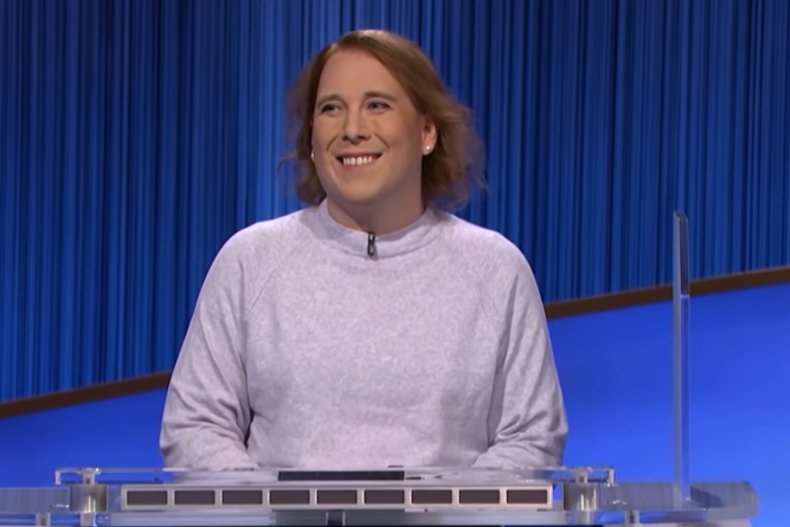 When she was asked to identify her favorite moment on Jeopardy! Schneider responded: "I think winning that first game... I really didn't believe that I was going to, because I believed that the previous champion was gonna get 'Final Jeopardy' right and beat me.
"So I had those 30 seconds of being like, 'Well, this was fun, I had a great time.' And then to realize that I'd won was such a great feeling."
Of qualifying for the Tournament of Champions, she added: "It really feels great. I really, really wanted to because I don't want to be done with this."
In a recent interview with Newsweek, Schneider revealed that she had been trying to get on Jeopardy! for more than a decade before she was finally successful.
"I'm not sure quite how long [ago I first applied], but I remember trying out when I still lived in Ohio, and I've lived in Oakland since 2009, so it has to have been at least that amount of time," she said.
Schneider noted that "a few things" got in the way of her progress, explaining: "One is that when you take the first online test, no matter how good you do it's a random chance whether they look at you to go any further. So that's part of it.
"The reality is that for the first few years of that, when I was trying out, I was, as far as any of us knew, a standard white guy. And there's just more competition for those slots on Jeopardy!
"They're making a TV show, they don't want everybody to look the same, and looked a lot like many of the other contestants, and I think that definitely made it a little tougher for me at that time. I would have got on eventually—I was never gonna stop trying!"
Schneider's debut win on the show proved to be particularly momentous for a number of fans of the show, as it aired in the midst of Trans Awareness Week.
"FYI, I am not the first out trans person to appear on Jeopardy (a few friends have asked)," wrote Schneider on Twitter after he debut win. "There have been a handful before, including one, Kate Freeman, who was the first out trans champion on 12/16/20. My thanks to all of them for blazing the trail!"