Amy Schneider Condemns J.K. Rowling's 'Hate Speech' Against Trans Women
Jeopardy! alum Amy Schneider has spoken out against J.K. Rowling's "hate speech" against transgender women in reaction to an op-ed published by The New York Times on Thursday.
Harry Potter writer Rowling has fallen from beloved to beleaguered in recent years, over her comments regarding transgender women. She has also received a lot of support for her stance, with "#IStandWithJKRowling" trending on Twitter in the past.
Pamela Paul counted herself among Rowling's supporters in a lengthy piece published on Thursday by the Times bearing the headline: "In Defense of J.K. Rowling."
Paul spoke out against a "noisy fringe of the internet and a number of powerful transgender rights activists and LGBTQ lobbying groups," accusing them of fueling a "campaign against Rowling" that is "as dangerous as it is absurd."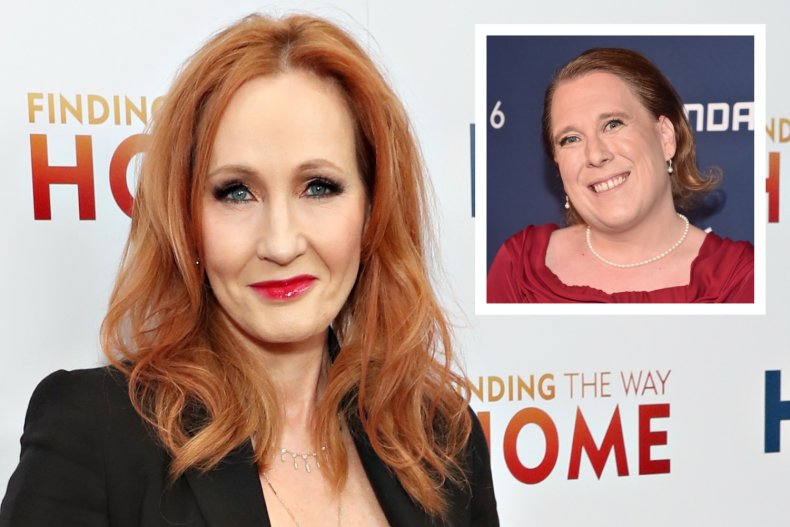 She wrote in the piece that Rowling's detractors have targeted her because she has campaigned for "the right to spaces for biological women only, such as domestic abuse shelters and sex-segregated prisons."
In the article, Paul also insisted that "nothing Rowling has said qualifies as transphobic," adding: "There is no evidence that she is putting trans people 'in danger,' as has been claimed, nor is she denying their right to exist."
The op-ed caught the attention of Schneider, who wrote on Twitter: "If certain famous billionaire authors were to advocate for 'Whites only' spaces, we'd all see it as the hate speech that it is. But when they advocate for 'cis only' spaces, the most powerful newspaper in the country rushes to their defense."
"I just get so tired of being told that my health and safety count less than cis people's, because I'm weird and different, unlike normal innocent cis people," continued Schneider, who in late 2021 became the first openly transgender Jeopardy! contestant to qualify for the Tournament of Champions.
She went on: "And then when I disagree, and say that trans people deserve safety too, they smile at me pityingly, and explain that their view is 'impartial' and mine is 'advocacy.' 'Are those words too big for you? We know you're only trans.'
"I try not to be angry on here, because you can be angry all the time," the Ohio native, who often speaks out on trans rights, added. "And I try to remember that there are many, many people fighting for me. 'Advocacy' groups like @glaad and @eqca, among many others [but] also journalists [...] and individuals fighting for themselves and their families in every state and town in the country.
"We *will* win this fight, and someday trans people will know that they are valued. Even in the NYT," Schneider concluded her thread.
Paul's op-ed was published just one day after the Times' staffers joined forces with a host of celebrities—including Gabrielle Union, Lena Dunham, Jameela Jamil, Judd Apatow, and Margaret Cho—to criticize the newspaper's "anti-trans bias."
The Gay and Lesbian Alliance Against Defamation (GLAAD) posted an open letter imploring the publication to "improve their coverage of transgender people."
"For those of us who truly treasured the Times coverage for so many years, it is appalling to see how the news and opinion pages are now full of misguided, inaccurate, and disingenuous 'both sides' fearmongering and bad faith 'just asking questions' coverage," read the letter.
Demanding that the newspaper "immediately" stop publishing "biased anti-trans stories," the group also urged Times management to agree to a meeting where they would "listen to trans sources, trans people, and organizations working with trans people."
GLAAD also stated that the Times should "hire at least two trans people on the opinion side and at least two trans people on the news side within three months."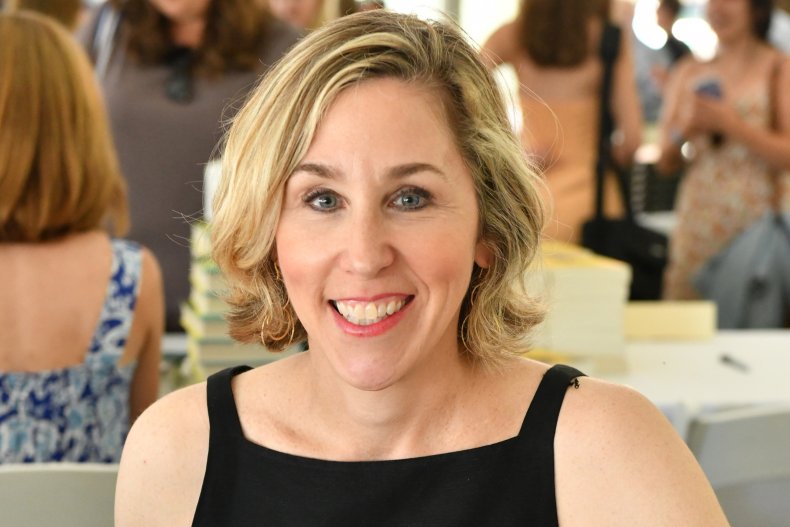 In a statement released to staff on Thursday, the Times said: "We do not welcome, and will not tolerate, participation by Times journalists in protests organized by advocacy groups or attacks on colleagues on social media and other public forums."
Rowling stirred controversy in 2019 when she publicly supported Maya Forstater, a U.K. tax specialist who was fired over tweets that were deemed to be anti-trans.
In an essay published on her personal website in June 2020, Rowling shared some of her views on transgender issues.
She wrote: "When you throw open the doors of bathrooms and changing rooms to any man who believes or feels he's a woman—and, as I've said, gender confirmation certificates may now be granted without any need for surgery or hormones—then you open the door to any and all men who wish to come inside. That is the simple truth."
Also in June 2020, Rowling reacted to an article that referred to "people who menstruate," tweeting: "I'm sure there used to be a word for those people. Someone help me out. Wumben? Wimpund? Woomud?"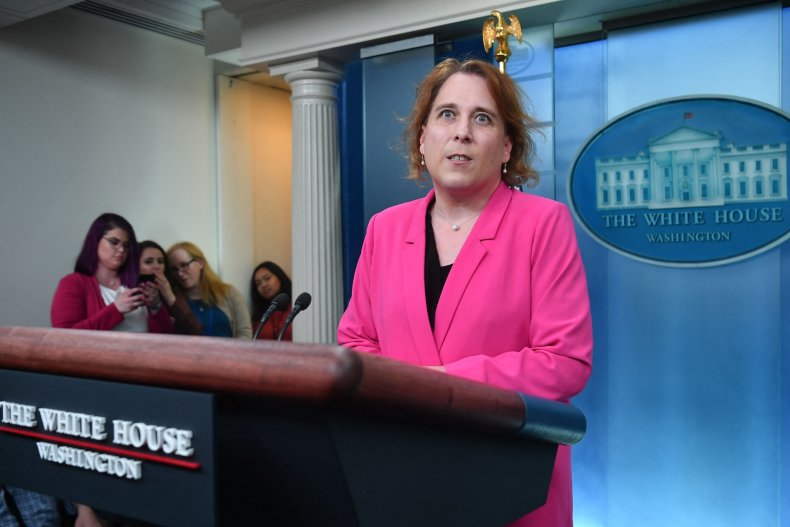 While some trans activists branded Rowling a "TERF"—an acronym for trans-exclusionary radical feminist—she stood her ground on the issue.
Rowling tweeted at the time: "If sex isn't real, there's no same-sex attraction. If sex isn't real, the lived reality of women globally is erased. I know and love trans people, but erasing the concept of sex removes the ability of many to meaningfully discuss their lives. It isn't hate to speak the truth.
"I respect every trans person's right to live any way that feels authentic and comfortable to them," she went on. "I'd march with you if you were discriminated against on the basis of being trans. At the same time, my life has been shaped by being female. I do not believe it's hateful to say so."
Several actors associated with the Harry Potter franchise have publicly disagreed with her, including big stars Daniel Radcliffe, Emma Watson and Rupert Grint.
In July of last year, Rowling stated on Twitter that she had received a "pipebomb" threat amid an onslaught of attacks over her previous statements about trans women.
She has continued to speak out about the way that the internet has "canceled" her, tweeting in support of singer Macy Gray, who in July made several controversial comments on the definition of a woman.
A recent push for the boycott of Hogwarts Legacy because of its association with Rowling's Harry Potter franchise appears to have largely failed, with the video game achieving across-the-board chart-topping sales.