Amy Schneider has revealed that she and her new fiancée, Genevieve Davis, planned on the month they would get engaged, in advance of proposals.
The former Jeopardy! champ, 42, in February took to her social media accounts to announce that she and Davis, 25, were set to take a trip down the aisle while also revealing that the two had proposed to one another days apart.
And in a recent interview with the Los Angeles Times, Schneider—who was the first of the two to say yes—revealed that the couple had already decided ahead of time that they would get engaged in February as it was a special month for them.
With February including Valentine's Day and the one-year anniversary of their romance falling on February 20, the former software engineering manager figured there were at least two obvious opportunities to pop the big question.
However, Davis added an element of surprise to the proceedings as she asked the Ohio native to be her wife on February 8, after inviting friends over to spend time with them at their Oakland, California, home.
"She came in, and I was on one knee, and she freaked out," aspiring social worker Davis recalled of the big moment. "It's actually a hilarious video."
"Everything about it was perfect," Schneider added. "Then we had... balloons hanging around our apartment for a while, but, you know."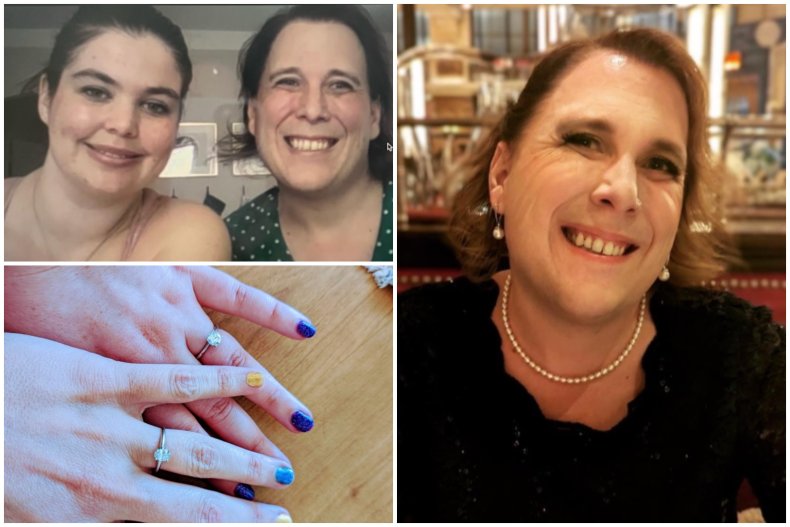 Schneider took her turn at asking Davis for her hand in marriage one week later as they enjoyed an anniversary dinner together in Sonoma, California, where they have previously enjoyed romantic getaways.
"But then I didn't do it right at the beginning, and then it was getting towards the end, and I felt like I'd eaten too much," Schneider recalled of the moment.
"My stomach wasn't feeling great, and... it didn't feel like the right moment. Then we were back at the Airbnb and hanging out and talking and eating some edibles or whatever, and... I just suddenly impulsively decided, 'Well, now's the time.'"
The couple met in July 2020 when Schneider's friend was dating Davis' brother. Schneider offered Davis a tarot card reading and allowed her to spend the night on her couch.
"My first impression was... she's very thoughtful and calm and very smart," Davis said of Schneider, who said that she found her partner-to-be "really cute."
Despite good first impressions, their relationship started out on a platonic note, as they spent time together every day during the COVID-19 pandemic.
"People were confused," Davis said. "They were like, 'Are you sure you're not dating?' I'm like, 'No, I'm straight!'—obviously not."
"I was always holding out hope," Schneider added. "I loved hanging out with her. I loved that we didn't have to be talking the whole time, and we didn't have to be entertaining each other the whole time... We could zone out on our phones or whatever, and it was fine."
While Schneider and Davis have not yet pinned down a specific wedding date, they are hoping to exchange nuptials in the summer of 2023.
Ohio native Schneider holds legendary Jeopardy! status, after going on a record-breaking streak that saw her win 40 consecutive games this season, giving her the second-longest in the quiz show's history after Ken Jennings, who has 74 victories.
The University of Dayton alum is set to return to the Jeopardy! fold in the fall for the Tournament of Champions.