Former Jeopardy! champ Amy Schneider revealed to social media that she is engaged to her girlfriend, Genevieve Davis, as she unveiled their rings.
Taking to her social media accounts on Thursday, Oakland, California-based Schneider shared a photo of the couple's hands adorned with sparkling rings.
Captioning the image on Twitter, she wrote: "I have an announcement: Genevieve is no longer my girlfriend... she's my fiancée!!! I couldn't be happier or more proud to spend my life with the very best person in the entire world."
Schneider, who recently quit her job as an engineering manager, also shared the photo on Instagram, as she explained that both she and Davis had proposed to one another.
"She said yes!" Schneider wrote in her celebratory caption. "Well, actually I said yes, but then I wanted to propose too, so she said yes as well lol.
"I couldn't be happier or more proud to be marrying the very best person in the entire world, and I'm so glad to be sharing my life with her. It's great to be able to introduce her to people as 'Genevieve, my fiancée.'"
While Schneider didn't state exactly when she and Davis got engaged, her new fiancée updated her relationship status as engaged to the Ohio native on February 11.
Back in December, weeks after her Jeopardy! debut was televised, Schneider revealed on Twitter that she and Davis had been friends for several months before dating.
She recalled: In the summer of 2020, my friend was hanging out at my apartment, talking on the phone to her boyfriend, and somehow or other she wound up inviting her boyfriend's sister over to my place, to give her a ride somewhere. That sister turned out to be Genevieve."
"Now, I'd never really believed in 'love at first sight,'" Schneider went on, "and maybe I'm just retroactively projecting my feelings back onto that encounter, but I swear I knew when she walked in the door that she was going to be in my life for a long time.
"For various reasons, we didn't actually start dating until February 2021, but that time as friends was really valuable, and we both think we have a long future together. Finally, in March, we completed our family when we adopted a cat, Meep."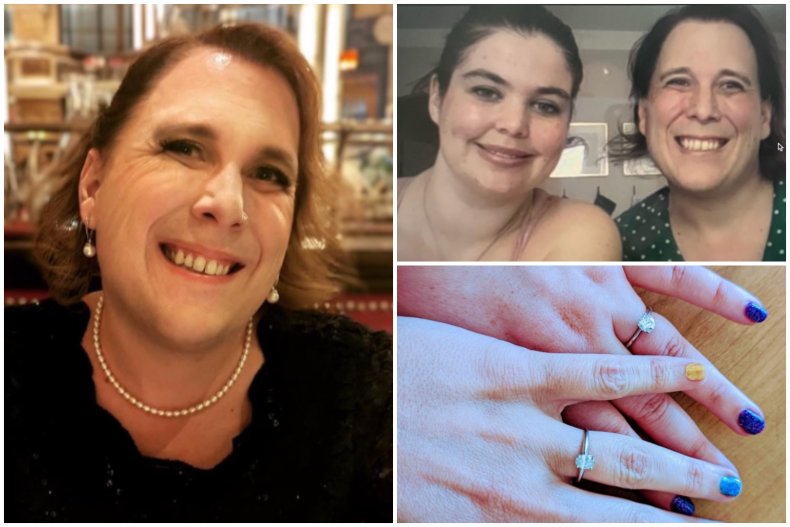 Days after Schneider made her November debut on Jeopardy!, she told Newsweek that Davis had a hand in expanding her knowledge in one of her weaker areas of trivia.
"My girlfriend is much more into popular culture, so I feel like she's given me at least a little bit more knowledge in that category," Schneider said at the time.
Schneider's upcoming nuptials will mark her second trip down the aisle, as she also shared on Twitter in December that she was married several years ago to a woman she met on the set of a theater production.
"I met my wife while doing Taming of the Shrew," she said. "She was playing the titular shrew, and I could make some joke about omens, since we ended up divorcing, but that's unfair to a woman I loved for many years, and we're still friends."
"She was a theater major, and interested in standup comedy, so we needed to move to a major city for her to pursue that," Schneider added of her ex-wife. "We visited some friends who were attending Berkeley, and fell in love with the Bay Area. So we moved to Oakland in 2009, and I, for one, never want to leave!"
Discussing a pivotal year in her life, she went on: "In 2016, my father passed away, Kevin Durant joined the [Golden State] Warriors, my wife and I split up, I realized I was trans, and [Donald] Trump got elected. It was quite a year!"
She clarified in a follow-up tweet: "Now, when I say I realized I was trans in 2016, I'm simplifying a process that in some ways had been going on my whole life, and certainly since 2011 or so, but 2016 was when I finally realized that I was living a lie, and began to let my true self show."
Schneider had a record-breaking run during her time on Jeopardy!, becoming the first transgender woman to qualify for the Tournament of Champions and the quiz show's most successful woman of all time.
The University of Dayton alum clocked up a 40-game win streak, placing her second only to Ken Jennings. She also became only the fourth contestant to pass the $1 million mark in regular season play with a haul of $1,382,800.
Throughout her hot streak on the show, which ended on January 26, Schneider was seen regularly sporting a pearl necklace, no matter the ensemble she wore.
In an interview with USA Today in January, she revealed that the jewelry item was a birthday gift from Davis, who Schneider said told her at the time: "Every lady should have a string of pearls."
Explaining her reason for wearing the necklace daily, she said: "It was the first significant time I'd spent apart from her since we'd started dating. And so having that was just a nice, just sort of comforting reminder that, that she was at home waiting for me."
Schneider will return to the Jeopardy! fold in the fall for the Tournament of Champions.