'Jeopardy!' Champ Amy Schneider Reveals She Was Married Before Transitioning
Jeopardy! champ Amy Schneider is using the break in her screen time on the show to share more details about her life with fans.
The California-based engineering manager shot to instant stardom on Jeopardy! in November, when she defeated five-time champ Andrew He and went on to become the first transgender woman to qualify for the Tournament of Champions.
After scooping her 13th consecutive win and boosting her cash total to $536,400 on Friday's episode, Schneider is taking a two-week break from screens as Jeopardy! airs its spin-off Professors Tournament competition.
And the Dayton, Ohio, native is using the time to allow her more than 14,000 Twitter followers get to know her better, revealing in a lengthy thread that she was once married to a woman before transitioning.
Schneider shared she continued to explore her long-held passion for theater performance after college, writing: "I met my wife while doing Taming of the Shrew. She was playing the titular shrew, and I could make some joke about omens, since we ended up divorcing, but that's unfair to a woman I loved for many years, and we're still friends."
"She was a theater major, and interested in standup comedy, so we needed to move to a major city for her to pursue that," she added of her ex-wife. "We visited some friends who were attending Berkeley, and fell in love with the Bay Area. So we moved to Oakland in 2009, and I, for one, never want to leave!"
Pinpointing a pivotal year in her life, Schneider went on: "In 2016, my father passed away, Kevin Durant joined the [Golden State] Warriors, my wife and I split up, I realized I was trans, and [Donald] Trump got elected. It was quite a year!"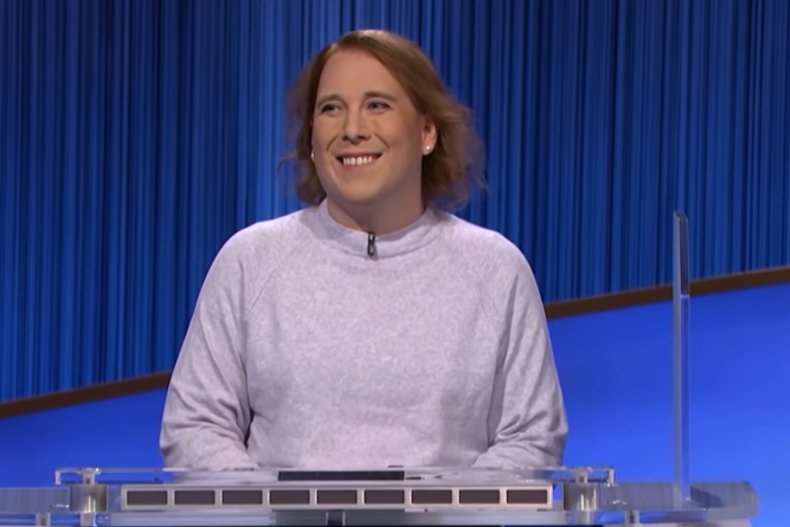 Clarifying her statement, she noted in a follow-up tweet: "Now, when I say I realized I was trans in 2016, I'm simplifying a process that in some ways had been going on my whole life, and certainly since 2011 or so, but 2016 was when I finally realized that I was living a lie, and began to let my true self show."
In an interview with Newsweek, published in November, Schneider revealed that she observes June 30, 2017, as the date she started openly living as her true self.
Elsewhere in her Twitter thread, the University of Dayton graduate detailed how she met her current girlfriend, Genevieve, revealing that she knew the moment she saw her that "she was going to be in my life for a long time."
She recalled: "In the summer of 2020, my friend was hanging out at my apartment, talking on the phone to her boyfriend, and somehow or other she wound up inviting her boyfriend's sister over to my place, to give her a ride somewhere. That sister turned out to be Genevieve.
"Now, I'd never really believed in 'love at first sight,' and maybe I'm just retroactively projecting my feelings back onto that encounter, but I swear I knew when she walked in the door that she was going to be in my life for a long time.
"For various reasons, we didn't actually start dating until February 2021, but that time as friends was really valuable, and we both think we have a long future together. Finally, in March, we completed our family when we adopted a cat, Meep."
Among other facts shared in Schneider's "mini-bio" is that she had undiagnosed attention deficit hyperactivity disorder while at school, and she was named "Most likely to appear on Jeopardy!" as a child.
Since becoming a Jeopardy! champ, Schneider has treated her growing army of followers to regular updates on each of her daily games with detailed analyses. She has also shared snippets of her home life and stance on political issues.
Professors Tournament, which is hosted by Mayim Bialik, is currently in its first week of airing and will conclude on December 17. Schneider will be seen vying for her 14th consecutive win when the regular show returns on December 20.