Amy Wax Tells Tucker Carlson 'Blacks' Resent Western Achievements
Amy Wax, a law professor at the University of Pennsylvania, said Black people harbored "resentment" over Western achievements in a viral interview with Fox Nation host Tucker Carlson.
The controversial lecturer said on Tucker Carlson Today on Friday: "I think there is just a tremendous amount of resentment and shame of non-Western peoples against Western peoples for Western peoples' outsized achievements and contributions. I mean, it's really unbearable.
"Leaving aside American Blacks, who I think do feel that resentment and shame and envy. I mean it is this unholy brew of sentiments."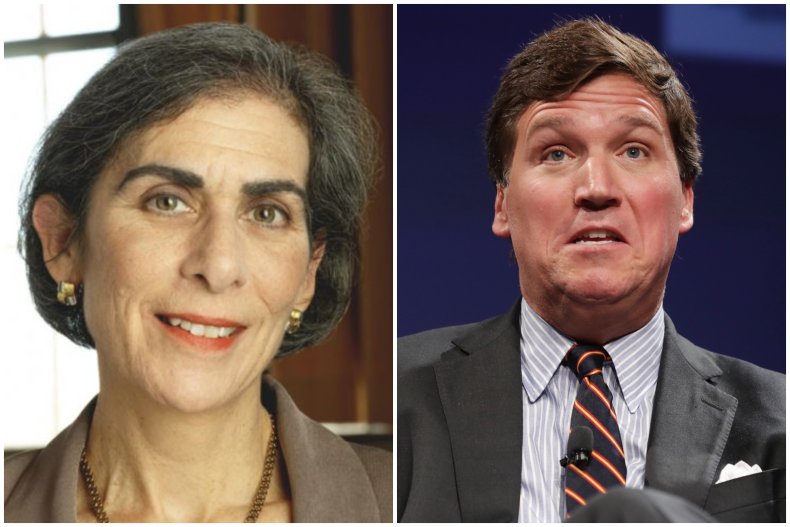 In 2019, a Pew Research Center study found that 69 percent of Black people said it helped a lot to be white in America in order to get ahead. An estimated 73 percent of Asian people also agreed with the sentiment, and 56 percent of white people asked also agreed their ethnicity gave them an advantage over others in America.
Since being uploaded on Sunday by Media Matters Associate Research Director Nikki McCann Ramirez, the clip has been viewed more than 1 million times on Twitter.
During the interview Wax also hit out at Asian and South Asian doctors who criticized America, and perceptions of racism within the health care industry.
Carlson and Wax then discussed how Asian Americans placed the highest in terms of household income in the country.
Data from the U.S. Census Bureau in 2020 showed Asian Americans had a median household income of $94,903 compared to $74,912 among white people. Hispanic and Black Americans had lower median household incomes of $55,321 and $45,870, respectively.
In the exchange, Wax said people from an Asian background "hate America. A goodly number of them, not all."
Wax then spoke about Indian women, saying: "Take Brahmin [high social class] women, they climb the ladder, they get the best education, we give them every opportunity and they turn around and lead the charge on 'we're racist,' 'we're an awful country,' 'we need reform,' 'our medical system needs reform.'
"Well, here's the problem, they're taught that they are better than everybody else because they are Brahmin elites. And yet, on some level their country is a s***hole, excuse my language. It's not providing them with the opportunities that they feel that they deserve and which in many cases they do deserve."
Wax's comments were widely condemned shortly after the clips went viral on the social media platform.
Neil Makhija, a Penn Law lecturer and executive director of Indian American Impact, a South Asian civic organization, hit out at Wax over her comments.
In a tweet, Makhija said: "Amy Wax is a total disgrace and embarrassment. Today, Wax and Tucker Carlson said that Indian Americans 'hate America.'
"News to you: We are America. And we're committed to dismantling the systems that give your racist, moronic ideas a platform to spread."
But some commenters partly agreed with Wax's comments, including conservative think tank American Enterprise Institute fellow Sadanand Dhume.
He said: "Some Indian immigrants do fit Amy Wax's description: constantly hectoring and disparaging the U.S.
"Fair to ask them why they immigrated if they find this country so awful. But in my experience, this is a tiny minority. Most are grateful for the opportunities America has given them."
Newsweek has contacted Wax and the University of Pennsylvania Law School for comment.
Wax has previously courted controversy over her comments regarding different ethnic groups in the U.S.
Earlier this year, Wax wrote the U.S. is "better off with fewer Asians and less Asian immigration."
When interviewed on economist Glenn Loury's podcast in December 2021, Wax said the immigration of "Asian elites" into the U.S. was problematic.
Wax also stated she views Asian people's support for Democrat policies as a "pernicious influence and force in our country today" as "mystifying" because she cannot "see how they are in Asians' interest."
In 2019, law students at the University of Pennsylvania called for Wax to be fired over "bigoted" comments she made at the National Conservatism Conference in Washington D.C. earlier that year.
There she said that America would be better off if it was dominated by immigrants from First World countries instead of from nations "that had failed to advance."