Hillary Clinton Overshadows the Economy in GOP Undercard Debate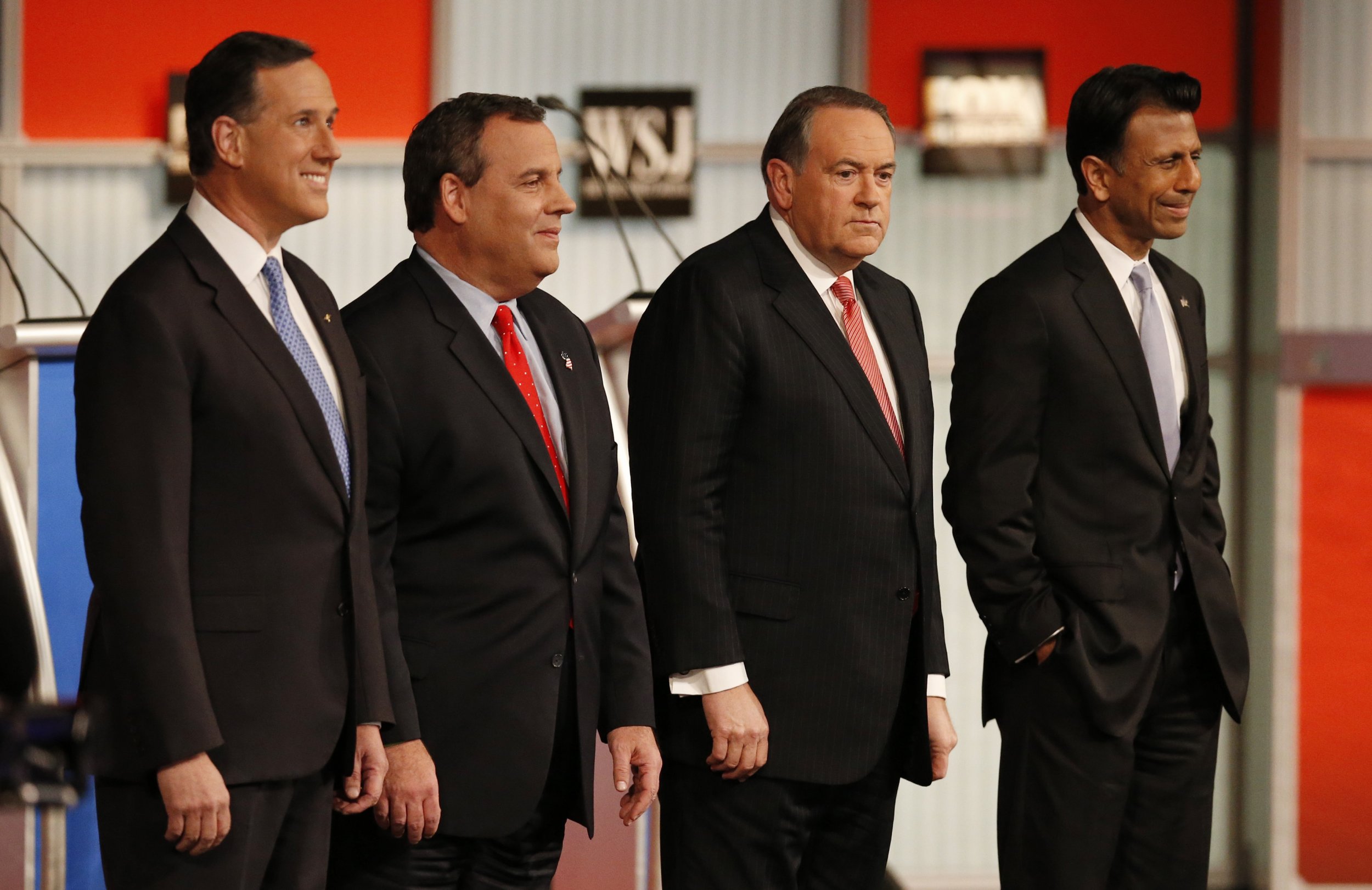 The biggest disagreement among the four Republicans at the Fox Business Network undercard presidential debate on Tuesday was whether or not they should go after one another, or train their fire on Hillary Clinton. On the issue of the night—the American economy—they were largely on the same page.
Louisiana Governor Bobby Jindal did his best to sow discord in the debate's opening act in Milwaukee, Wisconsin, going after his fellow governors on the stage as well as the four GOP senators in the crowded Republican field. "Sending a big government Republican to D.C. is not enough to fix this country," he said. And though he tried to goad both New Jersey Governor Chris Christie and former Arkansas Governor Mike Huckabee by going after their spending back home, neither was eager for a fight. Christie didn't have any criticism of Jindal, he replied. Instead he pivoted and took aim at Clinton, the Democratic Party's 2016 frontrunner. "She is the real adversary tonight and we better stay focused as Republicans on her," Christie said.
Jindal and Chirstie's exchange showed a contrast in turnaround strategies among two governors who were once considered some of the party's best prospects for national office, but have struggled due to scandals and economic stagnation at home. The two have some of the lowest popularity ratings in their home states of any of the 2016 field. That, in turn, has dragged down their presidential prospects.
Christie and Huckabee were booted from the primetime stage to the early debate after failing to make Fox Business Network's polling threshold—an average of 2.5 percent nationally from four recent polls. Christie's campaign has played down the demotion, suggesting it would give the garrulous former prosecutor more time to talk. He got plenty of time on Tuesday evening, pitching himself as the best candidate to take down Clinton (whose name he mentioned in virtually every response) in a general election. And Christie, who's known for his temper, maintained an upbeat tone throughout, despite taking incoming fire from Jindal. But he didn't dominate his three colleagues.
Related: So Far, Middle Class Gets Short Shrift From GOP Candidates
Jindal barely made the cut for the undercard debate. Three others—South Carolina Senator Lindsey Graham, former New York Governor George Pataki and former Virginia Governor Jim Gilmore—were excluded entirely. That might help explain his particularly feisty turn, as he sought to paint himself as the purest fiscal conservative in the race.
His attacks didn't always work in his favor, however. Jindal's back-and-forth with Christie created the perfect opening for fellow candidate and 2012 Republican primary runner-up Rick Santorum. The former Pennsylvania senator interjected that the discussion was an important one. "Chris says we need someone who can win in a blue state and Bobby says we need a real principled conservative," he said, spreading both arms with a grin as if to say, "I'm your man."
Related: Is the Unemployment Rate Bogus?
Santorum set himself apart with his emphasis on the American family, which seemed to resonate with the crowd at the Milwaukee Theater. Dismissing one of the moderator's questions about the Federal Reserve, he said, "the most important business" in the country "is the family." U.S. leaders, Santorum continued, "need to help strengthen marriage and return dads in the homes."
It wasn't the only question from the moderators the candidates pooh-poohed. None responded directly when asked who their favorite Democrat is, if they had to pick one to work with. Jindal called the question "silly" and instead launched into an unrelated soliloquy. The rest of the candidates followed suit. "Well, since we're not going to answer the question, let me remind everybody, tomorrow is Veterans Day," Huckabee said, to laughs. Supporting America's troops and veterans was one thing even Jindal didn't quibble with.