Whitney Houston's 'One Moment In Time': The Anatomy of an Olympic Anthem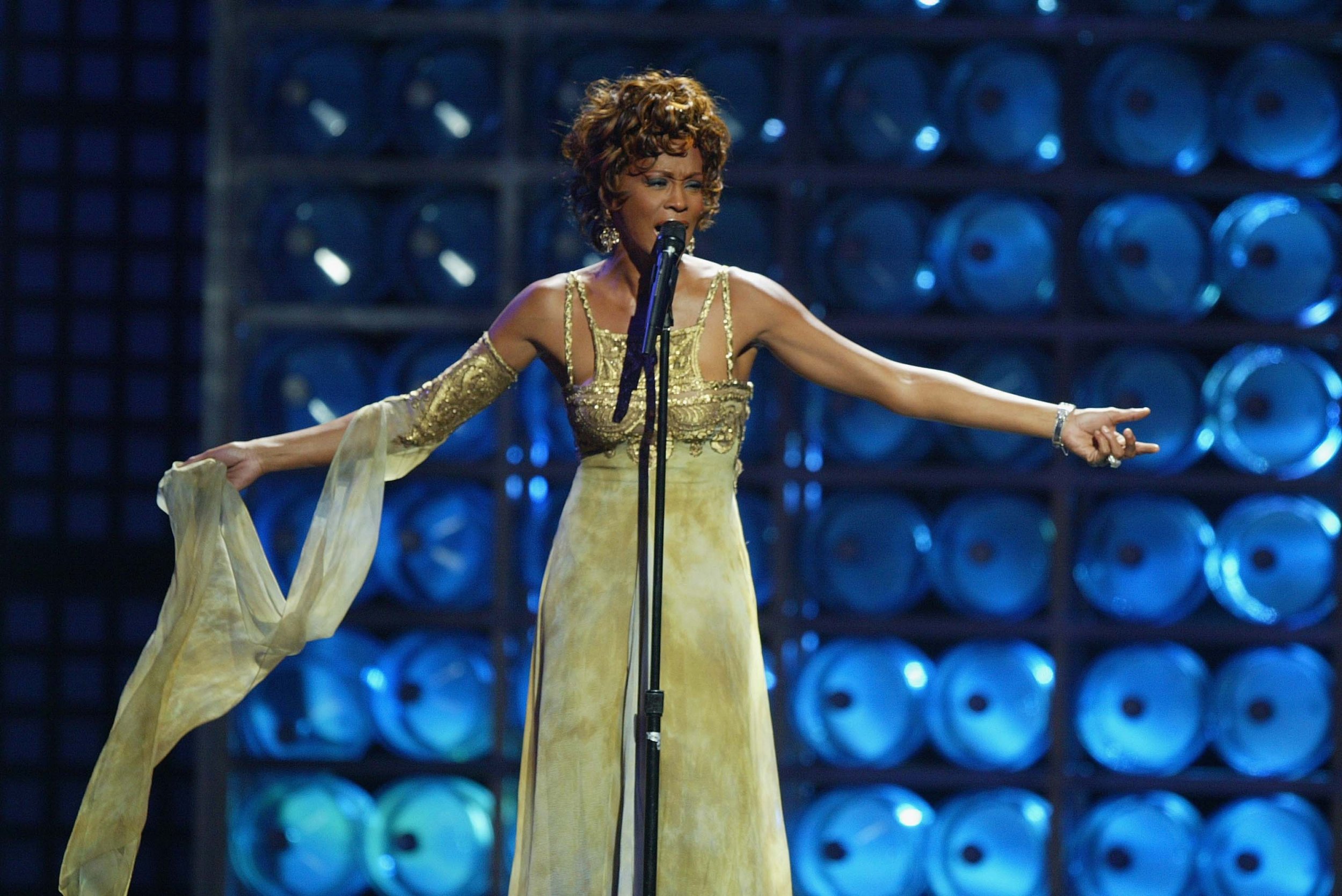 Few Olympic songs permeate the cultural barrier beyond their brief moment in the spotlight. How many people, for example, still remember Muse's official anthem for the London 2012 Games? (It was called "Survival" and they performed it at the closing ceremony.)
Many artists from around the world have lent their vocals to Olympics songs over the years—the latest is Katy Perry with "Rise"—but capturing the emotion and spirit of the world's most prestigious sporting event within a four-minute track is easier said than done.
It takes a special kind of song, a special kind of artist, and even a little bit of luck, to be able to step out of the shadow of the Olympic torch. 1988 was one of those rare moments when the stars aligned and produced, arguably, the most memorable Olympics anthem to date: Whitney Houston's "One Moment in Time," used by NBC in its coverage for the Seoul Olympics.
The ballad, written by Albert Hammond and John Bettis, conjured imagery of the competitive drive of the Games and the athletes' desire to overcome obstacles with lyrics such as: "You're a winner for a lifetime, if you seize that one moment in time." Houston's rich, textured four-octave vocal range—her mentor, record producer Clive Davis, dubbed her the "greatest singer of her generation"—took Hammond and Bettis' words and helped elevate the track beyond just U.S. television broadcasts of the Games. "One Moment in Time" gave Houston her third No.1 hit on the U.K. singles chart and won a Sports Emmy in 1988 for best use of music.
That Emmy still sits, some 28 years later, on a shelf in the San Rafael, California, recording studio of the song's producer, Narada Michael Walden. Speaking to Newsweek, Walden recalls arranging and producing the track at his Tarpan Studios, taking inspiration from the high-pocket trumpets used in The Beatles' 1967 song "Penny Lane." He says, "I pulled forth little things I thought would push people and wake them up."
Houston's vocal, meanwhile, was recorded in May 1988 in the midst of an eight-night residency at London's Wembley Arena. The session took place at The Beatles producer George Martin's Air Studios. "On the very end of the song you can hear the peak of her range, holding that high-note forever. That gave us the Olympic chill, that we were going to inspire the athletes," says Walden. "She has that extra gear that only a few [singers] have, where you go beyond yourself… it was like being around an electrical current. She could sing everything so beautifully in tune, you would just get lost in her."
Along with "I Will Always Love You," and later hits like "It's Not Right But It's Okay," "One Moment in Time" is key to Houston's musical legacy following her death in February 2012.
"Whitney's interpretation makes it live forever," says Walden. "Yes, she has power [in her voice], but she has rhythmic sensibility… Whitney had that understanding of how to make a song live forever naturally in her DNA. Some singers don't have that."
So what are the elements that make an Olympics anthem so memorable? Newsweek asked Walden to identify the most essential ingredients.
Inspiring lyrics
Like "One Moment in Time," and even Katy Perry's stirring "Rise," the lyrical content of any Olympics anthem should be motivational and encouraging. "It needs to inspire the athletes and the viewers at home, but primarily the athletes," says Walden. "Even the champions, the great ones, need to be inspired. Music is the only thing on this planet that is high enough to take even the great champions to a higher place."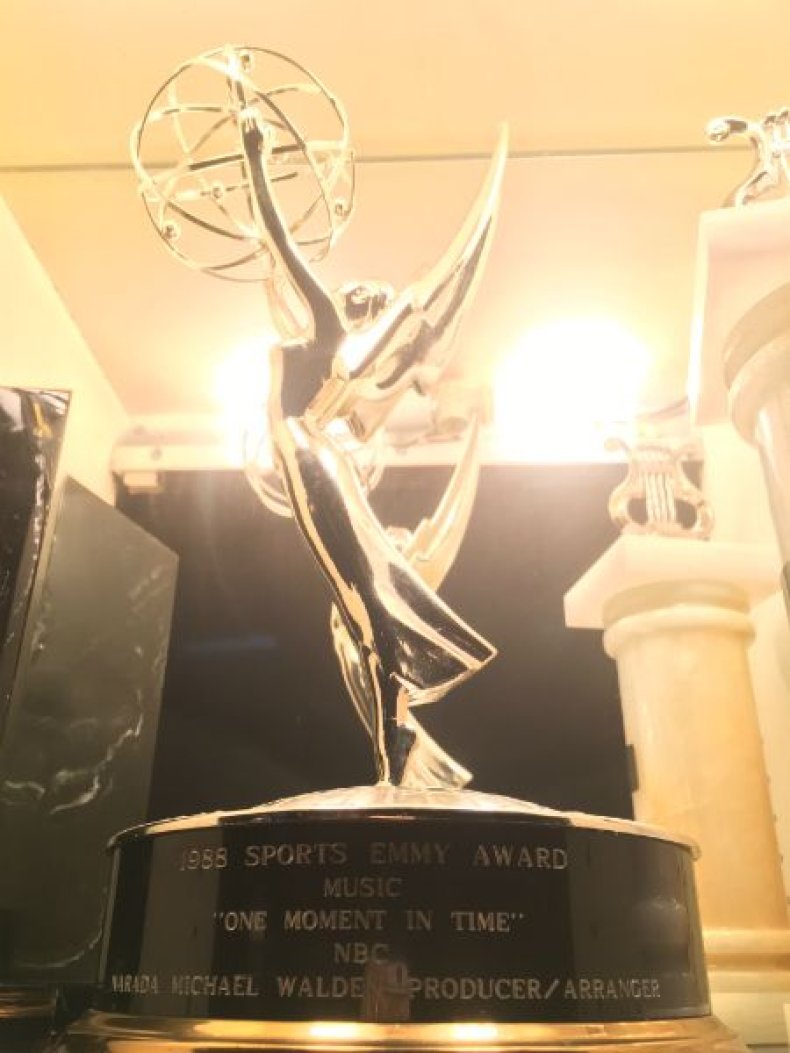 "In 'One Moment Time,' we wanted the athletes who trained to be like: 'I'm going to do more than I thought I could do, I'm going to give more than I thought I could give.' My dear friend [gold medal-winning track-and-field athlete] Carl Lewis was part of the Olympics that year, so I wanted to make sure he was inspired to do his best."
Key change
"One Moment in Time" is exemplary of the power of the key change. As Houston nears the song's denouement, Walden's composition amps up with trumpets booming behind her voice. This is key to driving home the empowering meaning behind the song, says Walden.
"I come from a generation of people who love Barry Manilow, [Burt] Bacharach, and the tricks of emotion they mastered. If you want to get the heart stirred up, have a key change," the producer explains.
"We've gotten away from some of those musical masterpieces… it's become more club-oriented. But the era I come from, you had to have a key change to make the statement you wanted to make—to have the tempo slow down and speed back up again to make a rush of emotions happen."
Star power
Having a big name sing your record, like Houston, can only mean more exposure for a potential Olympics anthem. Although "One Moment in Time" was released pre-"I Will Always Love You" in 1992, Houston was already established as a music superstar. Between 1985 and 1988, the singer achieved a record seven consecutive No.1 singles on the Billboard Hot 100, including "How Will I Know," and was a two-time Grammy Award winner.
"If I was to produce Beyoncé, doing a new song like 'One Moment in Time,' she has the star power, conviction and gears in her throat to really take us there. Adele, she's got the gears [too] to take us there," says Walden.
"There are only a handful of people you can say: 'That person's got the star power, know-how and emotional depth that we're going to believe in.'"
Do your homework
"I watched and studied a lot of Chariots of Fire," Walden recalls of arranging and composing "One Moment in Time." The Oscar-winning 1981 movie, about two athletes competing in the 1924 Olympics, is perhaps best remembered for its stirring instrumental theme composed by the Greek musician Vangelis:
"I could hear the cha, cha, cha, cha… I borrowed the feeling of echo moving [sonically on the track] with that emotion about it—inspiring the feeling of running. I was very inspired by Chariots of Fire and Vangelis."
Love
The final and most important ingredient, according to Walden? "Love."
He says: "We all need to be inspired—the champions, the athletes… how do you inspire them? What do they really need? Encouragement. What is encouragement? Love. What is confidence? Love.
"'One Moment in Time' says it's okay to take this moment to love yourself, go beyond yourself. It always comes down to love."
The last word
Combine all of these elements into a well-crafted piece of music and perhaps success akin to "One Moment in Time" will follow. But that level of achievement is "rare," admits Walden. "Having a hit song, having Whitney Houston, having NBC play it… it was a perfect storm."
"Success isn't guaranteed," Walden adds. "It has to be a strong piece of music [and] the right singer. A lot of [Olympic] songs come out that aren't memorable."